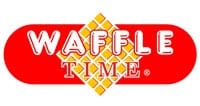 Waffle Time started on September of 1998 which opened their first outlet in The Atrium Mall in Iloilo City.  They started penetrating and opening business outlets in Metro Manila in June of 2002.  This was then followed with outlets in Cebu, Cagayan de Oro, Davao and Dagupan.  Because of Waffle Time's continued success and their customers multiplying, they started offering its brand for franchising on March 2004.  Since then, it started multiplying all over the Philippines becoming one of the best and well-known waffle brands in the country.
Their product line is a variety of flavored filled waffles which include American Hotdog, German Cheese Franks, Ham and Cheese, Cheese Delite, Bavarian Cheese Franks, Belgian Chocolate, Bavarian Cream, Tuna Salad, Canadian Bacon, Swiss Chocolate, Ultimate Ube, Pineapple Pleasure, Mango Magic, Spicy Chickendog, and New York Beef Franks.
Waffle time is a member of the Philippine Franchise Association (PFA).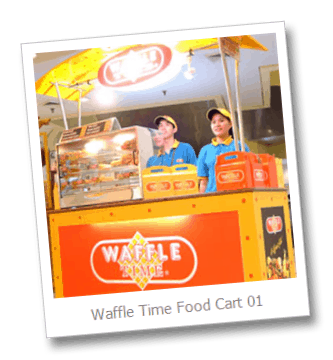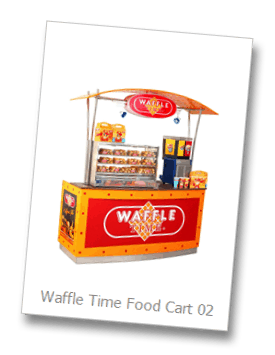 Franchise Package Fees
The Waffle Time Franchise Package include these fees:
Package Cost – P250,000 (net of taxes)
Franchise Fee – P50,000
Security Deposit – P50,000 (refundable upon expiration of the franchise agreement with no interest)
Monthly Service Fee – 5% of monthly gross sales
Renewal Fee – P50,000
Franchise Inclusions
The Waffle Time Franchise Package includes:
use

of trade name and proprietary marks

business

operations

system

mobilization

set-up

food

cart and signage

equipment

and small wares

marketing

support

operational

and technical support
Franchise Application Procedures
These are the steps to apply for a Waffle Time Franchise
Submit application to the Franchise Officer with letter of intent and proposed outlet location.
Upon submission,

applicant

will be

interviews

by the Franchise Officer.
The applicant will then receive a feedback of the applications approval or disapproval after one week.
When approved,

applicant

will then be oriented  and will be required to conduct a foot traffic assessment of the proposed space.
The applicant will be given up to 10 days to submit the site evaluation.
On the 10th day, together with the site evaluation, the applicant will submit the following documents – Community Tax Certificate, NBI clearance, Police clearance, Court clearance, Authority to check bank account, Processing fee of P5

,

000.
Review and Signing of Franchise Agreement.
Payment of 50% Franchise Fee.
Training of outlet operations of the

franchisees

and their crew.
Full Payment of the Franchise Fee, Security Deposit and Initial Stocks.
Grand opening of the outlet.
Contact Details
Website: www.waffletime.com
Email: customerservice@waffletime.com
Manila Office Telephone Nos.: (02)584-1601, (02)584-3704, (02)641-1151
Manila Office Fax No.: (02)684-1870
Manila Office Mobile Phone: 0922-892-3441
Manila Office Address: #69 C. Raymundo Avenue, Brgy. Caniogan, Pasig City, Philippines
Iloilo Office Telephone No.: (033)335-0935
Iloilo Office Fax No.: (033)335-0026
Iloilo Mobile Phone: 0922-892-3408
Iloilo Office Address: Door 4, Q.H.P. Building, Arsenal St., Iloilo City, Philippines
Cebu Office Telephone Nos.: (032)255-0918
Cebu Office Fax No.: (032)253-9679
Cebu Office Mobile Nos.: 0922-892-3464, 0928-505-7820
Cebu Office Address: Lot 2, corner Bataan St., Andres-Abellan Extension, Brgy. Guadalupe, Cebu City, Philippines
Cagayan Office Telephone Nos.: (088)855-5011
Cagayan Office Mobile Nos.: 0922-897-6129, 0920-950-5072
Cagayan Office Address: Doña Cecilia Avenue, Corner J.R. Borja Street Ext. Sta Cecilia Subdivision, Gusa, Cagayan de Oro City, Philippines
Davao Office Telephone No.: (082)227-5427
Davao Office Mobile Nos.: 0922-892-3472, 0920-950-5073
Davao Office Address: 20 Sierra Madre Street, Rolling Hills Subd., Bacaca, Davao City, Philippines
Dagupan Office Telephone No.: (075)653-5831
Dagupan Office Fax No.: (075)202-0180
Dagupan Office Mobile No.: 0922-892-3466
Dagupan Office Address: 497 Bolosan District, Dagupan City, Pangasinan, Philippines
Search terms:
waffle time franchise
waffle time logo
waralaba waffle
The following two tabs change content below.

Gelo
Gelo is a self-proclaimed introvert but always making an effort to engage a conversation with other people, an architect, a professor, a martial arts enthusiast, a music lover, a sometimes health conscious guy, a geek, and a bit weird sometimes, likes to watch and observe people and details around him, interested in a lot of things new and old, and who loves his girlfriend very much.