C8 Halo Halo Food Cart Franchise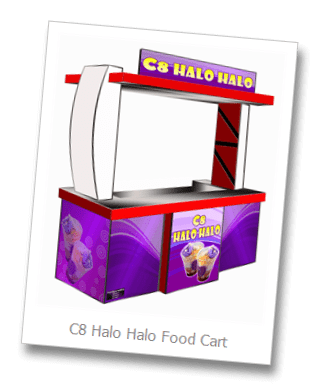 C8 Halo Halo Food Cart Franchise is one of the franchising packages offered by C8 Best Franchising Corporation.  Based in the Philippines, C8 Best Franchising Corporation mainly offers affordable food cart franchise packages to Filipinos looking for additional income.
C8 Halo Halo, as it's name suggests, makes and serves one of Filipino's dessert favorites, the "Halo-Halo."
Franchise Package Inclusions
The franchise package inclusions of C8 Halo Halo Food Cart Franchise are:
Right to use C8 Halo Halo Trade Name and Logo
Transfer of Technology
Business System
Marketing Assistance
Training and Manpower
Research and Development Support
Pre and Post Opening Assistance
Free Cart Delivery within Metro Manila
Free Selected Equipment
Free Cooking Utensils
Free Initial Stocks
Free Uniform of Crew / Personnel
Use of Operations Manual
Location (the company will provide location within your area)
Other Information
No Renewal Fee (Lifetime Ownership of Franchise / Inherit)
No Royalty Fee
No Percentage on Sales
Free Site Assistance
You will be enrolled to the universal program (Shifting of Food Cart Concepts without paying another franchise fee)
Contact Details
If you have inquiries regarding the C8 Halo Halo Food Cart Franchise, you may contact C8 Best Franchising Corporation through their contact details below:
Website: www.c8bestfoodcart.com
Email: info@c8bestfoodcart.com
Telephone Nos.: (02)439-4018, (02)438-4017, (02)921-6984
Mobile Nos.: 0999-525-2606, 0933-487-2678, 0927-754-4399
Facebook Page: www.facebook.com/c8bestfoodcart
Address: 3rd floor, Hansel Arcade Bldg., #1 Imperial St. Cor. Aurora Blvd., Cubao, Quezon City, Philippines
Search terms:
food kart
dessert franchise
Food Cart pinoy halo halo
halo halo business in the philippines
halo halo food business in the philippines
halo=halo fanchising
making dessert business Philippines
---
FranchiseManila.com is a guide to the franchise business in the Philippines. Though it includes a list of franchising companies, they are not affiliated in any way with the website. If you have any queries regarding a particular company, please contact them directly through any of their contact details listed on their page.