The Dunkin Donuts Franchise story began in 1946 in the US as a company, named Industrial Luncheon Services owned by Mr. William Rosenberg, delivering meals and coffee to factory workers in Boston, Massachusetts.  In 1950, the name "Dunkin Donuts" became its official name.
Because of the quality of products it has been producing, it grew into a successful business and in 1960, Mr. Rosenberg, with the an International Franchising Association, started its franchising model.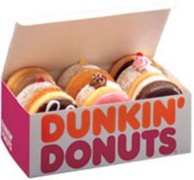 In the Philippines, operated by Golden Donuts Inc., the first Dunkin Donuts Franchise store opened in Quad Car Park, which is now Park Square, in Makati in 1981.
It then started opening more Dunkin Donuts shops all over Metro Manila, from dine-in shops to take-out booths, becoming a popular brand of "pasalubong" in the Philippines.
Dunkin Donuts currently serves a variety of donuts, sandwiches and drinks.  Their premium donuts include the "Oatmeal, Raisin, and Cranberry", Kreme Berry Caramel, Supreme Rocky Road, Choco Butter Crunch, Dark Choco Berry, etc.  Their Classic Donuts include Sugar Raised, Strawberry Kreme, Strawberry Filled, Bavarian Filled, etc.
Franchising Packages
The Dunkin Donuts Franchise currently offers 3 business models.
Chainstore Model

– a take-out booth which is applicable for convenience stores or canteens.

Dealership Model

– investment starts at around 200,000 which is inclusive of the franchising fee, security deposit, and equipment and materials needed.

Area Franchising

– this is awarded to an individual or company and is required to put up a production center and build up the area that was agreed upon.
Application Requirements
Interested parties are required to submit the following:
Address of preferred area or location.

Photos of the proposed site.

Details about the proposed location.

Vicinity Map.

Letter of intent including applicant's contact details.
Contact Details
If you are interested in getting a Dunkin Donuts Franchise, you can contact them through any of their contact details listed below:
Website: www.dunkindonutsphilippines.ph
Facebook: www.facebook.com/pages/Dunkin-Donuts-Philippines/105568802842603
Email: bdd@dunkindonuts.ph, bdd.dpd@dunkindonuts.ph
Telephone Nos.: (02)988-7300 loc. 251 / 286 / 287, (02)988-7333
Address: #733 Aurora Boulevard, Quezon City, Philippines
Search terms:
dunkin donuts franchise
dunkin donuts philippines
dunkin donuts franchise philippines
dunkin donut franchise philippines
dunkin donuts philippines franchise
dunkin donut franchise
dunkin donuts franchise fee
dunkin donuts franchise fee philippines
dunkin donut franchise fee
dunkin donuts franchise in the philippines
The following two tabs change content below.

Gelo
Gelo is a self-proclaimed introvert but always making an effort to engage a conversation with other people, an architect, a professor, a martial arts enthusiast, a music lover, a sometimes health conscious guy, a geek, and a bit weird sometimes, likes to watch and observe people and details around him, interested in a lot of things new and old, and who loves his girlfriend very much.