Lollipops Paris Franchise

Dubbed as Paris France's "must have fashion accessory". It is an established brand well renowned in the country due to its quality and trendy products. Currently it has over 90 outlets in more than 20 countries. Young dynamic executives started out the company in 1994. Each and every one of them contributed greatly in the success of the retail company. In less than a decade, Lollipops connections have been distributed all throughout more than 400 retailers and 30 outlets that operate under the company name have opened globally. Nowadays, the company is distributing its brands through 1,200 department stores all over the world. Way back in 2008, the company joined Microsoft and together they created The Flavor Bag. It is a bag that is designed for laptops, combined with glamour, portability and convenience. Lollipops Paris also worked together with Olympus cameras and celebrities among others, which made the company well loved by clients.
Lollipops Paris really loves fashion with enthusiasm, it is a recipe that has a style that keep touching every one, it keeps reinventing to keep up with the fad, it reveals the secrets of French women that is elegant, fun but powerful at the same time. It is committed to every woman, an accessory to one's image. It allows the woman to express her wildest dreams and fantasies, it nurtures and a whole lot more.
Lollipops Paris Products
Women's Bags (Clutch, Shoulder, Tote)
Women's Wallets/Purses
Shoes
Jewellery
Accessories (Umbrella, scarf, gloves, mittens, beanie, makeup kit, jewellery box)
Lollipops Paris Franchise Information
Start-Up Capital – US$110,000 (Php 5, 200, 000 estimate)
Franchise Fee – US$18,700 (Php 874,000 estimate)
Average Area – 430 square meters
Preferred locations: City-center, shopping malls, prime commercial areas
For a Lollipops Paris Franchise Kit, you may submit the form from this link to avail one: http://www.ufranchiseasia.com/#!lollipops-paris-franchise-business/c11jw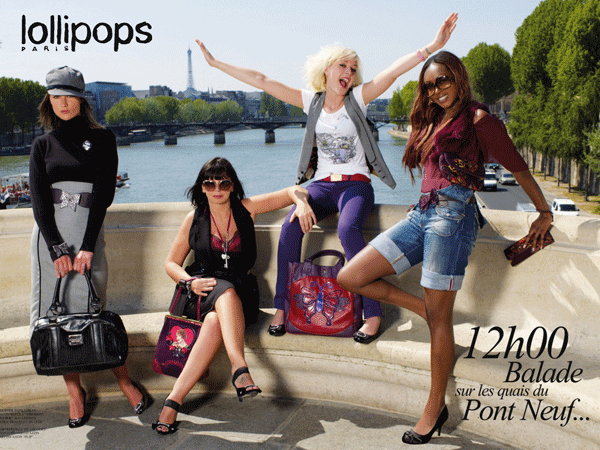 Contact Details
Website: univers.lollipopsparis.fr
Contact them also through U-Franchise:
Website: www.ufranchiseasia.com/#!lollipops-paris-franchise-business/c11jw 
Email: franchising@u-franchise.com.ph
Phone No.: (02)634-0586, (02)634-3717
Mobile Nos.: 0920-983-0247, 0917-881-6999
Address: Unit 2807 Jollibee Plaza, F. Ortigas, Jr. Road, Ortigas Center, Pasig City, Philippines