There are a lot of things to consider when you are thinking of investing in a franchising business especially if you plan to franchise with one of the country's leading and reputable restaurant chain such as Max's Restaurant. Since it is an internationally recognized establishment, complying of Max's Restaurant franchise must follow strict measures and high standard procedure. Max's Restaurant is popularly known as "the house that fried chicken built" for serving the public with crispy, juicy, tender and delicious chicken for over the years.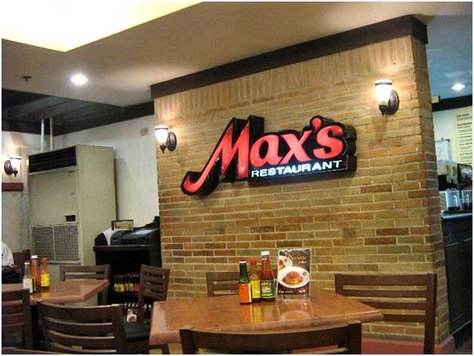 To start operating a Max's Restaurant, a franchisee must prepare a financial investment at around Php 12 to 20 million. The cost largely depends on the type and size of the prospected restaurant. Investment cost also covers the start-up, equipment, construction and initial supplies including furniture/fixtures. The franchise fee is Php 2 million which includes the right to use Max's logos, name, trademarks, recipes and other trading aspects that would cost up to Php 1.5 million and the remaining Php 500,000 is for service fee that covers market study, site inspection, construction management, training of personnel or staffs and support on pre-opening or marketing.
Apart from the franchise fee, there is also an additional advertising and royalty fee which is base on the net sales. For advertising and promo fee rate is 3.5% from monthly gross sales and 5% of the monthly gross sale for the royalty fee. The estimated duration in return of investment falls from 4 to 5 years depending on the efficiency of the operation. Part of Max's Restaurant franchise is the operation term of 6 years which is renewable for 3 additional more terms that sums up to 24 years. You can also get a lot of advantages and benefits from franchising with Max's Restaurant because they are aimed to offer quality franchising service to success driven entrepreneurs.
What more can you get from your Max's franchising investment:
Site selection which is done with thorough market analysis and site assessment conducted by the experts of Max's Franchising Inc.
Hands-on training for franchisee including 8 members of the management team prior to the kickoff of operation. It's a 4-month training that covers operational, administrative and marketing aspect provided by Max's Inc. plus a periodic developmental training and refresher.
Marketing and advertising materials in wide variety are supplied regularly to optimize restaurant patronage, build customer goodwill and boosts up sales.
Research and development in latest trends of customer service strategies, innovative operational techniques and new product recipes is provided by Max's Inc. to enhance restaurant management and food preparations.
Support to assure you and make you feel not alone in the business. It is a continuing operational support by field consultants who regularly oversee the development and growth of each franchised restaurant.
Now that you are convinced enough with Max's Restaurant franchise, you are more likely to invest the soonest possible time. Yet, as a franchisee there are also qualifications that you must meet. Max's Inc. requires that a prospective franchisee must possess qualities that will make the business a success, such as being business-oriented with experience in the related field. Franchisee must also be committed to learn about the business and enjoys working, relating and communicating with customers and employees. So with the franchisee's high entrepreneurial skill and Max's Inc. expertise in restaurant operation, the business will gain a winning business formula to leverage the investment.
Contact Details
If you have any inquiry regarding the Max's Restaurant Franchise, you may contact them through any of their contact details below:
Website: www.maxschicken.com
Email: ggrivera@maxschicken.com.ph, rmmallari@maxschicken.com.ph
Phone No.: (02)784-9000 loc. 1409
Fax No.: (02)784-9000 loc. 1409
Address: 11/F Ecoplaza Bldg., 2305 Chino Roces Avenue, Makati City, Philippines