Some claim that Auntie Anne's are the most beloved Pretzels on the planet. I personally think my Mom's pretzels are better, but then again – she doesn't have a super successful franchise operation with nearly 1,700 locations worldwide (!). My Mom also doesn't receive thousands of franchise inquiries each year from people interested to learn more about the Auntie Anne's Franchise opportunity.
People who are interested in joining this international Bakery Franchise – usually ask questions like "Is this Franchise available?", "What are the requirements for becoming an Auntie Anne's Franchisee?", "How much does an Auntie Anne's Franchise cost?", "What is the fee? What is the expected profit?" Etc, etc.
Well, first of all – Auntie Anne's Franchise is still NOT AVAILABLE in the Philippines, despite the fact there are already 30 branches nationwide. However, we decided to create this article as a "warm-up", to prepare those entrepreneurs among you – who want to be ahead of the crowd – for the day Auntie Anne's does roll out their franchise opportunities in the Philippines.
So to prepare you for that day, we first need to dig into Auntie Anne's History…
How Did Auntie Anne's Franchise Become so Big?
Let's start at the very beginning, when Auntie Anne's just started out its bakery business. It was back in 1988, when a lady by the name of Anne Beiler, purchased (together with her husband and brother) a stand in a farmers market in Downingtown, Pennsylvania. They experimented quite a lot with their baking ideas and creations, until that day finally came, when they created that hand-rolled soft pretzel recipe that we all know and adore today. Back then, customers called it "better than the best you've ever tasted".
It didn't take long until the popularity of Auntie Anne's pretzels grew exponentially. At the beginning it was primarily through word of mouth, as people really fell in love with those delicious pretzels, but then came that enticing Franchise opportunity as well. As soon as Auntie Anne's Franchise started rolling out – it quickly became a BIG operation.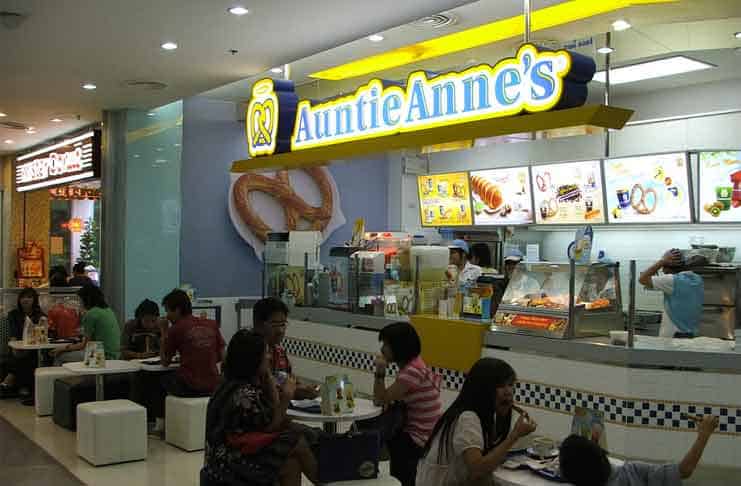 Today, guests all over the world can enjoy those fresh, hand-rolled, hot and soft golden-brown pretzels, which come in a variety of flavors, including Cinnamon, Bacon Bits, Almond, Sour Cream and more. Auntie Anne's stores can be found in malls, airports, universities, colleges and many other locations.
What Is Their Secret Ingredient?
According to Auntie Anne's, it's not about the flavors or the way the pretzels are hand-rolled. It's about the PEOPLE. Behind the scenes of the daily grey work, their Franchise Business Consultants and Corporate Support Teams work together to boost franchise business operations through finding and developing great locations, excellent staff training, creative marketing and advertising, legal support, operations, menu innovation, accounting, and much more.
These Are The International Criteria for Becoming an Auntie Anne's Franchisee
You can slowly prepare for that day when Auntie Anne's will be open for Franchising in the Philippies, by making sure you can comply with their international criteria:
You must have experience in multi-unit food service, hospitality, or retail operations
You must have a sufficient infrastructure team with growth capabilities
You must have local expertise in real estate, marketing, development, project management, human resources, and supply chain
You must have the ability to open multiple locations following an agreed-upon development schedule
You must have the capital necessary to develop the agreed-upon number of locations during the first 3 years
You must live and work in the market you wish to develop
Watch this video review of Auntie Anne's Franchise:
How Much Does An Auntie Anne's Franchise Cost?
As said – Auntie Anne's Franchise is still not available in the Philippines, so we can't provide the cost and fees that will be set here in pesos, but for now we can give you the cost estimates in the U.S.
Here is the estimated cost for an Auntie Anne's Franchise in the U.S, in USD:
| Type of Fee | Low | High |
| --- | --- | --- |
| Initial Franchise Fee | $5,000 | $30,000 |
| Leasehold Improvements, Furniture and Fixtures | $16,000 | $185,000 |
| Equipment & Small Wares | $10,500 | $45,000 |
| Initial Inventory | $3,300 | $4,000 |
| Insurance | $2,000 | $10,000 |
| Training | $1,000 | $7,500 |
| Grand Opening Advertising | $1,000 | $5,000 |
Will This Be One of the Best Bakery Franchise Opportunities in the Philippines?
When Auntie Anne's Franchise does become available in Manila and nationwide throughout the Philippines, I believe it will indeed become one of the most lucrative Bakery Franchise opportunities in the country.
What are my reasons?
Well…
Auntie Anne's Pretzels is a worldwide popular brand, and successful brands can usually provide a better chance in being profitable over the long run.
There is always higher success rate in acquiring a proven business model rather than just starting from scratch.
If you'll require financing support – most finance institutions will be much more open to provide you if they see you are starting a respected franchise like Auntie Anne's Pretzels, which has a powerful reputation.
When will this Franchise be available in the Philippines?
Unfortunately we can't say…We can only wait for an update from Auntie Anne's main office. If you check their website – you can see they're already operational in Asia and offering Franchise opportunities in Hong Kong, Singapore, China and Vietnam. This probably means they'll soon be here…Let's hope!
For more details you can contact Auntie Anne's Philippines:
AUNTIE ANNE'S PHILIPPINES
Body Place Center 3/L Robinsons Galleria
Contact No: (02) 671-6711 / (02) 671-6712
Website: https://www.auntieannesfranchising.com
I am a content writer who is goal-oriented and passionate in what I do. I use my hard outer shell to guard me against deception and betrayal. The moment I start, I rarely look back. I strive hard to live up to the high expectations that others expect from me.