The Master Siomai Food Cart Franchise Business was developed by Masterrific Foods, a Philippine based company established in 2000, that specializes in the production and distribution of processed meat.  In 2007, the company ventured into food cart franchising business which led to the creation of Master Siomai.  As its name suggests, this food cart offers variants of siomai products, which is a very well known Chinese food in the Philippines.
Their goal is to position themselves in the A, B, C and D markets.  They've developed and added to their menu the Japanese siomai and which will definitely differentiate themselves to other siomai food cart businesses.  They also came up with a unique Japanese theme food cart which will give their consumers the feel of ordering from a Japanese food stall.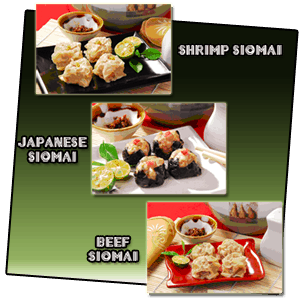 Image of Master Siomai's menu taken from their website.
Food Cart Franchise Fee
The complete Master Siomai franchise fee is P280,000.
Food Cart Franchise Inclusions
The complete franchise business package includes the following:
1 unit Japanese inspired food cart
1 unit 5 cubic feet chest freezer
1 stainless steel siomai steamer
1 plastic juice container
complete kitchen wares, plastic wares and others

1 juice ladle
1 kitchen knife
1 chopping board
2 pieces sauce bottles
1 food tong
1 tissue dispenser
1 styro box
calculator
stainless steel tray

initial food and paper products worth P7,000

food products

all siomai variants (Japanese, beef, pork and shrimp siomai)
special siomai sauce
chili garlic sauce
calamansi
gulaman syrup
gulaman powder
mineral water
sesame oil

paper products

styro tray (dine in and take out)
sando bags
tissue
take out sauce plastic
toothpick
plastic gloves
plastic cups 12 oz.

crew uniforms

4 pieces Master Siomai t-shirt
2 pieces Master Siomai sunvisor

cleaning supplies

1 plastic trash can
1 plastic broom
1 dust fan
liquid soap
2 pieces towels
mop
chair
Steps in Acquiring a Master Siomai Franchise
Search for your own location

If location is inside the mall, you should have an award notice or lease proposal before we can evaluate your application.
If location is in a busy street, terminal, school or campus or any public area, you should have a verbal or written agreement with the lessor that the location will be leased by you before we can evaluate your application.

Call Master Siomai to schedule an evaluation
When approved, the interested party shall pay a 50% deposit of the franchise fee to start construction of the food cart.
Business operation meeting
Orientation and training of your crew
Franchise agreement signing.
Full payment upon deliver of the food cart.
Master Siomai Contact Details
Website: mastersiomai.com
Email: franchising@mastersiomai.com
Telephone nos.: (02)282-4941, (02)351-1854, (02)355-5323
Address: 88 C. Arellano St., Brgy. Ibaba, Malabon City, Philippines
Search terms:
master siomai franchise
master siomai
master siomai franchise fee 2014
master siomai franchise fee
master siomai contact number
master siomai franchise philippines
siomai food cart
master siomai franchise for sale
oi siomai franchise
simple diy arts and crafts gifts
The following two tabs change content below.

Gelo
Gelo is a self-proclaimed introvert but always making an effort to engage a conversation with other people, an architect, a professor, a martial arts enthusiast, a music lover, a sometimes health conscious guy, a geek, and a bit weird sometimes, likes to watch and observe people and details around him, interested in a lot of things new and old, and who loves his girlfriend very much.