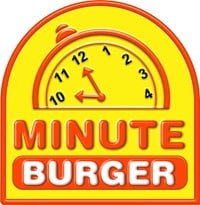 Minute Burger first opened a store in 1982 where it started serving Filipinos its affordable and great tasting burgers. Because of its success, it slowly expanded its outlets all over the Philippines. 
With the first franchisees joining the Minute Burger network in 2003, the burger company has become more accessible to its Filipino consumers.  As of March 2012, they already have 130 franchisees operating more than 350 stores all across the Philippines.
Minute Burger serves a variety of burgers and sandwiches at affordable prices.  Its food products include the Minute Burger, Cheese Dog, Cheese Burger, Double Minute Burger, Double Chicken Time, Chicken Time, Chicken Time with Cheese, Chick N Dog and some drinks.
With a solid name such as Minute Burger and with affiliations with Association of Filipino Franchisers Inc. (AFFI), Philippine Franchise Association (PFA), National Restaurant Association (NRA), Food and Drug Authority (FDA) and the National Meat Inspection Service (NMIS) you won't have anything to worry about when you acquire a franchising package from them.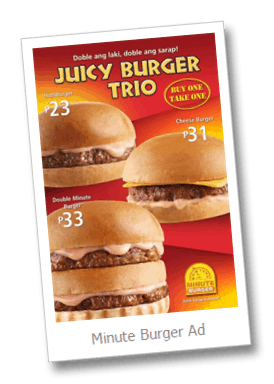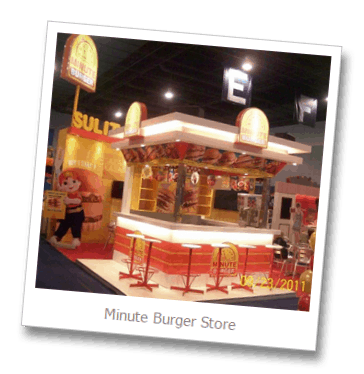 Franchising Fees
The Minute Burger Franchise Package costs P500,000 plus P30,000 for working capital per store.
Franchise Inclusions
The Minute Burger Franchise Package includes the following:
business operations support
management training services
marketing and promotional support
franchise fee
site processing
store construction
store equipment and selling paraphernalia
permits (to be secured by the franchisee)
initial marketing collaterals
rental deposit (not included)
use of goodwill marks (trade name and logo) and business system
basic personnel training
initial stocks (credit line worth P48,000)
P50,000 security deposit
Application Requirements
Attend the Franchise Presentation
Submit Letter of Intent
Submit Accomplished Application Form
Submit Proposed Sites (at least 3 locations)
Execute Reservation Agreement
Submit last two (2) months Bank Statement
Submit Income Tax Return for the preceding year
Contact Details
If you need more information regarding the Minute Burger Franchise, you can contact them through any of the following details:
Website: www.minuteburger.com
Email: info@minuteburger.com, customerservice@minuteburger.com
Parañaque City Telephone nos.: (02)776-7740, (02)776-7339
Davao City Telephone nos.: (082)244-0191, (082)244-0192
Cagayan de Oro Telephone no.: (088)885-3491
Iloilo Telephone no.: 0929-649-8551
Cebu City Telephone nos.: (032)345-4053, (032)344-4859
Bulacan Telephone nos.: (044)816-5797, (044)663-5421
Urdaneta City Telephone nos.: (075)529-1045, (075)529-1041
Address: 4 Dama De Noche St., UPS IV, Parañaque City, Philippines
Search terms:
minute burger franchise
burger machine franchise
minute burger franchise cost
minute burger franchise fee
minute burger
minute burger history
cost of building a minute burger business
minute burger philippines
www minuteburger com
minute burger food cart franchise
The following two tabs change content below.

Gelo
Gelo is a self-proclaimed introvert but always making an effort to engage a conversation with other people, an architect, a professor, a martial arts enthusiast, a music lover, a sometimes health conscious guy, a geek, and a bit weird sometimes, likes to watch and observe people and details around him, interested in a lot of things new and old, and who loves his girlfriend very much.