Mont Albo Franchise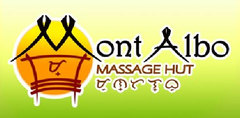 Affordable traditional massage is the specialization of this massage center and home clinic which first originated in the owner's old apartment in Makati City. Established by a freshly graduate Doctor on March 2007. The name of this massage center was derived from his family name "Montalbo" that literally means "white mountain" in Spanish language. He is a firm believer of traditional massage and its various forms of therapies as a child, "hilot" that is the reason he started this business. The company now has 16 branches in Metro Manila and neighboring provinces, still aiming to grow bigger in the coming years through Mont Albo Franchise.
The native theme of Mont Albo clinic is old Filipino tradition that pays to tribute to "nipa hut" as opposed to the modern concepts of the competing Spa clinics in the country. Mont Albo Massage Hut facilities include waiting lounges, massage and body scrub cubicles, shower, massage chairs, steam chambers and VIP rooms. Treatments are conducted by well trained massage therapist. It has been serving people with great spa treatments at a very affordable price that ranges from Php 300.00 depending on the massage services you want to avail. Mont Albos Massage Hut also markets goods such as: hand crafted organic soaps, customized shampoos, conditioner, oils, and burners among other things.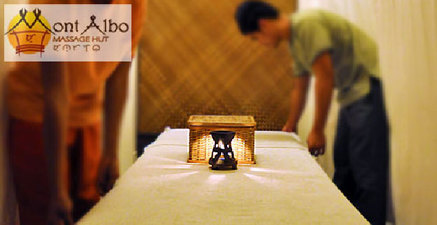 If you are aiming for a franchise that is Filipino themed, then Mont Albos Massage Hut is the one suited for you. This company has proven and tested services rendered over the years in business.
Mont Albo Massage Hut Franchise requirements: 
Letter of intent
2 valid IDs
Complete Franchise Information Sheet
Franchising steps:
Selecting a good location
Location assessment and evaluation
Reservation
Payment of Fees
Franchising Agreement Signing
Execution
Mont Albo Massage Hut Franchise Structure
| Criteria | Junior spa | Full Service Spa |
| --- | --- | --- |
| Floor Area (sq. m.) | 35-70 sq. m | >70 sq. m |
| Franchise fee | P350,000 | P500,000 |
| Initial Capital | ˜1.5M | ˜3.5M |
| Franchise term | 3 years | 3 years |
| Services offered | All except GT,su | All services |
| Royalty Fee | 5% / month | 5% / month |
| Advertising Fee | 2% | 2% |
| Local Advertising | 1% | 1% |
| Initial Number of employees | 5T,2RCP,1MNT,1SM | 10T,2RCP,1MNT,1SM |
| ROI | 14 months | 20 months |
LEGEND: GT- Ginhawa Tradition, T- Therapist, RCP- Receptionist, MNT- Maintenance, SM-Spa Manager, su- Suob
Contact Details
Websites: montalbomassage.com, www.ufranchiseasia.com/#!mont-albo-franchise-business/c239o

Email: montalbo.franchising@yahoo.com, mont_albo@yahoo.com
Phone No.: (02)403-2075
Address: Mont Albo Wellness Corp., G/F High Pointe Building, San Antonio Village, Pasong Tamo, Makati City, Philippines
Search terms:
mount albo massage franchising
FRANCHISE THE MONTALBO SPA
mt albo branch
Mont Albo Spa Franchise
mont albo franchise
Mont Alba franchise
installment terms franchise philippines
how to franchise mont albo spa
how much is the franchise fee for mont albo massage
franchises of white hut
---
FranchiseManila.com is a guide to the franchise business in the Philippines. Though it includes a list of franchising companies, they are not affiliated in any way with the website. If you have any queries regarding a particular company, please contact them directly through any of their contact details listed on their page.