Potato Fries Stix Franchise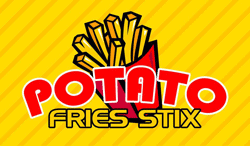 This food cart business is operated by Entrepinoy, which has operations in major nationwide. One of the reasons why this company has successful business is that, they are located in good spots, it has competitive pricing scheme and it has the right merchandise. Potato Fries Stix is the new baby of the company, which was established by young and promising entrepreneurs with have unique ideas that will set them apart from the rest. Only innovative line is being offered at Potato Fries Stix, which suits the local target market's taste and standard. Potato Fries Stix serves the freshest and newly picked potatoes, that surely satiates the cravings of everyone who loves fried potatoes.
The most valuable asset of the company is the people that operate the business. It helps out returning OFWs, retiring Filipino employees, University graduates and budding entrepreneurs that share the same interest and passion with the company.
Potato Fries Stix Franchise Details
Inclusions:
Use of Logo and Trade Name
Technology Transfer
Proven and tested Business System Use
Cart
Equipment
Menu Board
Initial Inventory that is worth Php 1,500.00
1 Set of Uniform
Potato Fries Stix Franchise Agreement
Free delivery of Franchise Package (within Metro Manila)
Free delivery of Stocks (within Metro Manila)
Notarized Franchise Agreement
Free Business Franchise Orientation
Grand Opening Assistance
Recruitment and Training of Service Crew
Franchise Term : Three (3) years
No hidden charges
No Royalty Fee
No broker's fee
Contact Details
Facebook Page: www.facebook.com/pages/Entrepinoy-Foodcart-Business/230772110395485
Phone Nos.: (02)914-0271, (02)470-4158
Mobile No.: (0927)771-0148, (0923)985-7590
Email: sales@entrepinoyfoodcart.com, i_am_entrepinoy@yahoo.com
Address: ENTREPINOY FOODCART INC., Unit LG16 Cityland Megaplaza, ADB Ave., Garnet Road, Ortigas Center, Pasig City, Philippines
Alternatively, you may contact them at:
Phone Nos.: (032)520-1043, (032)520-1369
Address: CEBU CITY (Extension Office), Room 203, 2F Lim's Brotherhood, Foundation Bldg., Osmena Blvd., cor. J. Llorente St., Cebu City, Philippines