Kwek kwek station food cart franchise is one of the franchise packages being offered by Midas Touch Ventures Franchising Corporation, a Philippine based company.  Their main product line is the Filipino street food kwek kwek.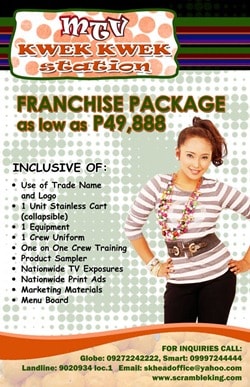 Food Cart Franchise Fee
The cost for this food cart franchise is P49,888
Franchise Fee Inclusions
This franchise has the following inclusions:
use

of trade name and logo
6 feet x 2

feet

stainless steel food cart

menu

board

equipment

1 crew uniform

one

on one crew

training

product

samplers

nationwide

tv exposures

nationwide

print ads

marketing

materials

now

open tarpaulin sign

free

delivery within Metro Manila
Contact Details
Below are the contact details of Midas Touch Ventures Franchising Corporation.
Website: www.scrambleking.com
Email: skheadoffice@yahoo.com
Telephone nos.: (02)902-0934 loc. 1, loc. 2, and loc. 3
Fax no.: (02)415-3061
Mobile nos.:
    globe: 0917-733-3334, 0927-224-2222, 0927-900-0777
    smart: 0999-724-4444
    sun: 0923-718-4497
Address: #39 B. Dapitan Extension corner Apo Street, Sta. Mesa Heights, Quezon City, Philippines
Jack is a self-made entrepreneur, who actually started out in the Military, then worked for the Government for a few years, until he finally made that bold step and started out his own online and offline businesses. He's never looked back ever since, and hasn't been happier…