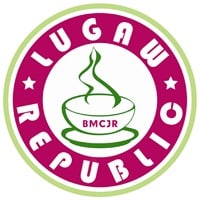 Lugaw Republic was conceived to serve the Filipino an affordable pinoy food favorite, the Lugaw.  In its 5 years in the food cart business, Lugaw Republic has already expanded their outlets to over 40 franchisees around the Philippines.  Boasting of experiencing a fast return of investment, they relate their business to a famous Filipino figure of speech which is "Tubong Lugaw".
Their lugaw products in their menu include the Plain Lugaw, Mixed Lugaw, Goto Espesyal, Egg Caldo, LTB (Lugaw, Tokwa at Baboy) and Arroz Caldo.  They also offer other food items that will compliment their lugaw products which include Kwek-kwek, Okoy, Puto Bulacan, Tokwa't Baboy, Lumpia Toge, Tokwa and Tokneneng.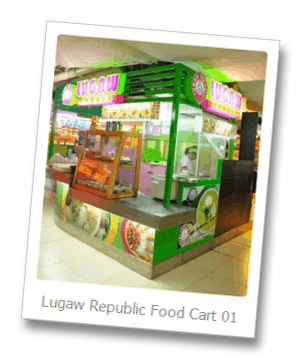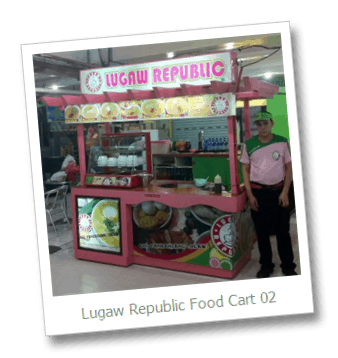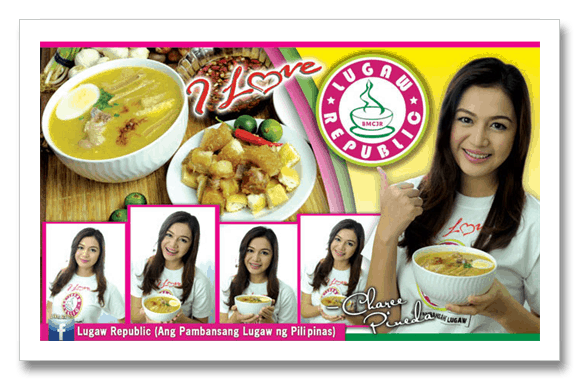 Lugaw Republic Franchise Fee
The Lugaw Republic Franchise Package ranges from P180,000 – P250,000 depending on the size of the store, food cart or kiosk, and the requirements of the mall or the proposed location.
Franchise Inclusions
The Lugaw Republic Franchise Package includes the following:
franchise

fee

feasibility

study

design

and construction of the food cart or kiosk

kitchen

equipment, kiosk equipment (from stove to

kutsilyo

and etc.)
3 sets of uniforms (shirts and sun visor)
2 x 2 meters food cart / kiosk
1

pc

.

large

juicer
1

pc

.

display

cabinet
1

pc

. 45 cups rice cooker
1 set 4

pcs

.

stock

pot cooking ware
1

pc

.

peacock

caldero

2

pcs

.

tong

1 set measuring cup
2

pcs

.

mixing

bowl
3

pcs

.

knife

1

pc

.

oz.

soup

ladle
4

pcs

.

serving

tray
1

set

smart cruet
1 smart shaker
1

pc

.

plastic

ladle
1

pc

.

kitchen

scissor
2 serving

spoon

1

pc

.

straw

holder
1

pc

.

strainer

1

pc

.

almeres

plastic
1

pc

.

chopping

board

condiments

set
1

pc

.

sandok

2

pcs

.

serving

tray plastic
4

pcs

.

canister

plastic medium
1

pc

.

knife

holder
2

pcs

.

electric

stove

signage

, menu board and outlet decors

training

of crew

initial

manpower

operations

manual

business

name

business

system

marketing

assistance
pre-opening assistance

grand

opening assistance
Other Information
No Royalty Fee
3

Years

contract and renewable
Contact Details
For other information regarding the Lugaw Republic franchising package, you may contact them through their contact details below:
Website: lugawrepublic.com.ph
Email: benjocruz@lugawrepublic.com.ph, ojneb_22@yahoo.com, lugawrepublic@yahoo.com
Mobile Nos.: 0920-979-5251, 0922-861-9132, 0932-871-2277, 0917-587-2321
Address: 15 A. Gen. Tibo St., Marulas, Valenzuela, Philippines
Jack is a self-made entrepreneur, who actually started out in the Military, then worked for the Government for a few years, until he finally made that bold step and started out his own online and offline businesses. He's never looked back ever since, and hasn't been happier…