Do you need a designer perfume but can't spend too much? Aficionado recreates our favorite scents at a fraction of the original cost. Aficionado was created by Mr. Joel Cruz on September 5, 2000 with the vision of being the preferred brand amongst Filipino's for high quality yet affordable fragrances. Aficionado can be found in malls catering to the customers from different lifestyles be it the rich or the poor, black or white or in our country, Kayumanggi.
After 5 years in the business, Mr. Joel Cruz decided to accept franchising which propelled Aficionado to new heights making Aficionado one of the known franchises for perfumes and fragrances. Aficionado franchise offers a 3 year franchise renewable contract, free solid training and re-training program, full advertising and support and a successful business system with simple operational requirements.  Aficionado offers three types of stalls to choose from, a kiosk, a wall shop and a cart.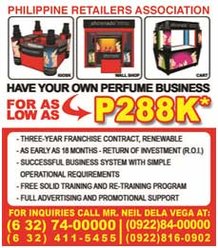 So how does one get an Aficionado franchise?
All you have to do is email a letter of intent to Mr. Neil Dela Vega at franchisegroup@aficionado.com.ph or contact them at (+632)740-0000. The head office is located at 1770 and 1774 Instruccion Street Cor N.S. Amoranto Ave, Sampaloc, Manila City, 1008, Philippines.
Franchising Aficionado costs 288,000 pesos, reasonably cheap for what they offer or if it's a hefty price, maybe consider being a dealer at 5000 pesos only. Aficionado prefers sites such as malls and commercial establishments to ensure that the program would be a success.
For more information, you could email them at info@aficionado.com.ph or like their official facebook fan page www.facebook.com/aficionadogermanyperfume or visit their official website at www.aficionado.com.ph.
Contact Details
Website: www.aficionado.com.ph
Facebook: www.facebook.com/aficionadogermanyperfume
Email: info@aficionado.com.ph, aficionado_franchise@yahoo.com
Telephone Nos.: (02)740-0000, (02)740-7953, (02)740-7972, (02)740-3895, (02)411-5455
Fax No.: (02)740-7953
Address: 1770 and 1774 Instruccion Street Cor N.S. Amoranto Ave, Sampaloc, Manila City, 1008, Philippines
Jack is a self-made entrepreneur, who actually started out in the Military, then worked for the Government for a few years, until he finally made that bold step and started out his own online and offline businesses. He's never looked back ever since, and hasn't been happier…