Sherwood "Shakey" Johnson is the founder of this pizza restaurant. Its first restaurant opened in April 30, 1954 in California, USA. A couple of years later, the second branch opened in Portland, Oregon USA. The company is renowned then and began franchising a year after. 7 franchised units have opened that year which only proved of the company's popularity to customers. Years later, Shakey's started expanding to neighboring country like Canada, Mexico, Japan, and in 1975 expansion has reached the Philippines. To date, 500 Shakey's restaurants are strategically located all over the world. Pizzas being the most popular dish it serves, people love the thin crust version, crispy, with a succulent taste of hand tossed pizza. On another note, the restaurant serves vast ala carte meals such as: deliciously marinated and fried to perfection chicken, pasta and MojoTM potato fries among others. Good times and great memories are what the company wants to impart each and every guest that visits the store. Indeed, it is one of the biggest and most reputable brands in the food industry to date.
Menu Shakey's offers:
Wide selection of pizzas from Angus Steakhouse, Hawaiian Delight, Classic Italian Sausage and the well loved Pepperoni to vegetarian pizzas.
Solo pack to Party pack fried chicken
Pasta from Carbonara supreme, Prima Lasagna, Monster Spaghetti Meatballs to Seafood marinara
Buffalo wings, calamari crunch for starters
Wholesome combos – combination of chicken, pasta with salad and soup meals
Group meals
Desserts and Beverages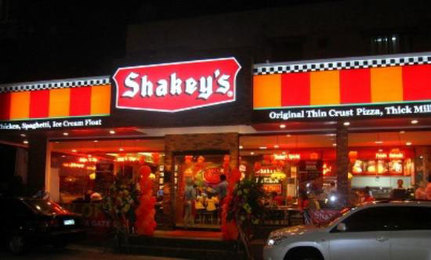 Shakey's welcome interested individuals in its world of teeming with opportunities for business persons, entrepreneurs, visionaries and big thinkers! Be a part of Shakey's family – with 30 years of proven market dominance, business excellence track and success too. Shakey's is easy to operate as it has a simplified operations system, integrated POS and inventory system as well.
Advantages of Shakey's Franchise: 
32 years of good brand reputation, proven track of record
Absolutely attractive store designs and layout
Low cost of investment
Great margins, one of the best ROI rate in the food industry
Growth opportunities are endless
Well loved products are vast
A hard working, committed team who has the mission of making Shakey's the leading and preferred pizza in the country.
These are what the company is going to share to its franchisees:
Site selection and strategic planning
Advertising and marketing services
Financial systems (standardized)
Distribution and purchasing (centralized)
Operations standard, systems and support
Training and development of human resources
Quality assurance, research and development
Technical support, construction and design of the store

 
Shakey's Franchise Financial Investment:
Php 8, 000, 000 to Php 10, 000, 000 is the financial requirement depending on the size of the store, location, and other factors. Agreement will be 10 years and renewable for 5 more years. Royalty fee of 5% of gross sales is to be paid, as well as advertising fund of not exceeding 5% of the gross sales. Renewal fee is 50% of then – current franchise fee.
Inclusion:
Interior and exterior construction of the restaurant
Kitchen equipment, furniture and fixtures' purchase and installation
Pre operating expenses
Franchise fee
Process of Shakey's Franchise application:
Got ot this link and fill up the inquiry form: 

https://www.shakeys.com/Franchise/InquiryForm.aspx

Send a letter of intent

Completed application form to be given by Shakey's upon receipt of the first requirement.

The screening

The validation

The final interview
Contact details
If you're interested in getting a Shakey's Franchise, contact them through any of the following:
Website: www.shakeyspizza.ph
Facebook Page: www.facebook.com/ShakeysPH
Twitter: twitter.com/PHShakeys
Email: jrprieto@racks.ph, gftolentino@shakeyspizza.ph, fbd@shakeyspizza.ph, jlnanat@shakeyspizza.ph
Phone Nos.: (02)839-0155, (02)839-0011 to 20
Fax No.: (02)839-0161
Address: Km. 12 East Service road, C5 South Super Highway, Taguig City, Philippines
Jack is a self-made entrepreneur, who actually started out in the Military, then worked for the Government for a few years, until he finally made that bold step and started out his own online and offline businesses. He's never looked back ever since, and hasn't been happier…