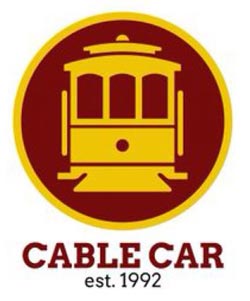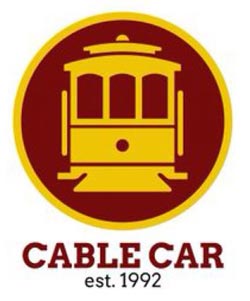 A buzzing sports bar and game room, is what Cable Car is all about. It started way back in 1992 at Makati City area. It is the most well-known "after party and late night food stop" for party goers. What the loyal customers like most about this establishment is its San Francisco bar ambience, and most of all its crave-worthy food. In late 2009, Cable Car & Restaurant was reborn into a new management.Cable Car Bar & Restaurant was then transformed into more fun and hip bar and nightspot that attracted different crowd. It has been focused in popularizing the then renowned game "beer pong". It has been one of the attractions of the bar and restaurant. However, Cable Car Bar & Restaurant did not change its décor, sports theme and even its menu; as well as its concept of providing good food, fun and entertainment for all its loyal patrons.
Cable Car Bar & Restaurant has a wide menu selection of mouth-watering dishes such as the following: variety of pizza, appetizers like Buffalo wings, chicken fingers, nachos, mushroom al ajillo, baked seafood, pica pica platters, sizzling appetizers, salads and soups, burgers and sandwiches, chicken parmegiana, cordon bleu, pasta, wraps and Cable Car & Restaurant's specialties of the house such as crispy pata, overstuffed chicken, seafood rice etc.
Cable Car Bar & Restaurant Franchise is open to entrepreneurs who share the same passion in the company in providing the customers good food, best service regardless of race or religion. A good business opportunity that is open to serve 24 hours a day, reputable brand name and proven track record.


Franchise Details
Franchise Fee – Php 750,000 (For Bar and Restaurant), Php 400,000 (For Restaurant only)
Inclusions
Proprietary mark and trade name
Approval of the selected location
Training program for Franchisee (and staff)
Procurement program
Pre-Opening and grand opening assistance
Daily Operations manual on loan
Development and Research
Initial agreement term – 6 years
Capital requirement – P 5.5 Million
Royalty Fee – 5% of gross sales
Required space – minimum of 200 square meters (for Bar & Restaurant)
Minimum of 80 square meters (for Restaurant only)
Steps in owning Cable Car Bar & Restaurant Franchise
Review the company's Franchise Marketing Kit.
Fill out a confidential questionnaire, and submission of a letter of intent (questionnaire is included in the Marketing Kit) Drop these at the contact details located below (via snail mail or email).
The application will be screened and evaluated by the Cable car Management and Franchise consultant.
The franchisor will set up a meeting to discuss and present the franchise details, as well as the Franchise Disclosure Information.
If the proposed location will pass the qualification set by the franchisor, it will be approved at this stage.
Execution of the Franchise Agreement and awarding of the franchise.
Setting up of the franchised outlet.
Training program must be attended and finished by the franchisee and staff.
A representative will be sent upon opening of the franchised outlet.
Cable Car Bar & Restaurant Franchise outlet grand opening!
Contact Details
If you are interested in getting a Cable Car Bar & Restaurant Franchise, contact them through any of their following contact details:
Website 1: cablecar.com.ph
Website 2: www.rkfranchise.com/wefranchise/cablecar
Email: franchising@cablecar.com.ph
Phone Nos.: (02)576-8494
Address: 822 Paseo Tesoro Bldg. Arnaiz Avenue, San Lorenzo Village, Makati City, Philippines 
Contact them also through RK Franchising Consultancy: 
Manila Branch:
Email: rk@rkfranchise.com, rkfranchiseconsultancy@yahoo.com 
Phone nos.: (02)912-2946, (02)912-2973, (02)955-0734
Fax no.: (02)911-1966, (02)912-2973
Cebu Branch:
Email: rkcebu@gmail.com
Phone nos.: (032)253-5010, (032)254-0473
Address: RK Franchise Consultancy Inc., G/F Minnesota Mansion, 267 Ermin Garcia St., Cubao, Quezon City, Philippines
Jack is a self-made entrepreneur, who actually started out in the Military, then worked for the Government for a few years, until he finally made that bold step and started out his own online and offline businesses. He's never looked back ever since, and hasn't been happier…