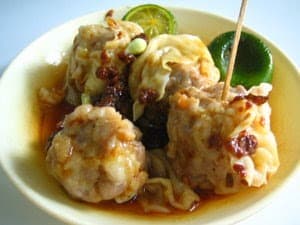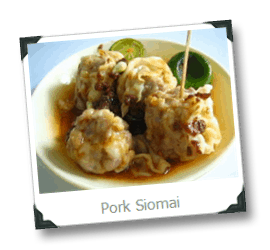 Image from moccachimo.blogspot.com
Selling Pork Siomai is one of the popular Chinese food and well-loved snack in the Philippines today.  There have been a lot of small-scale businesses, especially in food cart franchising, that are exploiting this food business idea and have been successful in gaining a lot of sales.
You too can exploit this small business idea and gain the same success as same as the others who are already in the business of selling Siomai.  Although most people think that you would need to get a food cart franchise to start a business selling siomai, you can actually make your own and get rid of any extra fees and the capital required in getting a franchise from those Companies offering Siomai.  Why pay someone for a product to sell if you can make your own and keep all the profit for yourself.
There are actually a lot of Pork Siomai Recipes out there, some may be different from others, but learning the basics of cooking one will definitely get you started in this small business idea.
Here are a few pork siomai recipes you can follow to start your Pork Siomai Business.  They are actually similar in terms of the preparation and cooking procedures, the difference is in the kinds of ingredients and amount of each ingredient that is used.
Pork Siomai Recipe 01
Ingredients:
1 kg ground pork (suggested proportion of fat to lean meat is 1:3) or 1 kg Prawn (shrimp) peeled
1/3 cup chopped water chestnuts or turnips (singkamas)
1/3 cup chopped carrots
2 medium or 1 large minced onion(s)
bunch of spring onions or leeks
1 egg
5 tablespoons sesame oil
1 teaspoon freshly ground pepper
1 teaspoon salt
50 pcs. large or 100 pcs. small wonton or siomai wrapper
soy sauce, calamansi (lemon or kumquats), sesame oil and chilli paste (for the sauce)
Wrapper Ingredients:
If you would like to create your own wrapper, here are the ingredients
1/4 cup water
1 egg
1 tablespoon vegetable or corn oil
1/4 teaspoon salt
1-1/2 cups all-purpose flour
Chilli Paste:
To create your own chilli paste, here are the ingredients:
1/8 kilo Chillies (Siling Labuyo)
3 tablespoons cooking oil
2 cloves garlic, peeled and minced
Procedures:
Mix all the ingredients for the filling in a bowl.  Mix them very well.
Get a spoonful of the mixture into each wrapper. Fold and seal.
Meanwhile, boil water and brush steamer with oil.
When the water gets to a rolling boil, place the Siomai in the steamer and let it stand for 15-20 minutes.  The bigger the pieces, the longer for it to cook.
Serve with soy sauce, calamansi and sesame oil. Chilli paste is optional.
Creating the Wrapper:
Beat the eggs and mix with flour.  Mix thoroughly until there are no more lumps.
Mix the water, cooking oil and salt and let it boil.  When boiling pour in the flour.
Remove the mixture from the heat and beat it until it forms a ball.
Divide the dough into 1-1/4inch balls.
Roll each ball on a floured board until paper thin. Set it aside.
Making the Chilli Paste:
Combine chopped chillies and minced garlic then simmer for around 20 minutes or till most of the water has evaporated. Add oil, simmer and stir well.
Pork Siomai Recipe 02
Ingredients:
2-1/2 lbs. ground pork
1 cup shrimp, minced
2 cups water chestnuts, minced
5 tablespoons sesame oil
1 tablespoons ground black pepper
1 cup onion, minced
1 cup carrots, minced
1-1/2 cups white mushroom, minced
1 pack wonton wrapper
1/4 cup scallions, minced
2 teaspoons salt
1 piece raw egg
water for steaming
Procedures:
Mix all the ingredients together except for the water and the wonton wrapper.  Make sure to mix them very well.
Take about 1 tablespoon of the mixture and then place it on a wonton wrapper.  Fold and seal the wonton wrapper.
Prepare the steamer, make sure to add a coat of oil on the bottom and sides to prevent the pork siomai from sticking.  Then place the wrapped pork siomai inside.
Steam the pork siomai for about 15 to 25 minutes, depending on the size of each piece.  The bigger the piece, the more time it needs to be steamed.
When cooked, serve with soy sauce, calamansi and chili.
Video:
Pork Siomai Recipe 03
Video:
References:
Go to the small business ideas page for more business ideas.
Jack is a self-made entrepreneur, who actually started out in the Military, then worked for the Government for a few years, until he finally made that bold step and started out his own online and offline businesses. He's never looked back ever since, and hasn't been happier…