Every Filipino family loves comfort food; and one of the old time favorites is grilled chicken. Aside from being a health food, it is full of flavor, smoky and really tasty. It is best eaten with calamansi or lemon with soy sauce as dip with (chicken oil). Of the leading player in the food industry is Inasal Chicken Bacolod. It prides of inasal (means barbeque in Bacolod dialect) that is distinct in taste and very flavorful that everybody craves for more once they tried the grilled chicken the restaurant offers. The chicken barbeque it offers has won the hearts of every customer due to its unique taste that is incomparable indeed. This infamous dish has started from Cajili family in Bacolod who created their own marinate, to provide the customers their own taste to make them different from the rest. Aside from the delicious menu Inasal Chicken Bacolod, it also boasts of its homey ambience and good customer service that make the loyal patrons enjoy their stay. The standards of excellence have been maintained ever since the restaurant first opened its doors way back in 1976. For more than 3 decades now, Inasal Chicken Bacolod has proven that it has a successful business system. The company keeps innovating and improving its ways to keep serving the Filipino families the best quality food and service they will ever experience. Inasal Chicken Bacolod's promise is to not disappoint its customers when it comes to the overall dining and gastronomic experience. Indeed, it is one of the reasons why the restaurant is still in the business nowadays, well renowned and loved.
Inasal Chicken Bacolod Menu
The restaurant does not only offer chicken inasal, but it has also a wide selection of other dishes that will surely satisfy every customer. Prices are very affordable that suits every customer from students, young professionals, and professionals. Desserts like Halo Halo, Leche Flan, and Turon as well as alcoholic and non-alcoholic beverages are available in the menu.
Inasal (Paa (feet) , Pecho (breast), Pak-pak (wings) , Atay (liver) , Isol, Baticolon, Satay, Spareribs, Baby Backribs)
Sizzling Platter (Boneless Bangus, Bangus Belly, Sisig, Spicy Squid, Sizzling BUlalo)
Grilled Seafood (Inihaw na Pusit, Tuna Belly, Tuna Panga)
Lasang Pinoy (Kare Kare, Dinuguan, Laing, Ensaladang talong, Chopsuey, Adobong Kangkong, Atchara, Chicken Skin)
Soup and Noodles (Kadios, Kansi, Sinigang na Salmon/Bangus Belly, Pork, Pancit Molo, La Paz Batchoy, Pancit Efuven)
Combo meals
Inasalo –salo (Good for 4-5 persons)
Inasal Chicken Bacolod has expanded through the years and currently has branches all over Metro Manila.: Robinsons Galleria, Rockwell Business Centre in Ortigas, Araneta Centre in Cubao, SM North Edsa, Ermita Manila, SM City Manila, Sta. Cruz Manila, Savemore Nagtahan, and Paranaque City.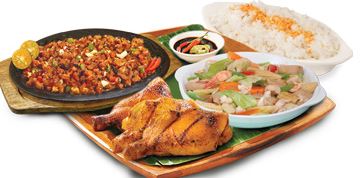 Advantages of Inasal Chicken Bacolod Franchise
Tested and proven business system
Pre-and grand opening assistance
On-going support
Training Program for required staff and franchisee
The company is looking for partners who are interested in joining them to continue the legacy it has started. The candidates must have the passion for the food industry, must be hard working, team player, good business background, motivated and driven to succeed. The company prefers to be contacted to request for its Inasal Chicken Bacolod Franchise Kit.
Contact Details
Website: www.inasalchickenbacolod.com.ph
Email: info@inasalchickenbacolod.com.ph
Phone Nos.: (02)570-7443, (02)570-7445
Fax No.: (02)570-7443
Address: Inasal Chicken Bacolod – Head Office – 309 Geronimo St., Buenmar, Subdivision Maybunga, Pasig City, Philippines
Jack is a self-made entrepreneur, who actually started out in the Military, then worked for the Government for a few years, until he finally made that bold step and started out his own online and offline businesses. He's never looked back ever since, and hasn't been happier…