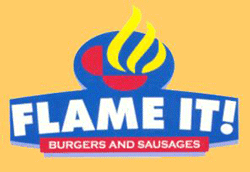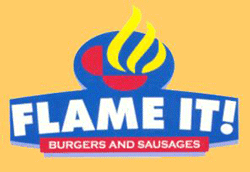 This company is offering interested entrepreneurs who are dynamic and have the strong will to succeed in the food and beverage industry. Flame It! Burgers and Sausages stores are currently operating in Cebu City, namely at Ayala Center Cebu and at Escario Street.
Flame It! Burgers and Sausages Franchise Frequently asked questions:
Are the franchises available nationwide? Yes
How much is the franchise fee? It is Php 350, 000 with a discount for a limited period of time only.
How much would be the total investment? It is Php 1,500,000 depends on the size and scope of the location renovation or construction.
Is there any advertisement fee? Yes, 1% of Gross Sales for Local Store Marketing. The store's Grand Opening requires an expenditure of Php 10,000
Will franchisor provide the location and construction/renovation of the store? No. The franchisees are the ones responsible in finding their own location. However, the sites are subject for approval. The construction of the store as well as renovations must be shouldered by the franchises.
Are franchises required to procure supplies from franchisor? Yes, but other items to be purchased should be approved by Flame It! Burgers and Sausages.
If the franchise leases store, will the design and layout be provided by the franchisor? The floor plan, layout and design will be furnished by the franchisor. The franchisee will be responsible in customizing them.
Are opening services provided? Yes, pre and grand opening of the store, assistance will be provided by the franchisor. As well as the training for required employees, ordering, inventory among others.
Is the training a must? Yes, the company strives to make the stores as successful as possible, the products and system must not be compromised so it is a must for the franchisees as well as their employees to attend and finish the training. The expenses during training must be shouldered by the franchisee.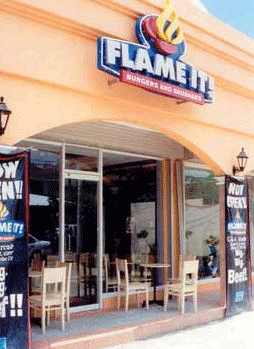 Flame It! Burgers and Sausages Franchise Fee:  Php 500,000
Including:
Right to name
Proprietary marks
Site selection approval
Training
Operations Manual
Pre-opening assistance
Opening assistance
Ongoing support
Franchise Agreement: 6 years, renewable
Training: for Franchisee employee
Estimated total investment: Php 1,500,000
Outlet space requirement: 50 square meters
Expected ROI: 1 year
Royalty fee: 5 per cent of gross sales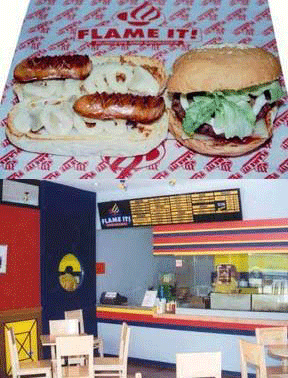 What are the benefits of Flame It! Burgers and Sausages Franchise?
Use of FLAME IT! BURGERS AND SAUSAGES business name and trade mark
Utilization of FLAME IT! BURGERS AND SAUSAGES business system
High quality product line
Profitable business venture
Low Franchise Fee
Low Royalty
Site selection assistance and evaluation
Training
Pre-Opening assistance
Grand Opening assistance
Post Opening assistance
Effective Field Service
Marketing and promotional assistance
On-going operational support
Procurement Program
Operations Manual
Contact Details
Website: www.rkfranchise.com/wefranchise/flameit
Tel: (02)416-1935
Email: iloveflameit@ymail.com
Address: FLAME IT! BURGERS AND SAUSAGES, Centro Fortuna A.S. Fortuna St., Banilad, Mandaue City
Contact them also through RK Franchising Consultancy: 
Manila Branch:
Email: rk@rkfranchise.com, rkfranchiseconsultancy@yahoo.com 
Phone nos.: (02)912-2946, (02)912-2973, (02)955-0734
Fax no.: (02)911-1966, (02)912-2973
Cebu Branch:
Email: rkcebu@gmail.com
Phone nos.: (032)253-5010, (032)254-0473
Address: RK Franchise Consultancy Inc., G/F Minnesota Mansion, 267 Ermin Garcia St., Cubao, Quezon City, Philippines
Jack is a self-made entrepreneur, who actually started out in the Military, then worked for the Government for a few years, until he finally made that bold step and started out his own online and offline businesses. He's never looked back ever since, and hasn't been happier…