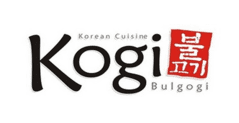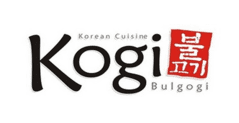 Bryan Tiu, I-Foods Inc. president has opened his first concept restaurant way back in year 2001, this was the first in a number of fast casual restaurants he has developed ever since. Then considered to be expensive concept, the restaurants he has developed have been brought to a bigger market segment. Kogi Bulgogi is one of these restaurants, it has a casual dining concept that focuses on authentic Korean cuisine which Filipino has grown to love and embrace. The target markets of the restaurant are families, and yuppies with the age range of 18-45 classes A-C. The price range of the restaurant is reasonable and the food it serves is authentic Korean dishes that are prepared, cooked and served fresh with good quality ingredients.
The word Kogi is a Korean language for meat, and Bulgogi is a dish of marinated beef cooked with onions, and it is one of Korea's most popular dishes. Kogi Bulgogi first opened its doors in Eastwood Mall, Libis in 2010, and has since enjoyed a full house consistently. In Kogi Bulgogi you will be spoiled in tempering your orders' spice level from 0 – 10. And surely, this service is specially appreciated by the Filipino market no doubt about it. Filipinos are known to be adventurous people when it comes to their foods, and once the restaurant sets the stage for your Kogi Bulgogi adventure, they'll warm you up with a set of six mini Korean appetizers of course adjusted to your preferred spice level. It serves house tea and banchan – a set of mini Korean appetizers such as kimchi, pickled radish, spicy anchovies, etc.
Only delightful fares of Korean dishes are offered as well as the restaurant's bestseller – Bulgogi. Other favorites in the restaurant are the Japchae (Korean glass noodles), Soft Shell Crab Salad, Sae-u Twigim, Deungshim Gui, and Kimchi (fermented cabbage as side dish) among others. Aside from its distinct spicy flavors, Korean cuisine noticeably balances their meals with vegetables which make for an ideal gastronomic experience that is really unforgettable and makes you want to get back for more.
It is indeed a big hit for families and group of friends due to the abundance of food servings, which only makes the dining experience more pleasurable and satisfying. When it comes to the ambience, the interiors of the restaurant have a unique Asian feel with bamboo trees as well as smooth pebbles that decorate the restaurant. The wooden earth tones, that are contrasted with the dark furniture creates an indeed delightful aesthetic balance of nature's warmth and contemporary relaxation.
The range of dishes Kogi Bulgogi offers
Beef Bulgogi
Kimchi
Gui (Grilled Favorites)
Bibimbap (Korean Rice Toppings with beef, pork or chicken)
Ramyeon (Korean noodles)
Frozen Korean Snacks
Kogi Bulgogi Franchise is available for like-minded entrepreneurs who are willing to join the company in continuing its legacy of serving the Filipino families with freshly cooked authentic Korean dishes that are of great quality and prepared by skilled chefs and served by friendly staff.

Contact Details
Contact the company at the following details if you want to know more about the Kogi Bulgogi Franchise and its inclusions among other things:
Facebook Page: www.facebook.com/kogibulgogi
Email: info@ifoodsgroup.com
Phone No.: (02)705-1496 loc. 103
Fax No.: (02)723-6033
Address: Unit 5, 2nd Level City Center Building, 338 Ortigas Avenue Greenhills, San Juan, Metro Manila, Philippines
Jack is a self-made entrepreneur, who actually started out in the Military, then worked for the Government for a few years, until he finally made that bold step and started out his own online and offline businesses. He's never looked back ever since, and hasn't been happier…