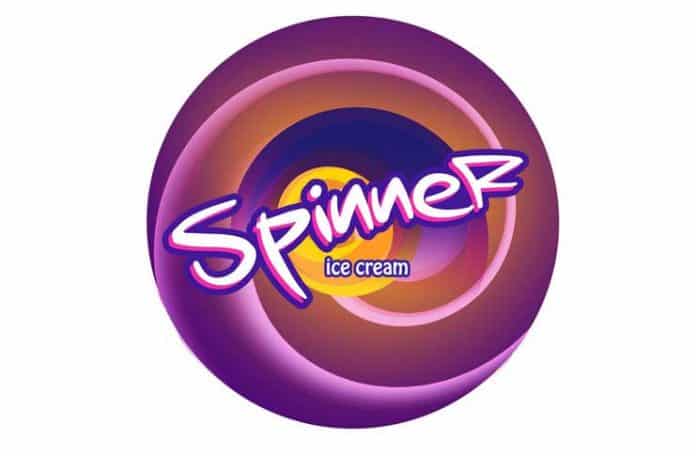 You love ice cream too? I personally can't resist a good ice cream stand on a day out, when it's hot and sticky. The weather in the Philippines makes it perfect for ice cream lovers like me, so I always look out for those Ice Cream companies which offer a lucrative business opportunity. Today I'll be examining the Spinner Ice Cream Franchise opportunity. You should definitely read this…
Spinner Ice Cream is one of the three brands under the IGGoodwill Enterprise. It was established in 2016 with one goal in mind: become the most loved soft serve ice cream in the country.
Spinner Ice Cream is the brainchild of IGGoodwill Enterprise's Isagani Gumasing. With years of experience, he felt the need to innovate the product in order to serve the Filipino market in the best possible way. Hence, the slogan "Spinner Ice Cream is not just a dessert, IT'S A SNACK" was conceptualized.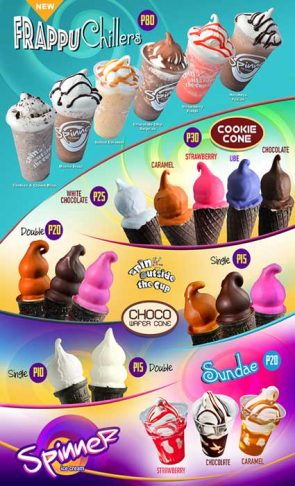 IGGoodwill Enterprise has quite a bold goal – to change the way ice cream is perceived and highlight its benefits. Who would've thought that the classic vanilla ice cream could lighten a person's mood because it naturally relieves stress? Not to mention Vitamin A and Calcium, which are also essential to ones health.
Since opening its first store in SM Manila, the Spinner Ice Cream Franchise has reached over 30 branches in Luzon and Visayas and soon in Mindanao. Spinner Ice Cream aims to reach more Filipinos through franchising. With its products, modernized merchandise, US made cups and world-class customer service, Spinner Ice Cream will continue to grow its branches.
By the end of 2018, the Spinner Ice Cream Franchise plans to dominate the Visayas and Mindanao region.
Check out an example of how a Spinner Kiosk looks like – at SM Ilo-Ilo:
Spinner Ice Cream Franchise: PRODUCTS
Choco Wafer Cone
This classic will always be a favorite. White chocolate soft serve ice cream on a crispy wafer cone.
Cookie Cones
The Spinner Ice Cream cookie cones are made up of real cookies that will satisfy your sweet cravings and suffice your hunger. Imagine enjoying your favorite ice cream and finishing it with cookies. Perfect!
Sundae
A creamy soft serve white chocolate ice cream smothered in fudge sauce. Choose from these classic flavors. strawberry, caramel and chocolate.
Spinner 
Smooth and creamy soft serve ice cream blended with your favorite toppings and combined with white chocolate ice cream that will take your taste buds to a new spin!
Ultimate
Treat yourself with the best variety of fresh fruit toppings and sweet chocolates. Generous amount of white chocolate soft serve ice cream is enough to be shared.
FrappuChillers
Spinner Ice Cream FrappuChillers burst in different flavors that will make you come back for more. Each FrappuChiller is made with the best tasting flavors, like Hersheys Chocolate, topped with white chocolate soft serve ice cream.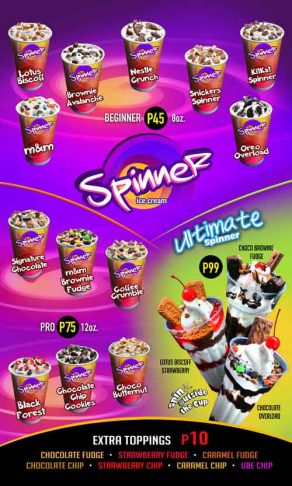 Spinner Ice Cream FRANCHISE PACKAGE – Php 499,000
With the all-in package, franchisees will receive the following:
Franchise fee for 3 years

Use of Spinner Ice Cream brand

Taylor brand ice cream machine – US brand
Heavy duty stainless kiosk –

Razzle machine

Refrigerator

Merchandising

TV

Location assistance

Opening day support

Marketing assistance – social media ads

Free monthly stocks delivery – franchisees can enjoy free delivery every month. Orders will be delivered 7 business days from the placement of order

Complete set of operation tools

Training and orientation – At the IGGoodwill Enterprise head office

Free food and lodging for trainees

2 sets of uniform
Spinner Ice Cream – Contact Details:
Website: www.iggoodwillenterprise.com
Main Facebook page: www.facebook.com/spinner.icecream
Franchise facebook page: www.facebook.com/spinnericecreamfranchise
Email address: franchise.spinnericecream@gmail.com
Phone nos: (0956) 6977679
(0925) 831 2921
(044) 7649728
Address: IGGoodwill Building Petron Rd., Turo, Bocaue, Bulacan