Many school children are admittedly afraid of math. This fear does not outgrow us and because of this, even parents are afraid to teach Math to their kids. Are you guilty of this, mommy? You are not alone, and there is a solution! Our fear of math is a vicious cycle that no rote learning method can solve. Many after school Math programs are for rote learning and speed. S.A.M Singapore Math is different because it never teaches memorization, just comprehension! And the good news is, S.A.M is open for franchising- so not only can you help your child, but the whole community as well!
The Story of S.A.M
Seriously Addictive Maths (S.A.M) started in Singapore in 2010, born out of love from co-owners Samuel Chia and Lau Chin Loong. Both of them had surveyed the Singapore Math landscape and realized that there were many tutorial centers, however, little to none that catered to enrichment that focused on building critical thinking skills of the child or the pace of the student. With Samuel's business experience in running successful restaurant chains and Chin Loong's Singapore Math teaching experience in top Singapore Primary schools, the both of them banded together and created Seriously Addictive Maths to serve children struggling with mathematics.
World's Largest Franchise of Singapore Math and the Authentic Singapore Math Program is Now in the Philippines!
S.A.M entered the Philippines in 2016 and has been focused on imparting the authentic Singapore Math skills to Filipino students. Since then, S.A.M has grown steadily from 3 centers in 2016 to currently 55 today and a loyal following. Passionate franchisees and teachers and growing loyal parents that believe in building the crucial thinking skills that their children need for tomorrow's world, are the driving forces of S.A.M Singapore Math's success.
SAM Singapore Math is the World's Largest Franchise of Singapore Math program. SAM is an award-winning brand in 18 countries and counting, Seriously Addictive Maths offers aspiring business owners, a profitable franchise opportunity that can enrich the lives of the children in their community.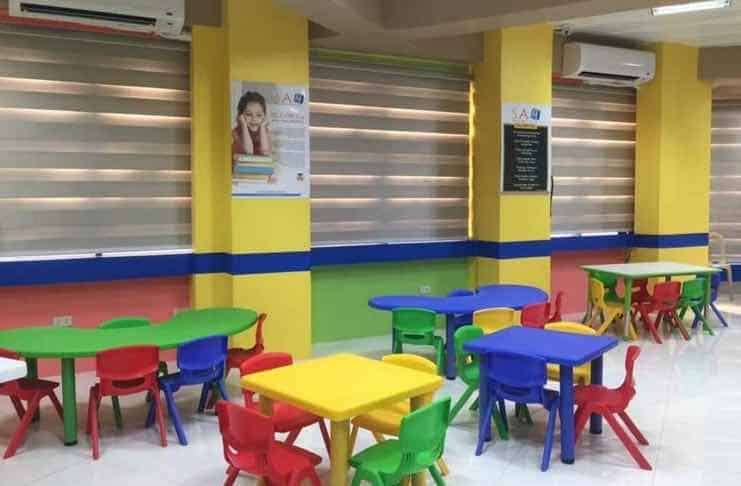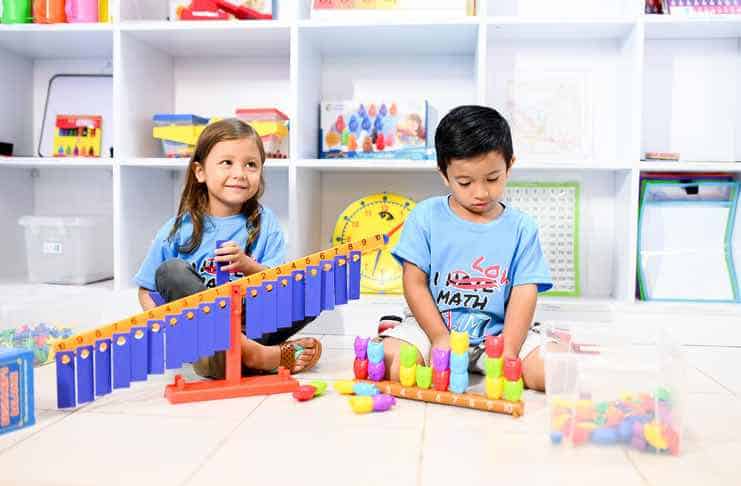 Programs for every Child's Math Needs
There are 4 programs within S.A.M that parents can choose from and can be made available in the franchise center. Each program has its focus which can teach the child critical thinking and be successful from as simple as adding 1 to 1 to winning in elite Math competitions. The program are as follows:
Ace Program (Elite preparation for Math Competition)
Aim Program (3-6 month preparation for Examinations)
Kinder Singapore Math Program (for preparation for Grade 1)
Grade 1 – 6 Singapore Math enrichment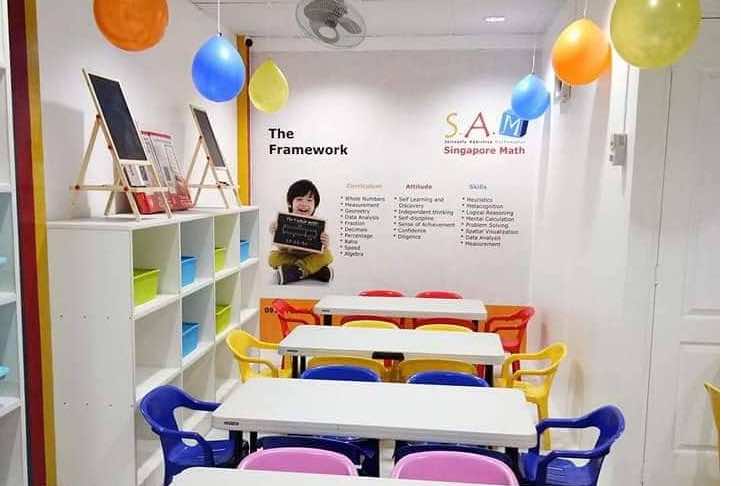 As a potential franchisee, you know your local market better and with this, you can focus on one program or offer all to benefit all the families in your community. Education is always a good investment!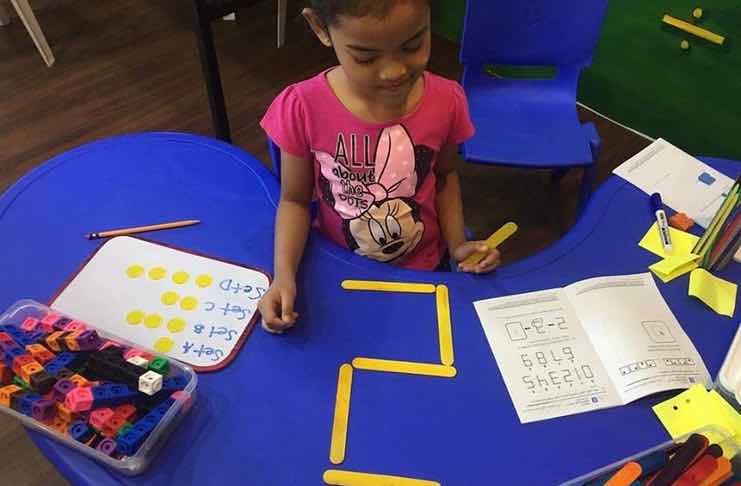 How to Franchise S.A.M Singapore Math?
Total investment for a Single Unit Franchise (including Franchise Fee, Marketing Fee, Renovation, Furnishing etc) is estimated at PHP 900,000.
Location is one of the most important factors during the application of the franchise. The desired area must be approved and be profitable and SAM will not approve a center that is not in a good location.
To fully guide you, here is the step by step process and if you need more clarification, you can send your concern to admin@seriouslyaddictivemaths.com.ph
Submit a confidential application by interested applicant to http://seriouslyaddictivemaths.com.ph/Franchise-SAM-Singapore-Math/
Head Office will review the application.
Selected applicants will be invited over to discuss the franchise details.
Franchise Manager will present S.A.M Disclosure Information and letter of Intent presentation.
Franchisee submits of Letter of Intent
Franchisee attends an Interview with Master Franchisee and discusses a business proposal.
Head Office examines the proposed area. The area size should be 70 square meters in minimum.
Execution of the Franchise Agreement.
Franchisee and teachers attend Singapore Math Training
Head Office assists in Marketing and pre-opening.
Grand opening!
Why Franchise SAM Than Other After-School Programs in the Philippines?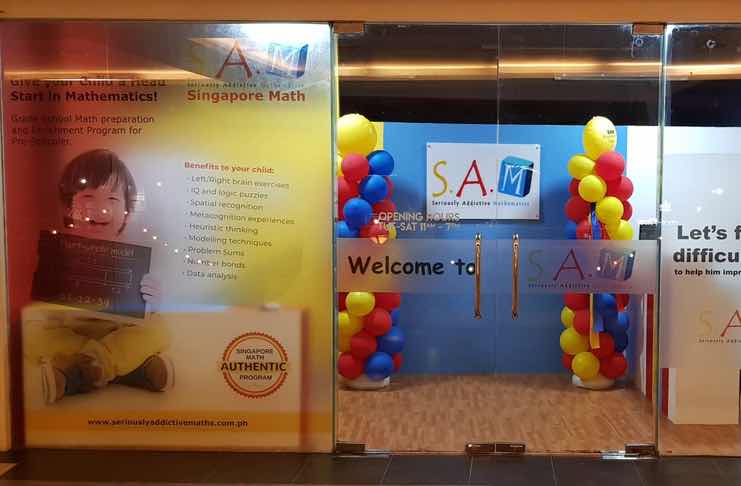 SAM is a unique after-school franchise opportunity for you to improve the quality of education in your community, anywhere in the Philippines – at par with Singapore standards.
100% Made in Singapore. SAM's curriculum is originally developed by an in-house team of teachers and textbook publishers in Singapore. It's regularly updated by SAM's curriculum experts in Singapore to stay ahead of global educational trends. This program is the Authentic Singapore Math in the Philippines. As a result, the program in Philippine centers are identical to their Singapore centers. Therefore, the children in your community don't need to fly to Singapore because you can bring SAM to them through franchising.
No Spoon-Feeding. SAM Singapore Math guide their students by asking probing questions. In addition, their trainers carefully plan the right questions and activities before each class to ensure that their SAM students "think". SAM believes that spoon-feeding is easy but not long term. Above all, SAM's goal is to develop self-discovery and learning at a young age.



No Memorization, Just Comprehension. In other words, gone are the days of tedious memorization to excel in Math. SAM Singapore Math place huge emphasis on non-routine word problems that require comprehension and thinking to answer. As a result, SAM students learn the "whys" not just the "hows" of Mathematics. By the end of their program, SAM students will be well equipped with an array of skills to confidently embrace the mathematical challenges of the 21st century.
If you are interested to franchise S.A.M contact their franchise department at 0977-8239910. You can also visit their website http://seriouslyaddictivemaths.com.ph/Franchise-SAM-Singapore-Math/ and Facebook page: www.facebook.com/SAM.SingaporeMath.Philippines
A graduate of Marketing Management who tried his luck with Sales and soon found himself writing for a living. He began as an Academic Writer before turning into online content and getting serious with his own blog. He daydreams of embarking on an exploration of what the world has to offer while finding inspiration to put his thoughts into writing. He currently contributes for WhenInManila.com. You can check his own blog at themusescamecrashing.wordpress.com.