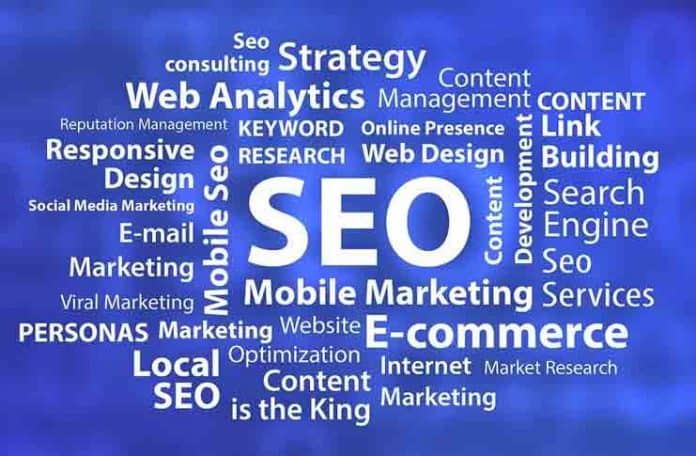 As the COVID-19 crisis is looming, the digital world is booming. Almost every single small business is suddenly understanding that being online is not enough anymore. Businesses need to beat their competitors (on Google) and reach customers first if they want to survive.  For that purpose, we gathered a list of small business SEO tips and knowledge, as well as some specific Franchise SEO tips that we'll discuss at the end of this post.
What exactly is Small Business SEO?
If you're totally new to the digital world, SEO stands for Search Engine Optimization. What does that mean? Well, in short – it's the work needed to boost a business's visibility on search engines, and of course – increase the amount of online traffic it receives. This eventually brings in more leads, customers, and revenues. If for example, you're living and working in Denmark (we have lots of loyal OFWs there!) and you own a local business there – you'll have two options: Either hire a good local SEO agency like Dadkhah's in Denmark to do the work for you or – you can learn how to do SEO by yourself. It's absolutely in your reach! Read on to learn the basics.
1. Follow the Stats and Data
You should start following the basic trends of how customers are searching online for businesses like yours. Important stats to follow are:
Around 60% of online searches are performed on a mobile phone (

SearchEngineLand

)

Almost 70%  of people use their phone when they want to buy something (according to

Google

) 

Almost 20% of local searches on smartphones lead to a buying customer on that same day (according to

Google

)
These stats may change next year and more people might use their Desktops, so you might need to adjust accordingly. Always know the basic trends.
2. Create Your Google My Business Account
This is completely free of charge and allows you to publish all your business details online – on Google. It might help you appear in local search results for specific queries bearing your business name or your specific niche. Don't confuse this with Google's disappointing social network, Google+. Adding your business to Google My Business is very effective.
We recommend you optimize your GMB profile as much as possible, adding every single detail, starting with the exact address, opening hours, directions, images and more. Don't forget to update your GMB profile regularly.  
3. Make Your Website Fast and Mobile-friendly
You might already have a wonderful website for your business. It might be stunning in its design and you might be totally in love with it. Unfortunately, that's not what counts these days. If your website isn't fast and mobile-friendly – Google won't like it, and you won't be ranking up high in the search results. 
You don't necessarily need to hire a web designer to accomplish this. You can just install WordPress as your site's CMS (Content Management System), and then add a few plugins that can make your site mobile-friendly and fast.  Be sure to regularly. update both your WordPress version and your plugins.
4. Monitor Your Website with Google Analytics and Search Console 
As with most of Google's tools (except for running Google Ads of course!) – also these two are free of charge. Both GA (Google Analytics) and GSC (Google Search Console) provide a ton of valuable information about your website's performance, the users who reach your site, as well as any errors or issues on your website that you should fix.
GA gives you endless information about your traffic, including the top landing pages (which get most traffic), traffic sources, Geographic location of your customers and their behavior, and much more. Here's a good guide for using GA. 
With GSC on the other hand, you can discover which keywords Google thinks your website could rank for. GSC is also the tool that will alert you with any issues your website has in regards to bad content, crawling problems, mobile-friendliness and more. 
5. Start a Blog and Write 
"Content is King". You probably heard this before, but when it comes to the Internet and Google – then it really is true. Good and relevant content will help you rank up higher in the search results, for the target keywords that are present in your articles. So how do you do this? Well, you start a Blog that focuses on your business, products, services, expertise, and topics relevant to those. 
However, don't create your Blog only for SEO purposes. Make it a tool to really help your readers with "How to" tutorials, true Reviews of relevant products or services, in-depth Opinion articles, Interviews with real clients or other Experts, and more. If your Blog becomes a small hub for anything related to your niche – your business can skyrocket!
Don't worry, you won't have to write a new article every day, although the more – the better. Publishing 1-2 good quality content every week is good enough. Try to create articles that answer customers' questions. Format your articles with short paragraphs (2-4 sentences max), with nice catchy headlines (containing keywords as well), use tables, bullet points, and media (pictures and videos). Pictures are also great for adding another keyword (in the picture's name and caption), which gives you another chance of getting traffic  – when customers search for images on Google.  
Don't forget to keep your articles current and updated. Google loves fresh and updated content, and will usually rank those higher. 
6. Take Advantage of Social Media and Business Listings
You might think of "fake news" when you hear of Social Media these days, but believe it or not – it's still a relevant tool. Maintaining a Facebook page, Twitter or Instagram channels, can do wonders to keeping your blog content fresh and out there, even though you probably won't get so many likes and shares without investing money. The important thing about sharing your blog posts on Social media is to get those search engine algorithms take note of your social media presence. The more links you get to your site, from credible social media sites – adds to your SEO strength. But it's not just social media sites which are important for your business to be on. 
Business Listings for SEO
Don't forget all those big and important business directories or business sites where you can list your business on. The most important details you should have on all of them are: 
Name of business

Address of your business

Phone number of your business

Operating hours of your business
Those are the major 4 details that Google wants to see consistent data overall, so whenever you have changes in any business detail – update them on all sites.
Yahoo Local, LinkedIn, Yellow Pages, are just a few examples for sites you should be on.
7. Create Videos for Your Website (and YouTube)
According to research estimates, video traffic will soon comprise over 80% of all online traffic. If you like preparing your business for the future (which is already here!) – then start creating video content. It has great SEO potential and therefore can help drive more traffic to your website.
When creating your videos and uploading them to your website, make sure to include a detailed text description with the relevant keywords, so Google's crawlers will understand exactly what it's about. And lastly, you can also create a YouTube channel for your business and upload your videos there. Same process applies there. 
8. Optimize Your Website for Voice Searches
Voice assistants like Siri, Google Assistant and Amazon's Alexa are gaining more popularity by the day. Some researchers claim that in just a few years, more than 50% of all searches across the internet will be voice-based.
Businesses that take action today, and design their websites so they support voice search will reap up the benefits in the long run. How do you do that? You need to focus less on short keywords and more on conversational keywords and topics. 
Voice-based searches are typically longer if you think about it. Let's say you're searching for the best franchise business in Manila. If you type search it on Google, you'll probably type "Best franchise business in Manila", while if you voice-search, you'll probably ask "What is the best franchise business in Manila?". As you can see, most voice-based searches begin with either What, Why, When, Where or How. Try to create your content by answering these long questions, and you might attract more traffic to your site.
9. Keep up with SEO News and Updates
Never lose your guard in SEO, as things tend to change quickly. Google rolls new updates to its algorithms several times a year, and websites of all sorts get hit or get bumped up in search results. Monitor your GSC for any notices from Google, but also follow some reliable SEO news blogs for regular updates.