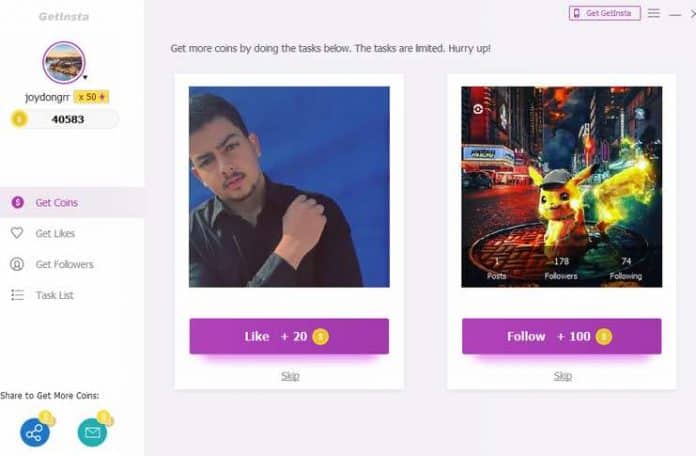 Looking to boost your social media and get Instagram followers for your business? I assume you don't want to spend a ton of money on hiring Social Media experts. Well, there are legitimate ways to get free Instagram followers. Read on. 
Nowadays, social media platforms like Instagram are crucial for the success of many businesses. If you sell food, clothing, or practically anything that can be photographed nicely – then Instagram is a great tool. It can help expose your brand to potential customers and ultimately increase sales. Instagram is very visual, user-friendly, and extremely popular among the younger generations, compared to Facebook. If your business is not yet using Instagram – it's time to join the hype, and start attracting followers. In this post you'll learn of a useful app called GetInsta, which can help you get more followers without investing a lot of money. 
What is the GetInsta App?
It's a smart app that Instagram users can deploy in order to get real followers for their account. On top of gaining new followers, the app can help you get natural likes for your Insta posts. GetInsta is 100% free, secure, and available for android, iPhone and windows. It's also very popular, being used by thousands of users around the world.. 
The basic way that GetInsta works is very simple. You have to follow the profiles of others and like their posts, and in return – you will get followers and likes on your account. It's a totally legitimate way for increasing your Instagram followers and likes.  
How to Use GetInsta to Get Instagram Followers for Your Business
First, you'll need to head to GetInsta, download the app, and open an account.
To make use of GetInsta for attracting more Instagram followers and likes, you'll need to earn coins (virtual coins of course – part of the GetInsta app). It is also completely free to earn coins. 
These following steps will show you how to earn coins on GetInsta:
Step 1: Log in to your account on GetInsta.
Step 2: Tap on "Get Coins" icon. Here you can see the current like and follow tasks published by others. If you Like a post you'll get 20 coins. You can skip any task you don't like, and choose only the ones you really do like.
Step 3: If you tap on the follow button and follow one of the accounts listed in the follow tasks, you'll get 100 coins for each follow. This way, you can easily earn coins on GetInsta.
How to Get Followers and Likes for your own Instagram Account?
It's very simple. 
Tap on the "Get Followers" or "Get Likes" buttons on the left in order to publish a Follower or Like task. In no time you will see your followers or likes growing. You can easily check the progress of your tasks on the "Task List".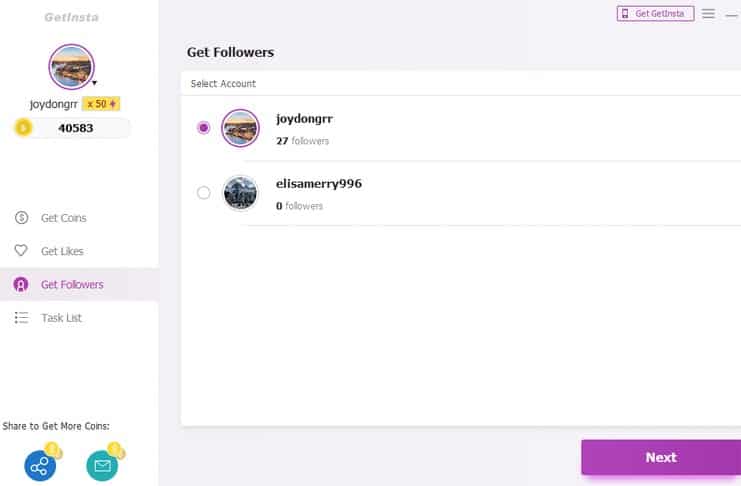 GetInsta is currently offering a 1000 free instagram followers trial, so go ahead and try it out. There's nothing to lose here, only the opportunity to get more Instagram followers for your Business.
Here are the Key features of GetInsta:
Easy to use App

with an intuitive interface for getting more Instagram followers and likes for your business. No technical knowledge is required.

100% Free.

You don't need to pay even one peso for using this App and for getting new followers and likes.

100% safe and secure.

The app includes advanced levels of security protocols that keep the profiles secured and private.

You get Real followers and likes:

This is not a shady bot algorithm. This app provides genuine users who follow your profile and like your posts, in exchange for GetInsta coins.

Supports multiple languages

: GetInsta is available in 16 different languages.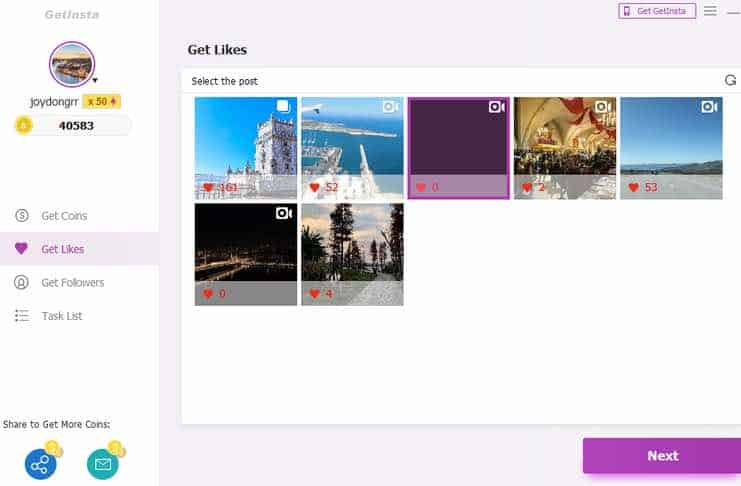 Conclusion
GetInsta is a smart, easy, and safe way to get more Instagram followers for your Business, as well as more likes for your posts. The followers are genuine (real app users like you), not bots. It's definitely a tool we'd recommend for any business that is active on Instagram.
If you've been using GetInsta and have comments or suggestions – feel free to comment below or contact us directly.
Disclaimer: At the time we tested GetInsta, the app has been working as described. We are not responsible for any damage or security issue that may arise anytime in the future.