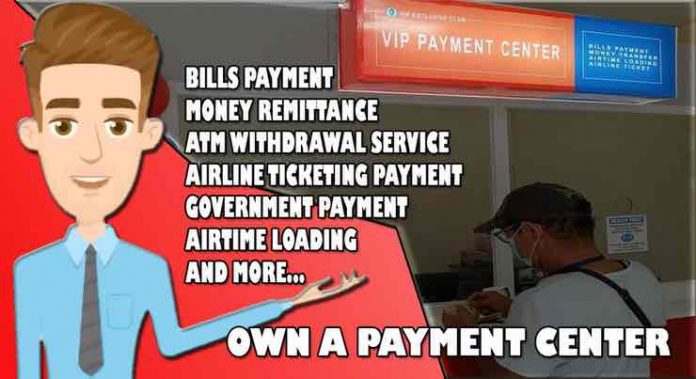 Looking for a profitable and successful Payment Center Franchise? You reached the right place. In this post, we'll be discussing the opportunities of becoming a VIP PAYMENT CENTER franchisee. This is a Payment center business solution offered as a Franchise opportunity to individuals, groups, organizations, and companies alike. 
Contact For More Details:
CALL/TEXT
09617844814 (SMART)
09178590582 (GLOBE)
LOOK FOR: RICHAELLE JOYCE DIWA (Business Consultant)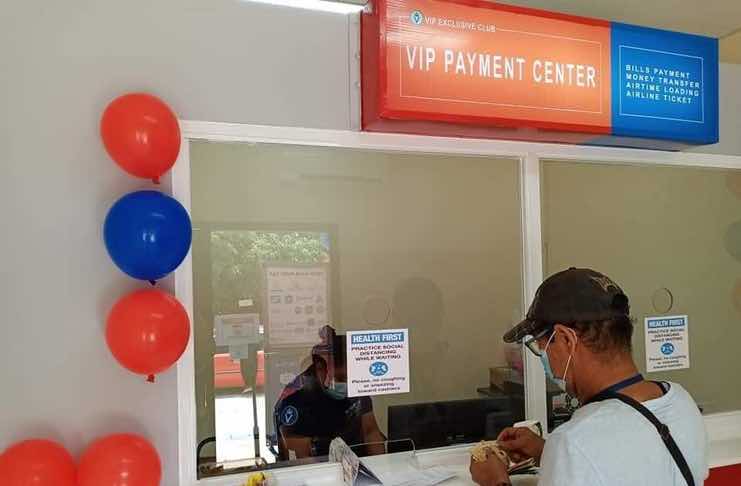 SERVICES INCLUSIONS
Cash-in (Deposit) to Bank Accounts via Instapay and Pesonet

Cash-out (Withdrawal) from BANCNET ATM Cards

Money Transfer (Gcash / Paymaya / Smart Padala)

International Remittance & Local Remittance  via DA5-Western Union, iRemit and Cebuanna Remittance

Bacnet CashCard application and releasing with monthly limit up-to P300,000

Bills Payment with more than 500 Billers

Government Payments (PAG-IBIG, DFA, NBI, SSS, and more)

Airline Ticket Payment

Airtime Loading for Globe, Smart, Sun, and Others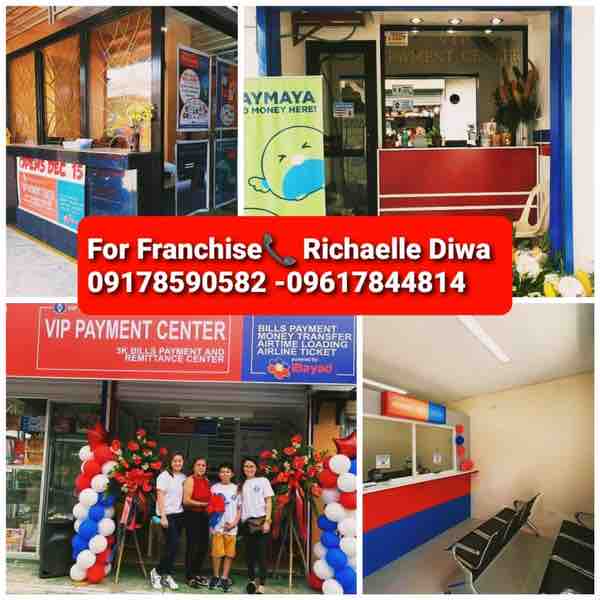 Watch this video about VIP PAYMENT CENTER to learn more:
LOCAL AND INTERNATIONAL REMITTANCE
Western Union Local

Western Union International 

Cebuana Lhuillier 

SMART Padala Send Money 

SMART Padala Encashment 

SENDAH DIRECT

GCASH CASH IN

PAYMAYA CASH IN

VIP CASH CARD DIRECT SENDING
Contact For More Details:
CALL/TEXT
09617844814 (SMART)
09178590582 (GLOBE)
LOOK FOR: RICHAELLE JOYCE DIWA (Business Consultant)
Watch this video of the contract signing between VIP PAYMENT CENTER and Western Union:
PARTNERS AND SERVICES
UTILITIES:

ELECTRICITY

WATER

INTERNET

CABLE

TELECOMMUNICATIONS
CREDIT COMPANIES:
HOME CREDIT

AEON

AND MORE…
GOVERNMENT PAYMENT
:
SSS

PAGIBIG

NBI

DFA

AND MORE…

The Market of Payment Centers: Things You Need To Know
The Philippines payment or remittance market as it's called is composed of international remittances and domestic remittances. The Philippines ' international remittance has been growing for many years due to inbound remittances from OFWs. However, Domestic money transfers in the Philippines have also been maturing and growing exponentially in the last 5 years. What exactly are Domestic money transfers? These include both remote money remittances and payments of bills. This continued growth has made Payment Center Franchise businesses a sought after investment. There are many service providers in this market, and VIP PAYMENT CENTER is one of the leading opportunities.
growing to be one of the Philippine's sought after home-based or store-based solution provider
VIP PAYMENT CENTER: A Leading Payment Center Franchise Opportunity
VIP PAYMENT CENTER is growing to become one of the country's most popular home-based or store-based Payment Center solution provider. Barangay Banking is the main campaign of ACM Business Solutions INC. – the company behind VIP PAYMENT CENTER. The company is focused on helping to educate and permanently reduce the 77% unbanked and unserved sector in the Philippines. They do so by bringing financial services like EMI Products or Bank Products closer to the community. ACM's Payment Center Business provides a powerful platform that can help communities to ease their access to the remittances market and payment of bills. ACM's mission is to place 42,000 VIP Payment Center branches nationwide over the next 5 years.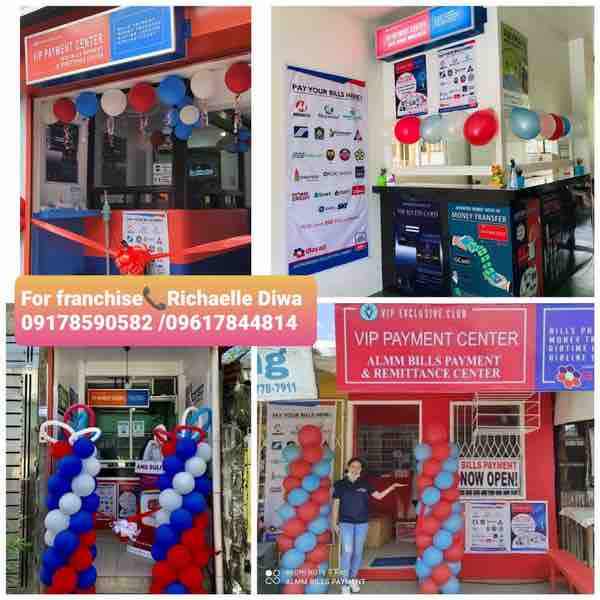 VIP PAYMENT CENTER has an easy-to-operate business strategy that provides fast and reachable returns. They have seen exponential growth with nearly 1,500 branches formed since they started back in mid of 2017.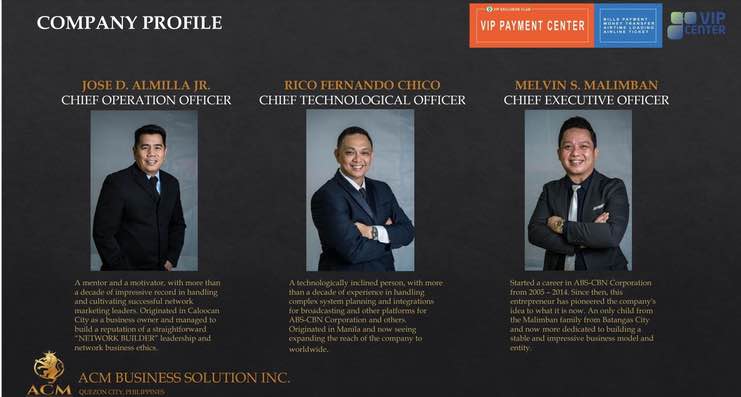 Who are the key entrepreneurs behind ACM Business Solution Inc. and VIP PAYMENT CENTER? ACM is actually the initials of the founders and key officers of the company:
A is for Almilla, or Jose D. Almilla Jr. – the Chief Operation Officer of ACM.
C is for Chico, or Rico Fernando M. Chico – the Chief Technological Officer of ACM.
M is for Malimban, or Melvin S. Malimban – the Chief Executive Officer of ACM.  
How Much is the Franchise Fee of VIP PAYMENT CENTER? What's Included?
According to our latest data, the current franchise fee of VIP PAYMENT CENTER is Php 498,000. However, this includes a few really nice freebies.
FREEBIES FOR FULL PAYMENT!!
Desktop

3 in 1 inkjet printer

40,000 pesos revolving fund
INCLUSIONS:
USB Thermal Printer (58mm)

USB Barcode Scanner

1ft x 4ft VIP Payment Center Standard Signage

2pcs Staff Uniform

Marketing materials tarpaulin

Printable Flyers Design

Bancnet Enabled Reader and Pin Pad

DTI Permit

BSP License, Security-Enhanced Devise, (Notarial Fees for Western Union)

Area Zoning Protection Policy

Lifetime Franchise License With Authority To Transfer or Add as an Add – On To a Current Business

Issuance of VIP Payment Center Globe Number
HOW TO BECOME VIP PAYMENT CENTER OUTLET?

Step 1: Provide a proposed location (subject to approval)
Step 2: Sign the VIP PAYMENT CENTER agreement and complete the agreed payment
Step 3: Attend the required Technical Training
Step 4: Start operating your branch 
ALL YOU NEED TO PROVIDE:
Store (No space requirement)

Internet Connection (2mbps-3mbps)
Contact For More Details:

CALL/TEXT
09617844814 (SMART)
09178590582 (GLOBE)
LOOK FOR: RICHAELLE JOYCE DIWA ( Business Consultant )
E-mail: ricascarlett23@gmail.com
Website: https://www.franchise-vippaymentcenter.com/
ADDRESS: 4TH LEVEL UNIT 8888 AND 888, LEMON SQUARE BUILDING MUNOZ 
EDSA QUEZON CITY, PHILIPPINES
Here's the Facebook Page of VIP PAYMENT CENTER:
https://www.facebook.com/BillsPaymentFranchiseBusinessCenter/?modal=admin_todo_tour
In Conclusion…
According to Research and Markets, the rapid growth in the use of mobile technologies in the Philippines for money transfer and bill payments are also a key factor for the future growth of the domestic remittance and bill payments market. The experts predict that Internal migration will continue to grow and thus sustain the growth of money transfers conducted in the country. In addition, the international remittance market will continue to grow as well, thanks to the increasing deployment of OFWs. All this provides a very positive outlook for the Payment Center Business model. So, if you're looking for a Payment Business Franchise opportunity – give VIP PAYMENT CENTER a look. Contact them to set an appointment to learn more.
The VIP PAYMENT CENTER Franchise has made it to our prestigious list of Small Business Ideas you should follow and evaluate – maybe it's the one for you.