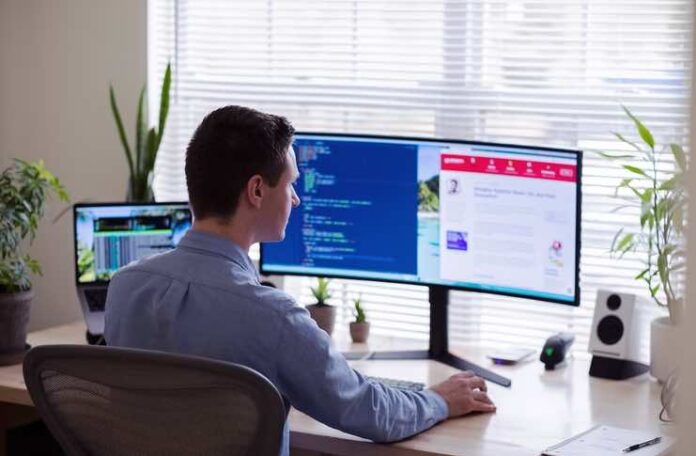 UserWay is a Digital Accessibility Innovator that is committed to making digital accessibility reachable to all.
This technology makes content available for people like you, ranging from websites to apps and PDFs.
You will be able to maintain a high percentage of your website visitors with the UserWay ADA Compliance Widget, and at the same time, the audit tool thoroughly scans for broken corruption, color inconsistencies, HTML inconsistencies, font sizes, and widgets clusters, and more. 
Policy violations may prevent some visitors from accessing your site, but with this UserWay review, you will get insight into how the software works as a web accessibility solution. 
Interested in learning more? keep reading. Also, for any additional information, click here. 
Many small businesses today use UserWay to improve web accessibility and grow their brands. What is stopping you from doing the same?
What can make you get more interested in this platform will be its features.
So now let's look at what features UserWay has in store for you.
Through exploring and studying the UserWay Web Access Platform, we have found five main features that need to be highlighted :
Accessibility Audit
The purpose of an Accessibility Audit is to establish how well a particular environment performs in terms of access and ease of use for a wide range of potential users. The term potential users also include people with disabilities and visual impairment. 
This audit also recommends improvements and changes that can be made, meaning your site will be user-friendly for anyone.
But what are the features that make this possible?
Braille displays: these useful displays provide access to info by electronically raising and lowering different combinations of pins in braille cells.
Text-to-speech: this is one of the latest technology trends that swiftly convert text to voice.
Talking thermostats: with a simple press of a button or a verbal command.
Optical character recognition:  the process that converts an image of text into a machine-readable text format. For example, if you scan a document or a receipt, your PC or laptop will save it as an image file.
Accessibility Scanner
What does an accessibility scanner do?
Accessibility Scanner will scan your screen and give you useful suggestions to enhance the accessibility of your app. 
This software operates by legal guidelines regarding accessibility on the Internet, meaning it keeps you on the right side of the law and protects you from potential lawsuits.
Their scanner's vast infrastructure allows users to perform multiple scans quickly. Where according to statistics, the UserWay Accessibility Tool can handle about 30,000 scans per hour, cop-cop.
After the problem is identified, it flags each violation and recommends a solution so you can solve it quickly. This is yet another tool that is offered by UserWay and not many other digital accessibility innovators. 
Content Moderator
Using racist, xenophobic, and sexist comments or any other form of hate speech profoundly affect your accessibility and your web rankings. Such comments are going to negatively impact your website if you don't react quickly and delete them. But not to worry, UserWay has a solution even for that.
By using this content moderator feature, you can quickly weed out any insulting or offensive text. Therefore, your users are going to trust your content more, consider your site a safe space, and you will be able to dodge constant lawsuits.
However, you should note that UserWay does not contain an automated censorship tool in the software itself. Where the content moderator only makes suggestions, and you can then determine whether to reject or accept the same suggestions.
Third-party Integrations
It is provided by a third party usually, but not necessarily where a large company will allow you to access data or software functionality on a website or application. An example of this is when a ridesharing app like Uber combines the mapping functionality of an app like Google Maps to track trips.
Third-party solutions come in various forms. The most common types of 3rd-party software are libraries, platforms, and tools.
UserWay offers you plugins with platforms such as:
WordPress- The most popular content management system that is based on PHP coding language.
Shopify- Ecommerce platform that allows for building fully functional online web stores.
Magento– A software built with PHP that is used for building e-commerce stores.
WooCommerce- Ecommerce plugin that is used for WordPress.
These are just a few of the best-known platforms and software that can be used and integrated with UserWay, but there are far more. 
Web Accessibility Widget
The Cybernautic's accessibility widget will ensure your website is available to all users using the web. It makes sure that your website is fully compliant with ADA and WCAG 2.1 rules.
The UserWay accessibility widget is for sure one of the most effective features provided by this accessibility innovator. It performs well on websites that are written with primary programming languages like Javascript, CSS, and HTML.
Here are some of the UserWay compliance widgets:
Screen reader – You can alter the reading speed on the screen reader interface.
Contrast adjust – This mode can help people make the text bold to prevent overstraining their eyes.
Text magnifier – permits users to raise the font size, thus improving content readability.
Color handling – helps visitors select profiles like monochrome, inverted, dark, or light.
Audio muting – disables all audio. It's quite useful to some of your readers who have hearing problems.
Pricing 
We have seen the features that are provided by UserWay, but now let's take a look at the pricing. First of all, there are four categories on based on the amount of traffic a site gets. Those are small sites with 100k of views per moth, medium sites that have up to 1 million visitors, large sites with 10 million views per month and enterprises or for public sector sites with more than 10 million views. 
Another interesting thing is that they have three plans per each of those categories. The first plan or also known as the Basic Wigdet is always free, the most popular choice or the Pro accessibility widget is prices based on the size of the site but the third plan or the managed compliance does not have a price, or rather the price is not disclosed. 
These are the prices for each Pro Accessibility Wigdet: 
Small sites- $ 49/ month or $490/ year
Medium sites- $ 129/ month  or $ 1290/ year
Large sites – $329/ month or 3290/ year
Conclusion 
Having an accessible and inclusive website to all is a very important thing thesedays. If you want to accommodate to the needs of all types of people, you should take a closer look at UserWay. Many big corporations such as Coca Cola, Disney and Porsche are using it, so if you want to move your site in the right direction you should consider using this digital accessibility innovator as well. 
Want to read more of our latest posts? Check out this post about the Stone Depot Franchise – probably the most successful countertop store franchise in the country.