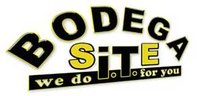 Bodega Site started out in a portion of a stock room which sole proprietor Engineer Anthony Junior J. Baisa asked from his father and was established in December 8 2000. The Bodega Site franchise is a one-stop shop for computers, cameras, cellphones and consumer electronics and offers after-sales maintenance, repair and other technology based services such as web development and hosting, point of sales, CCTV, security and alarm systems, basic and advanced troubleshooting, I.T. security and performance, structured cabling and networking and service maintenance of MIS.
In 2002, the first Bodega Site built its first showroom at Puerto Princesa, Palawan.  In the next two years computer rentals grew into a large-scale internet café and from there on they expanded to tangible I.T. products. The first Bodega site franchise outside Palawan opened in June 8, 2010 at Gateway Mall, Cubao which transferred to E.Rodriguez, Cubao, Quezon City.   Today, Bodega Site has 5 company owned branches and three franchisee's located across the Philippines.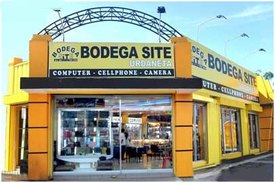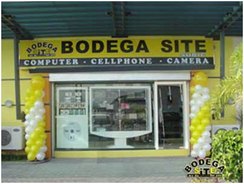 Today, as demand in automation rises, it is practical to invest on companies that provide I.T. solutions such as Bodega Site.  Bodega Site now gives you the opportunity to have the advantage of franchising one of the best I.T. franchise concepts in the Philippines.  They have an offer that you cannot simply refuse as they have no franchise fee, no royalty fee and a guaranteed return of investment. Now how can you say no to that?
The initial investment is about 500,000 pesos depending on the size of the location and rental fees and an initial contract term of 5 years. Here is the list of what's included in the initial investment:
Use of bodega site trademark, name and logo
Operations manual
Basic and advanced training program
Refresher trainings on new products, services and retail rennovations
Start-up and pre-opening assistance
Full opening assistance
Site evaluation assistance
Continuous business consulting and guidance
Special procurement program

Advertising and marketing support
So what are you waiting for? Go and send a letter of intent to Bodega Site franchising email address and start your road to the franchising world.
Contact Details
For more inquiries on the Bodega Site franchise, you may contact them on the details below:
Website: www.bodegasite.com
Facebook Page: facebook.com/bodega.sitefranchising, facebook.com/BodegaSite
Email: info@bodegasite.com, franchise@bodegasite.com, abaisa@bodegasite.com, jbaisa@bodegasite.com
Phone Nos.: (02)584-6786, (02)570-7943
Mobile No.: 0918-833-2378
Fax No.: (02)570-7943, (02)584-6805
Address: Franchise Sales Office at 1680 E.Rodriguez Senior Avenue corner Los Angeles St., Cubao, Quezon City, Philippines
Jack is a self-made entrepreneur, who actually started out in the Military, then worked for the Government for a few years, until he finally made that bold step and started out his own online and offline businesses. He's never looked back ever since, and hasn't been happier…