A fast growing company that offers fragrances and personal care products, Glamlab started marketing its products through top direct selling companies in 2005. Nowadays, Glamlab's products are being sold in Metro Manila's biggest malls. Credit is due to the hard work, hands on management of the owners, Glamlab is now one of the top companies when it comes to personal care brands.  The company is committed in bringing out only the best quality product that has won the trusts of every Filipinos with discerning tastes.
Aggressive and dynamic entrepreneurs are invited to avail of Glamlab Franchise, to be one of their business partners. Together, they can bring the personal care industry to a new level of marketing excellence and product quality to enhance the experience of the consumers, which they only deserve. Glamlab believes that grooming does not necessarily be expensive, that is why the company keeps serving its consumers good quality product at affordable prices.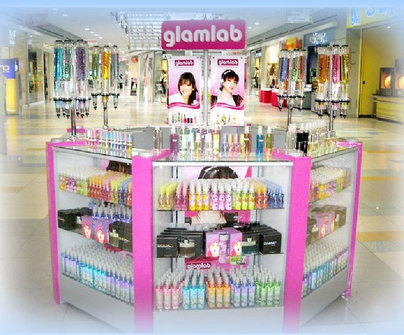 The franchise package consists of the following: An initial capital of Php 350,000, Glamlab Kiosk, Purchasing and Distribution which is centralized, Research and Development of Product which is continuous, Training and Development of Human Resources, Initial Inventory Product, Advertising and Marketing Support (radio ads, banners, flyers, table tops and streamers), Pre Opening and Grand Store Opening Assistance, Guidance and regular support on day to day operations, Evaluation and Assistance in Site Selection, the right to use of Business Name and Logo of Glamlab.  Php 100, 000 worth of product will be provided as a beginning inventory to the successful Glamlab Franchise applicant, this consists of tester sets.  Every quarter, starting on the 2nd year of the franchise, a royalty fee of Php 5,000 is required. This contract is good for 3 years and is renewable.
What are the benefits of availing Glamlab Franchise?
An extensive Marketing Support
Daily Cash Revenues
Practically Low Investment
Quick Payback Period
Profitability

 
Contact Details
Website: www.glamlab.ph
Facebook Page: https://www.facebook.com/pages/Glamlab-fragrances-and-Personal-Care/161671773561
Email Address: info@glamlab.ph, henz25@yahoo.com, wars707@yahoo.com, maansoriano.bloomworks@yahoo.com
Phone No.: (02)727-4091 to 92
Fax No.: (02)727-6587 loc. 122
Address:  Unit 2010, Ae Building., Ortigas Avenue, Greenhills, San Juan City, Philippines
Jack is a self-made entrepreneur, who actually started out in the Military, then worked for the Government for a few years, until he finally made that bold step and started out his own online and offline businesses. He's never looked back ever since, and hasn't been happier…