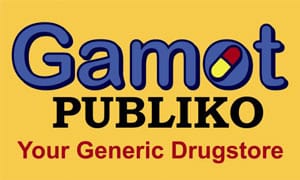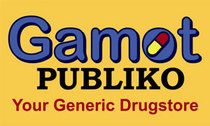 Not each and every Filipino can afford to buy medicines due to the high living costs and unemployment among other factors. Gamot Publiko is the answer to their needs. The newest Drugstore in the country that promotes wellness by providing highly affordable medicines. This company is committed to provide assistance in terms of selling cheaper vitamins and medicines needed to sustain life. As well as continuous provision of campaigns, and educating people about sickness, its treatment and prevention.  By addressing the high sickness rate which is prevalent in the Philippines, is how Gamot Publiko helps out its fellow Filipino people. Each and every Filipino family deserves to achieve good health and wellness that is why this company prioritizes low investment on its franchise costs.
What are the advantages of Gamot Publiko Franchise?
Investment cost is lower than that of competitor's
Demand for its product is big
Reasonable payback period and is profitable
Does not require big site spaces
Very easy to operate
Logistics assistance
The Franchise Package inclusions:
Trademarks name, and logo right to use
Locations site evaluation assistance
Assistance in store designs/ planning, lay outs and construction
Operations Manual
Business Management and Store Daily Operations Training Program
Full Opening and Start Up Assistance
Education and Full Guidance on Generic Medicines
Support in Marketing and Advertising
Continuous and ongoing Business Consulting
The initial investment of Gamot Publiko Franchise could be as low as Php 600,000 including the Php 160,000 Franchise Fee, construction, fixtures, initial working capitals, and leasehold improvement that will all depends on the size of the chosen branch location. A minimum of 15 square meters site location is required, and it should be in high foot traffic area. The designs and lay out will be coming from Gamot Publiko. 3 to 4 personnel are ideal to every store with a licensed Pharmacist to directly supervise the operations.  Initially, the term is up to 3 years with renewals of 3 years and another 3 years with a total of 9 years.
If interested in Gamot Publiko Franchise, send the following:
Letter of intent
Application form to be found at: http://www.gamotpubliko.com/franchise-application-form.html
A map and sketch of proposed site
Detailed Resume with picture
Contact Details
If you have any inquiry regarding the Gamot Publiko Franchise, contact them from any of their contact details below:
Website:  www.gamotpubliko.com
Facebook Page:  facebook.com/GamotPublikoCorp
Email: spl@gamotpubliko.com
Phone No.: (02)723-8142,  (02)416-6807
Fax No.: (02)727-3869
Address: Unit 203 STK Bldg., 681 Aurora Blvd., Quezon City, Philippines
Jack is a self-made entrepreneur, who actually started out in the Military, then worked for the Government for a few years, until he finally made that bold step and started out his own online and offline businesses. He's never looked back ever since, and hasn't been happier…