The target market of this restaurant is families / clans that are put together by good food. It is a quality and authentic Hong Kong Tea House that started in 1997 in Manila. This restaurant served only 3 kinds of dishes when it started. 2 years later, Hap Chan Franchise has begun. A group of entrepreneurs has assisted the restaurant on 2009. They introduced new techniques to the management to help them keep up with the food industry's stiff competition. Hap Chan now boasts a wide selection of menu and one of the best and quality Tea House in the Philippines. And has branched out in different areas in the Philippines like, Palawan and Boracay adding up to the 45 franchisees. Indeed, Hap Chan has extensively grown due to aggressive franchising!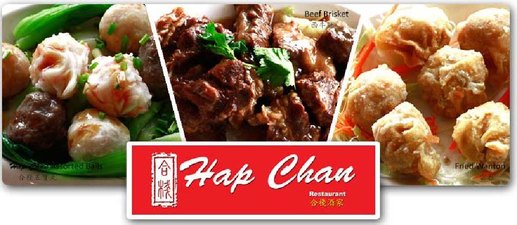 How Much is the Hap Chan Franchise?
Franchise fee depends on the type of store you want. Tea House franchise costs Php 6 to 7 Million and requires a floor area of about 80 to 120 square meters. While Restaurant franchise costs Php 8 to 10 Million and the requirement for a floor area is 120 square meters or bigger. Hap Chan Franchise is inclusive of the company's trademarks and name, the location selection approval, training programs are provided, manual of the daily operations, procurement program, assistance in the grand opening and continuous support to get the franchisee updated. The company projects a 3 to 4 years Return On Investment depending on the location and overall performance. The term is for 5 to 7 years but renewable and 5% of the gross monthly sales would be the royalty fee.
The company expects the franchisee to be self motivated, determined individuals who are hungry for success and hands on in the business itself who never stop ensuring that they are delivering what the company has strived giving to the dining public since it has started. Someone who has an excellent management record; not only limited to the food industry though will be a good Hap Chan Franchise applicant.
Contact Details
If you have any questions regarding the Hap Chan Franchise, you may contact them through any of their contact details listed below:
Website: www.newhapchan.com
Email: hapchan2001@gmail.com
Phone No.: (02)411-6186, (02)410-4009, (02)410-4012
Fax No.: (02)412-3080
Address: HAP CHAN TRADING AND MANAGEMENT CORPORATION, 937 EDSA, South Triangle, Quezon City, Philippines 
Jack is a self-made entrepreneur, who actually started out in the Military, then worked for the Government for a few years, until he finally made that bold step and started out his own online and offline businesses. He's never looked back ever since, and hasn't been happier…