This restaurant was founded and started by a young couple more than a decade ago. They started offering their quality and good tasting well marinated barbeques in a weekend market in EDSA. Since then, their customers have rapidly increased that made them expanded their operations and in sales as well. They used to offer their product only during weekends but due to insistent public demands, made the restaurant available all week long and even opened up branches to cater to the growing demand of its clientele. It is well renowned for its best tasting and quality barbeques that never failed their high end clientele's taste buds.
A variety of barbequed product is offered by the company, which has become a favourite of the grilled food loving Filipino people. The biggest opportunity came when the couple were offered to place a stall in Market! Market! in Fort Bonifacio in 2003. Since then, Ineng's Special BBQ has attracted the very meticulous tastes of its high end customers and has opened up a few branches in Metro Manila area.

Ineng's Franchise started offering franchising in 2012 to goal oriented and self driven individual who only has success in mind, who will bring their good tasting quality product throughout Metro Manila and its neighbouring cities and provinces as well.
Details of Ineng's Special BBQ Franchise
Quick Service Restaurant type:
Franchise fee is Php 350,000
5% of the Gross Sales is the Royalty fee
2% of the Gross Sales goes to the National Marketing Fund
Return On Investment period of 24 to 36 months (3 years)
Store lot area requirement is 70 to 200 square meters
Included in the Franchise package:
Franchise fee
Evaluation of Site and assessment
Improvements of leasehold
Furniture, fixtures and kitchen equipment
Manual of daily operations
Worth Php 50,000 of initial inventory
Training program for staff and management team
Support in Pre – opening
The total investment of this franchise will cost Php 2,500,000 to Php 3,500,000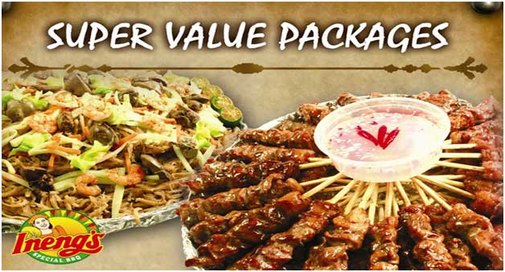 Full Dine In type:
Php 350,000 Ineng's Franchise fee
Improvements of Leasehold
Implements and Kitchen equipment
Office equipments and appliances (electrical)
Furniture
Fixtures
Expenses in Pre opening of the store
Contact Details
Website: inengs.com
Email: franchise@inengs.com, inengs_franchise@yahoo.com
Phone No.: (02)709-0026 to 28 loc. 108
Fax No.: (02)709-0026 to 28 loc. 112
Mobile No.: 0922-887-6840
Address: Ineng's Special BBQ Foods, Inc., FRANCHISE RECRUITMENT DEPARTMENT, ISB International Franchising Corporation, No. 10 21st Avenue, Brgy. Tagumpay, Quezon City, Philippines
Jack is a self-made entrepreneur, who actually started out in the Military, then worked for the Government for a few years, until he finally made that bold step and started out his own online and offline businesses. He's never looked back ever since, and hasn't been happier…