A lot of people are into Dim Sum but only a handful knows what it means. Dim Sum translates to "order to your heart's content". Dim Sum can practically be anything – from stuffed buns to dumplings. Most of the ingredients they use ranges from beef, pork, chicken to seafood and vegetables. Meanwhile, Mongkok translates to a "busy corner". Put together, Mongkok Dimsum and Noodles Franchise was born.
They were registered way back in 1998. The first branch they put up was located in the bustling city of Libis, QC. Come 2002, it relocated in Rockwell Center which was in Makati City. They became known for carrying a wide variety of dimsum and reasonably priced food. The rest, as they say, is history. Aside from their main branch, they also have branches in Glorietta, San Fernando Pampanga, Angeles City, Cauayan, Isabella, Shangrila Mall, and Robinson Galleria. That speaks a lot of the success that they have achieved.
Some of the food in their menu consists of:
Fried Noodles:
Seafood Fried Noodles
Cantonese Chow Mien
Shanghai Guisado
Beef and Vegetable Fried Noodles
Chicken Chow Mien
Seafood Noodle Soup
Wanton Noodle Soup
Rice Toppings
Fookien Fried Rice
Salted Fish Chicken Fried Rice
Yang Chow Fried Rice
Mongkok Special Fried Rice
Spareribs Rice
Spareribs and Chicken Feet Rice
Chicken and Mushroom Rice
Brisket Rice
Sweet and Sour Fish Rice
Chef's Specialties
Seafood Beancurd Pot
Seafood with Taosi
Fish Fillet Beancurd Pot
Fish Fillet with Taosi
Crispy Pata
Pata Tim
Hot Salad
Shrimp Asparagus
Shrimp with Radish Cake
Shrimp Foo Yung
Scallop with Broccoli
Dimsum
Fresh Shrimp Dimsum
Chicken Feet with Taosi
Spareribs with Taosi
Lobster Roll
Siomai with Quail Egg
Seaweed and Crabstick Roll
Scallop Dumpling
Stuffed Cucumber
Pan-fried Shanghai Dumpling
Salad Shrimp Puff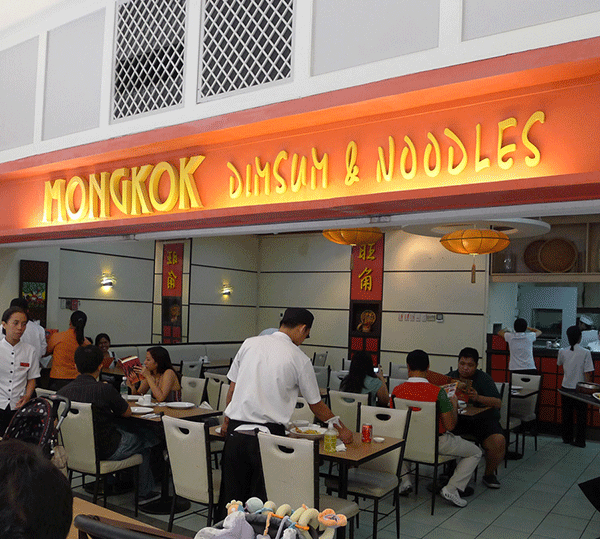 Aside from the listed above, they also have Appetizers, Soups, and Congee.
Mongkok Dimsum and Noodles Franchise are opening their doors to interested Franchisees.
For a dine in restaurant, here are some details:
The franchise fee is P 750,000
Initial term lasts for 6 years
The royalty fee is 5%
There's a training that lasts for 8 weeks
For your pre opening, 1 person will assist you for 7 days
For your grand opening, 2 persons will assist you
For your post grand opening, 1 person will assist you for 30 days
There is an operation manual that is provided
There is an operational advisory assistance monthly for 1 to 3 days
The minimum required space is 100 square metres
The investment that the franchisee will put in is estimated at around 4 million
Return of investment is around 3 years
Contact Details
Own your own Mongkok Dimsum and Noodles Franchise now! You can reach them at:
Website: mongkokdimsum.com
Facebook: www.facebook.com/pages/Mongkok-Dimsum-Noodles/253927822537?sk=timeline
Email: info@mongkokdimsum.com
Phone Nos.: (02)642-8323, (02)642-7285
Address: 37 D. Kalinangan St. Caniogan, Pasig City, Philippines
Jack is a self-made entrepreneur, who actually started out in the Military, then worked for the Government for a few years, until he finally made that bold step and started out his own online and offline businesses. He's never looked back ever since, and hasn't been happier…