Owning an interesting business like a franchising business is very rewarding and profitable at the entrepreneur's end especially if you have chosen the perfect franchise like the Mongolian Quick-stop franchise. This food establishment is specializing in serving quality and delicious food products and services that would interest a multitude of customers. Mongolian Quick-stop is the fastest growing Mongolian food chain in the country today and if you venture in their franchising endeavor you will surely grow your investment in no time.
How Much is a Mongolian Quick-Stop Franchise?
The good thing about the franchise package of Mongolian Quick-stop is that it's very affordable and produces value to your financial investment. The initial franchise rate is only Php 500,000 to Php 1 million which largely depends on the store size. Apart from being so affordable, their franchise package is also inclusive of the right to use the trade or brand name and the propriety marks, site approval and as well as supervision in the construction. It's almost worry-free to the prospective franchisee's part.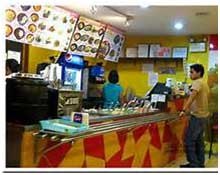 What more advantageous about venturing with Mongolian Quick-stop franchise is that you as a franchisee will benefit a 100% support from the company before the opening of your business, in the onset of operation and even during the time you are operating your own franchise store. Included in the franchise is comprehensive training for the management staff, kitchen staff, service crew and including you as the franchisee. They also provide marketing support, research and development service and as well as a confidential operation manual to keep your business at pace in its operation and success.
The term or franchise agreement is good for 5 years and renewable. There is also a space requirement which is a minimum of 28 sq. meters and a royalty fee of 5% from the gross sales plus an advertisement fee which is 3% from the gross sales. The overall estimated investment for a Mongolian Quick-stop franchise runs up to Php 1.5 million to Php 3 million, very affordable compared to other franchising stores.
Contact Details
For more information regarding the Mongolian Quick-stop Franchise, contact them through the following:
Website: www.mongolianquickstop.com
Email: inquiry@mongolianquickstop.com
Phone No.: (02)502-4621
Jack is a self-made entrepreneur, who actually started out in the Military, then worked for the Government for a few years, until he finally made that bold step and started out his own online and offline businesses. He's never looked back ever since, and hasn't been happier…