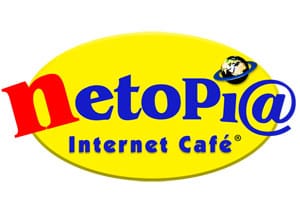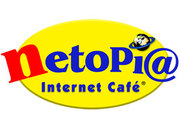 Netopia has begun as a private gaming room for techies way back in 1996. All they ever wanted was to compete with each other's skills in the field of online gaming. In January 1997, the first shop was opened for public in Katipunan Quezon City. And right after that, it attracted customers, made them happy with their fast internet connection and service that they offered. Netopia's aim is to bring internet related technology to their loyal and happy customers which they successfully delivered since then.
To date, Netopia serves about 1.5M customers every month. 76 company owned shops and 36 franchise branches that are located in big malls and anywhere there is huge traffic rate. This made Netopia the biggest internet café chain in the Philippines. Due to its wide network coverage and updated internet technology, it has attracted corporations and individuals alike to do the advertisements and training among other things for them.
Services Netopia provides:
All access to internet, speed ranges from 3 to 10 Mbps
Network and online gaming
Digital Printing (color or black and white)
High Quality Photo Printing
Angat Ka! – a supplemental school that provides online courses
Netopia Click Club – privileges that members can take advantage of (like longer computer hours)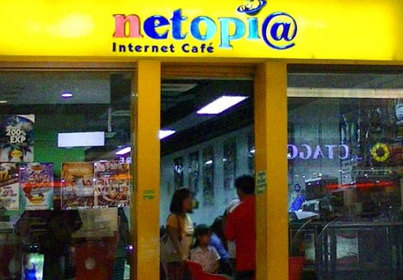 Corporate Services:
Advertising
Function Rooms – most Netopia branches offer this service which big corporations use to facilitate their trainings, online interviews or gaming tournaments.

 
Advantages of Netopia Franchise:
Most of the branches are highly profitable
It is a reputable brand for computer usage, printing and corporate services
Has a tested and proven system
The largest internet chain with more than 100 branches
Has a stable financial standing being part of PLDT group of companies (holding 75% share of Netopia)
300, 000 click card bearing members enjoy the privilege from its 135 affiliated merchants
Microsoft and other publishers provide discount for Netopia

 
The right to use Netopia's trademark name and logo, continued innovation of products and services offered benefit, use of Netopia's online billing system,  training and technical support access, proven system of management use; are what a franchisee gets in availing Netopia Franchise.
Investment:
Franchise Fee (3 years agreement)  is  Php 300,000
Security Deposit of Php 300,000 good for 3 years
Php 600,000 allotted for Leasehold Improvements
Computers and Software  Expenses will be Php 1,300,000
A Working Capital amounting to Php 50,000
Permits, Taxes and Insurance Expenses is Php  50,000
Agreement is 3 years, advertising fund is 1% of gross sales.
Franchise Models:
PREMIUM – with 30 or more rentable workstations. Franchise fee is Php 300,000. Estimated investment would be Php 2.6M or higher, with a renewal fee of Php 100,000. Royalty fees would be 7% of gross sales.
REGULAR A – with rentable workstation of 25 to 29, Franchise fee is Php 225,000. Estimated investment would be Php 2.2M, with a renewal fee of Php 75,000. Royalty fees would be 5% of the gross sales.
REGULAR B – with rentable workstation of 20 to 24, Franchise fee is Php 150,000. Estimated investment would be Php 1.8M, with a renewal fee of Php 50,000. Royalty fees would be 4% of the gross sales.
Requirements in applying for a Netopia Franchise: letter of intent, detailed resume, proposed location map (complete with description, size, area, dimension, address), to be mailed to franchise@netopia.ph. Successful applicant will be called in for interview.
Other Fees:
A onetime fee of of Php 25,000 for Architectural Design
A onetime fee of Php 15,000 for Billing System
40 to 70 square meters will be the ideal location of the internet shop franchise; it should be located within an area with high pedestrian traffic, it would be an advantage if it has close proximity to schools and residential area.
Contact Details
If you need more information regarding the Netopia Franchise, contact them through any of the following details below:
Website: www.netopia.ph
Email: franchise@netopia.ph, wally.magno@netopia.ph, benett.villanueva@netopia.ph
Phone No.: (02)638-6742, (02)633-4181
Fax No.: (02)638-0618
Address: Unit 603 Centerpoint Building, Garnet Rd. Cor. Julia Vargas Avenue Ortigas Center, Pasig City, Philippines
Jack is a self-made entrepreneur, who actually started out in the Military, then worked for the Government for a few years, until he finally made that bold step and started out his own online and offline businesses. He's never looked back ever since, and hasn't been happier…