This salon has started back in 2003 in a province North of Metro Manila. Nowadays, it has proven to be one of the most successful business empires in the country. With 15 branches located in Nueva Ecija, it has decided to expand through the help of franchising business (of this number, 11 are company owned and 4 are franchises). It pioneered in providing high quality salon services with very affordable prices, which quickly gained the patronage and trust of its customers over the years. The reputation of Orange Blush salon is undeniable and it is well renowned nowadays as one of the salons that is efficient and provides the best quality service.
Orange Blush Salon is now planning to open up more branches in the coming years to better serve the customers with the quality service Orange Blush Salon provides. It is now sharing the opportunity to other dynamic, goal oriented, self driven entrepreneurs who have the interest in the beauty business.
Orange Blush Salon Franchise Details:
Capital investment is Php 400,000 to Php 700,000.
Franchise Fee of Php 10,000
Royalty Fee is 5%
Advertisement fee (system wide) is 2%
The franchise agreement will be good for 5 years and renewable
Required space is 15 to 20 square meters minimum
Total Orange Blush Salon Franchise support system is provided (from training programs to grand opening assistance)
The right to use Orange Blush Salon trademark name and logo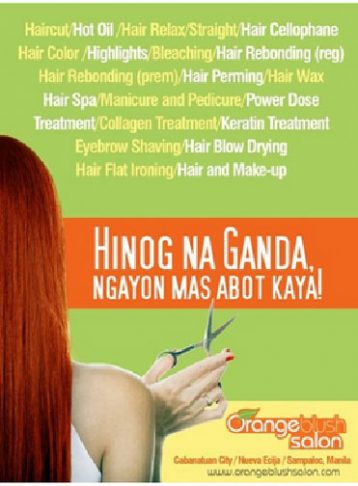 Orange Blush Franchise will prove to be a good investment as the company furnish a community concept of salon, with the cheaper price compared to competitors but without sacrificing the quality. It is really a win – win situation!
Contact Details
If you are interested in the Orange Blush Salon Franchise, you may get in touch with them through the following contact details:
Websites: www.orangeblushsalon.com, www.ufranchiseasia.com/#!orange-blush-salon-franchise/c14hs

Facebook Page: www.facebook.com/pages/Orange-Blush-Salon/114256211927874
Email: jobylinsangan@yahoo.com, jobylinsangan@orangeblushsalon.com, customersupport@orangeblushsalon.com
Phone No.: (02)634-3717, (044)464-4114
Fax No.: (044)464-3338
Mobile No.: 0917-566-4142
Address: Sotto Bldg, Del Pilar Street, Cabanatuan City, Nueva Ecija, Philippines
Jack is a self-made entrepreneur, who actually started out in the Military, then worked for the Government for a few years, until he finally made that bold step and started out his own online and offline businesses. He's never looked back ever since, and hasn't been happier…