Everybody loves munching on a snack food, especially I it is freshly cooked, tastes great, uniquely prepared and the most important factor, if it is affordable. Potdog Yummy Yes Delights serves only quality food that makes its customers keep coming back for more. Kids and adults alike are the target market of this fast food that is usually located in busy malls and major shopping areas in the country. The company is inviting interested Potdog Yummy Yes Delights Franchise applicants to join them in serving the customers with the best quality dishes and customer service.
The Franchise Features:
Fast Selling food
Unique Product Line
High Profit Margin

 
Cart Set Up: Franchise Package is Php 365,000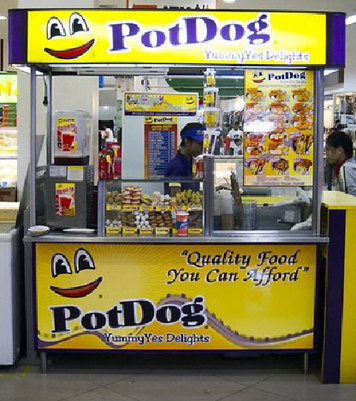 What are the inclusions of this package?
Potdog Franchise Fee
Cart
Signage
Deep Fryers
Rangehood
Cooking Utensils
Staff Uniforms
Worth Php 20,000 of Initial Inventories

 
KIOSK SET-UP (2 meters x 2 meters): Franchise Package is  Php  450,000.00 
What are the inclusions of this package?
Everything mentioned in the cart setup
Side tables
Back cabinet
Rice cooker
A couple of upright freezers

 
Stall/ Counter/ Other Set Up:  Franchise package price depends on the store size and condition. 
What are the inclusions of this package?
Opening assistance
Site evaluation and selection
Trade name use
Operations manual
Human resource training
Inventory system
Continued product research and development
Contact Details
If you have any queries regarding the Potdog Yummy Yes Delights Franchise, you may contact them through any of their contact information below:
Facebook Page: www.facebook.com/PotDogYD
Email: lennieang@yahoo.com
Phone Nos.: (02)738-1111 to 13, (02)732-3046, (02)742-9336, (02)711-9807
Fax Nos.: (02)738-1111 to 13, (02)742-9336
Address: 167 Basco St., La Loma, Quezon City, Philippines
Jack is a self-made entrepreneur, who actually started out in the Military, then worked for the Government for a few years, until he finally made that bold step and started out his own online and offline businesses. He's never looked back ever since, and hasn't been happier…