The first store ever was opened in 1965 in Bridgeport, Connecticut by the founders Fred Deluca and Dr. Peter Buck. 312 sandwiches were sold on the first day. 3 years later, the 5th sandwich shop was opened. The very first franchised shop was opened in 1974, and six years later the sandwiches menu has been improved and salads have been added in to make them even healthier. The sandwich shop is well renowned for using only freshly baked breads to their sandwiches, and only the best quality ingredients made the customers come back for more. In 1984, the first branch overseas has been opened in the Kingdom of Bahrain, and since then it has vastly expanded internationally. And by the year 1985, the chain opened its 500th shop!
Years after it has opened its door to sandwich loving customers, it has gained respect and loyalty not only from the clients but from award giving bodies as well. Shop number 3,000th was opened in 1989 and also, Subway has stores all over the 50 states of America. Delicious and hearty roasted subs, freshly baked breads and healthy vegetables and sauces and fat free / low fat selections have been added to the menu in its later years. Indeed, a very popular brand that gained trust of many celebrities endorses and health enthusiasts all over the world. Great opportunity and more are offered by Subway Franchise. With 33, 749 restaurants nationwide, it is the largest fast food chain in the entire world!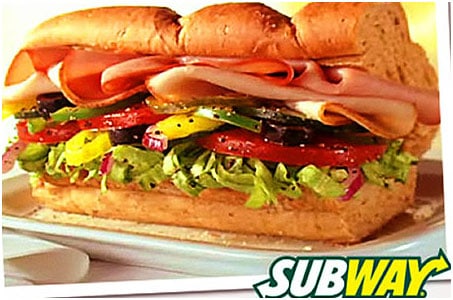 Subway Menu: 
Footlongs (which became the company's best promotion ever since it began), Sweet Onion ChickenTeriyaki, Roasted Chicken Breast, Sliced Chicken and Ham, Tuna, Subway Melt, Subway Club, Veggie Delite, Spicy Italian, Steak and Cheese and a whole lot more! It offers cookies and chips on the side as well as beverages. 
Advantages: 
Proven business with low investment
Simple operations
Floor plans that are flexible
Local and National Support
Regional and National Advertising
A couple of weeks training program
On-going learning for franchisees and staff
Assistance in Store Development
Support in designs and store layout
Lease negotiations
Construction assistance and a lot more

 
Details:
The initial Subway Franchise Fee is: $15,000 – it varies depending on the store size, build out costs, and location among other factors.
Royalty and advertising fees: 12.5% every week (gross sales minus the sales tax) 8% for franchise royalties 4.5% goes to advertising.
Training classes are available all year round, and training centers are located all over the world.
The franchisee is required to shoulder the construction of the store but the Store Design team from Subway will provide detailed blueprints to ensure that the standard designs and layout will be met.
The supplies must come only from accredited Subway suppliers and distributors to make sure of the standard and maximum savings are provided to the franchisee.
How to apply for a Subway Franchise? 
Click this link to request for a complete franchise brochure for you to study and ponder on: http://www.subway.com/applications/InetLeads/ frmRequestBrochure.aspx
Go to this link to fill up the form and submit your application: https://www.subway.com/applications/AdditionalInfoApp/index.aspx
Click on this link to submit your proposed location to Subway: http://www.subway.com/SRECLeads/default.aspx

 
To learn more on how it is becoming this company's franchise owner, you can attend the online seminar it provides in its website. Here is the link: http://www.subway.com/subwayroot/Own_a_Franchise/events.aspx#
Contact Details
If you are interested in the Subway Franchise, you may reach them through their contact information below:
Website: subway.com.ph, subway.com
Facebook Page: www.facebook.com/subwayphilippines
Email: ho_k@subway.com, asia_development@subway.com, jean@substogo.ph
Philippine Phone No.: (02)843-6057
Singapore Phone Nos.: (+65)6227-2557 Ext. 107
Singapore Fax No.: (+65)6227-7239
Philippines Address: 5th Floor, Unit E1 Electra House Bldg. 115-117, Esteban St., Legaspi Village, Makati City, Philippines
Singapore Address: 67 Beach Road, #03-01 Bulkhaul House, Singapore 189688
Jack is a self-made entrepreneur, who actually started out in the Military, then worked for the Government for a few years, until he finally made that bold step and started out his own online and offline businesses. He's never looked back ever since, and hasn't been happier…