In 1997, this company first started in Ecoland, Davao City. Since then, it has been one of the most reputable fuel stations in the country to boot. Individuals who are goal oriented, customer service oriented and relationship oriented, who are interested in the fuel industry are invited to avail Unioil Franchise. The franchisee must be able to meet the initial franchising requirements and should have high personal standards. Unioil is currently blender and distributor of Idemitsu lubricants, aside from its own lubricants. Indeed, Unioil's innovative petroleum solutions has taken the country by storm, and it is looking to share its success to qualified franchisees out there to join the company in serving the Filipino community!
Unioil's Products are: Euro Diesel IV, Euro IV Gasoline, AutoGAS, Kerosene, Process oils and base stocks, Lubricants and Asphalt. The company's ability to procure fuels from varied reputable sources, made its way to better quality fuels. The company only provides products that are environmentally safe and friendly. Hence, Unioil keeps gaining every customers trust day by day.
Unioil invites entrepreneur who are: open to change and innovation, has the drive to market the products within the proposed area, should be hands on in handling the business, willing and able to complete the provided training program, not in any way associated with any of the competing business. The company prefers those applicants who have existing facilities, network and manpower, should be of good moral character and can has a collateral to provide.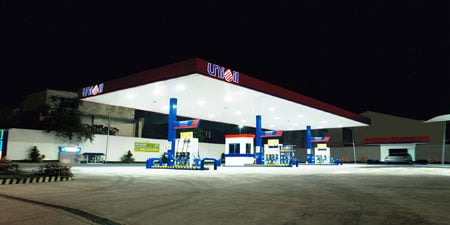 The Franchise Package Details:
Franchise fee begins at Php 500,000
Equipment deposit is Php 2,000,000
Realistic payback is 3 to 4 years depending on the location, management and income
The 3 years franchise agreement period is renewable for 2 years upon completion of the contract
The proposed location must be provided by the franchisee but it should be subjected to evaluated and approval
Proposed site requirement is 400 to 1,000 square meters
1 to 3 number of pumps
Compared to the 3 big oil players, this is a much cheaper package. But it does not mean the quality of products and services it offers are compromised.
Full turn – key agreement Unioil Franchise offers includes the following:
Retail operating system right to use
Trademark name and logo right to use
Selection and feasibility study of the proposed site
Fuel station engineering, design, layout, and meeting with contractors
Service station plans (complete)
During construction, the management will be supervising it
Station signage supply
Station equipment supply
POS in front office
Training programs (hands on and classroom)
Grand station opening planning and full sponsorship
Promotional and marketing support
Product supply from source depot that is world class and reliable
Development program and price support continuously
Field visits, supervision from the franchisor regularly
The following are the steps in availing Unioil Franchise:
Fill out these forms:

Application of dealership form
Customer Information Sheet (CIS)
Data Gathering Questionnaire

 

All of these should be availed from the retail department.

Submission of the following documents together with the above forms:

Area plan
Vicinity map, sketches and address
Photocopy of certificate titles
DTI registration
Mayor's Permit
CTC of business
ITR
Financial statements for the past 3 years
Bank Certifications among others

 

Franchisee evaluation and project study
Approval
Contract signing
Start of project
Contact Details
If you are interested in getting a Unioil Franchise, you may contact them through any of their contact details below:
Website: www.unioil.com
Email: franchise@unioil.com
Phone No.: (02)636-1077, (02)638-0088, (02)687-8877
Fax No.: (02)470-9893, (02)631-2032, (02)631-2065
Address: UNIOIL PETROLEUM PHILIPPINES, INC., 2445 Pedro Gil St., Sta. Ana, Manila, Philippines
Jack is a self-made entrepreneur, who actually started out in the Military, then worked for the Government for a few years, until he finally made that bold step and started out his own online and offline businesses. He's never looked back ever since, and hasn't been happier…