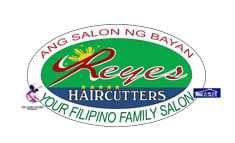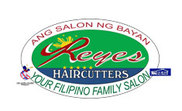 Multi awarded Reyes Haircutters Chairman Les Reyes, was the one who founded the business. It used to be providing quality salon services to every Filipino family for a very affordable price. But he changed the traditional way, salons operates in the Philippines by using branded products and providing high quality services that each customers loved from then until this time of writing. In 2001, the concept of Reyes Haircutters started. A few years later, it has opened its door to franchising business that paved the way to more successes.
Nowadays, Reyes Haircutters brags of 200 branches one of which is located in the United Kingdom and 1 to open up soon in Qatar in the Middle East.
Services RHC offers:
Hair and Scalp Treatment
Hair Rebonding
Hair Perming
Hair Coloring
Hair Styling, Haircut
Body, Facial Treatment
Hand & Foot Care
Waxing and many more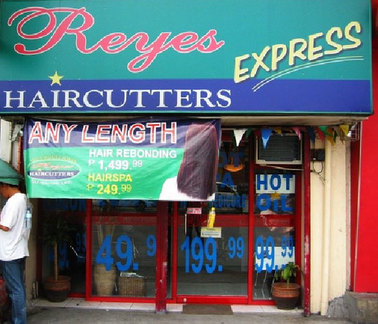 RHC Salons also market products from soap, shampoo, body scrubs and other personal and beauty care products.
Php 499,000.00 is the Reyes Haircutters Franchise Fee (renewable after 5 years). Royalty fee of 5% service fee and 5% for marketing funds. The entitlements of this fee are: company name use, salon system, design and layout, training and evaluation among other things. The required minimum area for salon location is 80-100 sq meters for RHC full branch. RHC Express branch site area requirement is 40-50 sq meters. RHC Express should be maximum 2 km away from any of the RHC Full branches. The salon will be constructed in accordance with the financial capability of the franchisee.
Enjoy the tried and tested operating system of RHC salons, a manual will be given to the franchisee to ensure of providing the same quality service to the customers. Total Franchise cost would amount to P 1.7-2.4 Million, depending on the choice of set up the franchisee wants to put in the salon. The said total investment cost will include but not limited to: initial inventory good for 1 month operations, equipments, and franchise fee. Top notch training programs will be provided by the Franchisor for the franchisee/manager and staff from hair coloring to massages and hand/foot care. Adequate and steady supply of the franchise salon will all be coming from the franchisor to ensure of the same standard of operation. Continued support service is given to all of the franchise branches by a representative of RHC to ensure the business is running to its tip top shape. To generate the traffic needed in franchises, a fee of 3% for National/Advertising Fund, Local Store Marketing Fund of 1% and a Charity Fund of 1% will be paid.
Reyes Haircutters Franchise applicants must be highly interested in running a beauty business, must be a Filipino citizen of legal age, must have related experience in customer service, personal care business (or at least passionate), must have a good background in handling people/team, should be committed to the industry standards and very much willing to partner in RHC business. The supplies and equipment required will be supplied by RHC Beauty and Wellness Exchange for every RHC Salons. It is expected from the franchisee to hire staff, and up to 12 trainees will be accepted at RHC own training center (Reyes School of Cosmetology – RISC). ROI will all depend on the location of the Reyes Haircutters Franchise and the quality of services offered by the franchisee's employees and management as well.
If interested in applying for a franchise, you may send a letter of intent addressed to: Franchise Supervisor, Ms. Filipinas Tio through fax Number: 727-9606. The letter should contain complete information about the applicant, with proposed location map attached (containing the area and address) for screening purposes.
Contact Details
For more information on Reyes Haircutters Franchise, contact them through the following:
Websites: www.reyeshaircutters.com, www.ufranchiseasia.com/#!reyes-haircutters-franchise-business/c4nf

Email: franchise@reyeshaircutters.com, rhc_franchisedept@yahoo.com
Phone No.: (02)725-0584 loc. 18
Fax No: (02)727-9606
Address: E. Rodriguez corner Tomas Morato, Quezon City, Philippines
Jack is a self-made entrepreneur, who actually started out in the Military, then worked for the Government for a few years, until he finally made that bold step and started out his own online and offline businesses. He's never looked back ever since, and hasn't been happier…