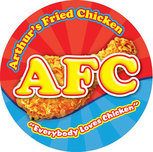 It started mainly to cater students, employees and other localities who love the fried chicken it serves due to the good quality, unique taste and affordability. Slowly, it has increased the number of diners since it was established just three years back in Midsayap, North Cotabato. When it became well renowned for the crispy and delicious fried chicken it is offering, even the passersby who just visits the area drop by just to have a taste of the popular fried chicken everyone in town is talking about! Arthur's Fried Chicken had to open another branch in less than a year after it first opened up, just to accommodate the higher demand of the product it offers.
Fried chicken is a dish well loved of all Filipinos, especially if it is crispy and tasty in the outside and juicy in the inside. Just like what this restaurant is offering its customers. Since then, the restaurant's expansion cannot be stopped anymore; the diners cannot get enough of the scrumptious fried chicken and other dishes it now offers. Arthur's Fried Chicken's new outlets set up are chic and trendy when it comes to design and layout, which make them more appealing to the loyal patrons who dine in regularly. Arthur's Fried Chicken Franchise is offering those interested entrepreneurs a business that is proven successful and good investment venture. Join Arthur's Fried Chicken in continuing to share its dedication to the customers of providing great tasting fried chicken at very reasonable prices, while taking extra ordinary care of the diners, staff and partners as well. 
Arthur's Fried Chicken Menu
One whole fried chicken
Fried chicken tidbits
All dishes are served with free drinks and unlimited rice.
Arthur's Fried Chicken Franchise Details:
Php 490,000 – Franchise Fee
With the inclusions of the following:
Proprietary marks and trade name use
System Standards
Selection assistance and approval of location
Exclusive Territory
Design Consultancy
Franchisee and Staff training program
Procurement Program
Pre opening assistance
Grand opening assistance
Operations manual on loan
Development and Research
Marketing Strategies
Effective field Service
Initial Training
Credit from suppliers access
5 years is the initial term of the franchise, with a capital requirement of Php 1,800,000. Royalty Fee is 4% of the gross sales and the minimum space requirement to put up an outlet is 80 square meters.

What are the steps in owning an Arthur's Fried Chicken Franchise?
Fill up the confidential questionnaire to be found on this link: http://www.rkfranchise.com/wefranchise/afc/franchise.php
Send it together with the letter of intent to the following address (indicate the proposed site):
Mr. Christian P. Dulog
Operations Manager
Poblacion 6, Midsayap North Cotabato

 

The application will be reviewed by the manager.

 

The applicant will be invited over for the further discussion of the franchise details.

 

The proposed site will be evaluated and approved by the management.

 

Formalization of the Franchise Agreement follows.

 

The outlet will be set up and the training for the staff and franchisee will begin.

 

Pre opening and marketing assistance will be provided.

 

Arthur's Fried Chicken new outlet's grand opening!
Contact Details
Interested in the Arthur's Fried Chicken Franchise? Get in touch with them through any of their contact information below:
Website: http://www.rkfranchise.com/wefranchise/afc/
Facebook Page: https://www.facebook.com/afc.midsayap
Email: christiandulog@yahoo.com
Mobile No.: 0933-327-0047
Address: Poblacion 6, Midsayap North Cotabato 
Contact them also through RK Franchising Consultancy: 
Manila Branch:
Email: rk@rkfranchise.com, rkfranchiseconsultancy@yahoo.com 
Phone nos.: (02)912-2946, (02)912-2973, (02)955-0734
Fax no.: (02)911-1966, (02)912-2973
Cebu Branch:
Email: rkcebu@gmail.com
Phone nos.: (032)253-5010, (032)254-0473
Address: RK Franchise Consultancy Inc., G/F Minnesota Mansion, 267 Ermin Garcia St., Cubao, Quezon City, Philippines
Jack is a self-made entrepreneur, who actually started out in the Military, then worked for the Government for a few years, until he finally made that bold step and started out his own online and offline businesses. He's never looked back ever since, and hasn't been happier…