Nowadays, Filipinos are more conscious of what they eat. Grilled food will always be on top of the list, especially if it is cooked in a safe and clean way. That is what CB Grill specializes in; they use only the best quality and the freshest ingredients to offer the ever loyal Filipino customers that made them renowned in the food industry business. It was in February 8, 2007 when the restaurant first opened its doors, by the very hard working businessman Mr. Boyd Fontelo Yrad.  His cooking and grilling expertise and amazing new ideas as well as experience, have gotten him come this far ever since the business started a few years back. CB Grill is now highly recognized for its amazingly crisp and deliciously marinated and grilled to perfection chicken, unique chicken mix, chicharon, burgers and other fulfilling meals to select from. The reason why customers never get tired of patronizing this business is due to the fact that they only provide customer service that is next to none and high quality food among other things.
CB Grill Menu:
Chicken Barbeque with rice (selection of legs or thighs)
Chicken Chicharon
Chicken Mix
Chicken Butt with rice
Baked Carbonara
Hamburger in Mushroom Sauce
Cheeseburger in Mushroom Sauce
CB Grill Franchise:
CB Grill is now offering this opportunity to interested entrepreneur who have what it takes to join and continue the legacy of the business.
Franchise Details:
Franchise Fee – Php 250,000 (Foodcourt)
What are the Inclusions?
Tradename use and proprietary marks
Franchisee and Crew Training
Procurement Program
Operations Manual
Marketing Assistance
Opening Assistance
Development and Research
5 Years is the initial CB Grill Franchise term. With capital requirement of about Php 700,000 and royalty fee is Php 10,000 every month. A minimum of 24 square meters is the space requirement.
For Restaurant:
Franchise Fee is Php 400,000 with the same inclusions as of the Food court Franchise.
Initial Term – 5 years
Royalty – Php 15,000 monthly
Capital Requirement – Php 1,000,000
With a minimum space requirement of 80 square meters.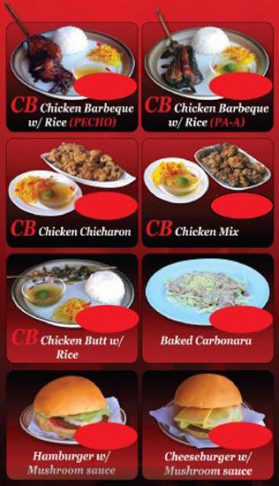 How to Apply for a CB Grill Franchise?
Send a letter of intent, include the desired location and confidential questionnaire (that can be found on their website)to the address below:
RK Franchise Consultancy Inc.
G/F Minnesota Mansion 267 Ermin Garcia St.,
Cubao Quezon City
CB Grill will evaluate the application.
You will be called in for the discussion of the Franchise details.
Approval of the site.
Franchise Agreement signing and payment of the Franchise Fee.
Outlet will be set up.
Franchisee and crew raining will commence to prepare for the grand opening.
Store grand opening.
Contact Details
If you need more information regarding the CB Grill Franchise, contact them through their contact details below:
Website: www.rkfranchise.com/wefranchise/cbgrill/
Contact them also through RK Franchising Consultancy: 
Manila Branch:
Email: rk@rkfranchise.com, rkfranchiseconsultancy@yahoo.com 
Phone nos.: (02)912-2946, (02)912-2973, (02)955-0734
Fax no.: (02)911-1966, (02)912-2973
Cebu Branch:
Email: rkcebu@gmail.com
Phone nos.: (032)253-5010, (032)254-0473
Address: RK Franchise Consultancy Inc., G/F Minnesota Mansion, 267 Ermin Garcia St., Cubao, Quezon City, Philippines
Jack is a self-made entrepreneur, who actually started out in the Military, then worked for the Government for a few years, until he finally made that bold step and started out his own online and offline businesses. He's never looked back ever since, and hasn't been happier…