This clinic is especially designed for provision of family planning, maternal care and child health as well, effectively and efficiently. Birthing facility is provided for those who will have normal maternal deliveries. Well-Family Midwife Clinic also helps women and children out there in reducing the health risks imposed in the way they live nowadays. Well-Family Midwife Clinic is basically all over the country with 29 clinics to date.
Services Offered by Well-Family Midwife Clinic:
maternal and child health services
family planning
counseling
pregnancy tests
minor gynecological services such as pap smear
basic health services provided by a competent a midwife like normal spontaneous delivery
pre- and post-natal care
immunization and a whole lot more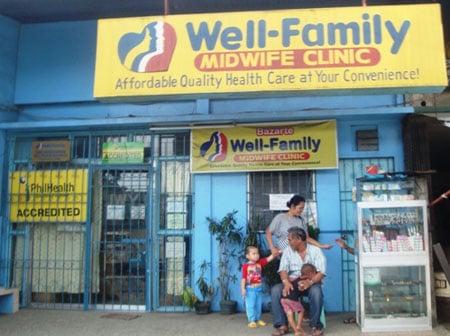 Well-Family Midwife Clinic Franchise Program is aiming at providing opportunities to interested entrepreneurs preferably midwives, to offer affordable services to every Filipino family. It is only available to licensed midwives, NGOs (invites only), and Cooperatives.
Qualifications of a Successful Franchisee
Registered and practicing midwives who have 3 to 5 years experience in midwifery and perform at least 3-5 deliveries monthly.
30-45 years old, outgoing, have positive outlook in life and have supportive family.
Willing and able to provide family planning services.
Willing and able to invest the startup capital.
Willing to pay and able to complete trainings.
Willing and able to pay franchise and royalty fees.
Must be willing to take the required psychological tests.
Must be willing to adapt new entrepreneurial ideas.
Must be an effective communicator, good with people interaction and willing to share knowledge to others.
Benefits of Well-Family Midwife Clinic Franchise
An opportunity to develop your entrepreneurial skills and handle your own business
A rare chance to receive business trainings and continuous education
Enjoy the chance to join and be a part of quality health care providers
Chance to enjoy the privilege of technical supports such as:

PR support and Marketing.
Access to affordable clinic supplies, equipments and commodities.
Continued guidance for long -term business profitability.
Advice on effective pricing of products and services the clinic offers.

 
If qualified, you can go to this link and fill up the application form online: http://www.wfmc.com.ph/inquire.htm
A representative of the clinic will contact after a few days. Proposed site must be at least 40 square meters in size. Subject upon evaluation and approval. If approved, payment of franchise fees and signing of the franchise agreement will be next. Series of psychological tests and training programs will commence right after to prepare to the soon opening of the clinic. Construction or renovation of the selected site will follow. And after a few months, it will be the grand opening of the clinic.
Well-Family Midwife Clinic Franchise Details
Php  500,000 is the estimated franchise average investment.
 Package Inclusions
Construction or renovation of the desired location
Pre-operating Assistance
On-the–job Training activities
Clinic instruments and equipment
Right to use of the Signage
Initial promotional and marketing materials
Right to use brand name and trade mark
Manual of daily operations
Regular visits to ensure quality of the services provided
Coaching services
Royalty Fees
National Capital Region – Php 2,000
City and Provincial Capitals –  Php 1,500
Municipalities and Suburban Areas – Php 800
Discounted Royalty fees if payment is made earlier than the scheduled time.
 Other costs to be incurred:
clinic monthly space rental
utility bills
employees' salaries
office and clinic supplies
family
planning commodities
Contact Details
Interested in getting a Well-Family Midwife Clinic Franchise?  Contact them through any of the following details: 
Website: www.wfmc.com.ph
Email: wpfiheadoffice@yahoo.com
Phone Nos.: (02)852-9349, (02)331-9765
TeleFax : (02)852-9349
Mobile No.: 0917-872-5379
Address: Well-Family Midwife Clinic Partnerships Foundation, Inc., Ystaphil Bldg., 4227-4229 Tomas Claudio St., Baclaran, Parañaque City, Philippines
Jack is a self-made entrepreneur, who actually started out in the Military, then worked for the Government for a few years, until he finally made that bold step and started out his own online and offline businesses. He's never looked back ever since, and hasn't been happier…