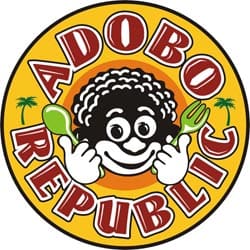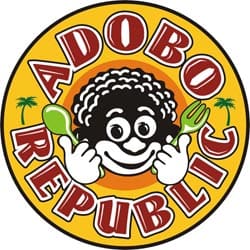 A family of great food lovers started this restaurant way back in 1998. It primary concept is to serve the country's national dish "Adobo". This dish is well known in every town or province in the Philippines. However, every province has its own way of preparing and cooking this wonderful dish. It actually originated in the northern part of the Philippines and adapted in every province. This dish is cooked slowly in vinegar, soy sauce, laurel leaves and pepper, and fried afterwards in lots of garlic. In the western part of the Philippines Adobo is cooked with coconut milk that makes it even richer in taste and glossy in colour. However which way this national dish is cooked, it always boils down to one thing, Filipino families love it! It is served as everyday dish in every Filipino table for lunch and dinner or even breakfast served with garlic rice. Adobo Republic restaurant is a winner in this concept, as nobody will ever dislike this dish eaten in and outside of home. Even foreign nationals swear to the goodness of Adobo.
Aside from different versions of Adobo the restaurant offers (like: Adobo Diablo – hot and spicy version, Adobo Liver, Adobo Mix etc.), Adobo republic serves other mouth-watering dishes as well to the great food loving customers.
Menu:
Sizzling Sensations (Squid, Adobo Pork Sisig, Beef Kaldereta, BangusSisig, Chili Pork Sizzler)
Fried Chicken, Pork Chop, Braised Beef, Pork BBQ, Shanghai Rolls, Chopsuey)
Breakfast (served all day) – Tapa Diablo, Tapa Anghel, Sausage, all served with fried egg and garlic rice with free coffee.
Side dishes, Combo Meals, and Desserts
Thanks to its popularity and affordable price as well as good customer service, Adobo Republic has expanded all over Metro Manila with future plans to grow in different key cities in the Philippines as well.
Branches:
Pasig Kapitolyo
A Venue Mall, Makati City
Cubao, Quezon City
Park Edsa Central, Mandaluyong City
Project 2, Quezon City
Sampaloc Manila
San Antonio Village Makati, City
Banawe, Quezon City
Adobo Republic Franchise Details:
Franchise Fee – Php500,000
Capital requirements – Php3,000,000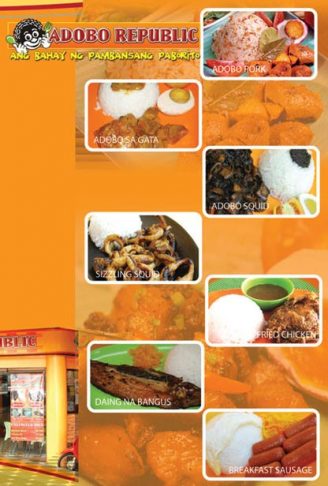 Franchise Inclusions:
Trade name and proprietary marks, signage license to use
Location approval
Franchisee/Manager andCrew training program
Procurement program
On-going Marketing assistance
Pre and grand opening assistance
Daily operations manual to ensure smooth operations
Development and research
Adobo Republic Franchise term – 7 years
Continuing Fee:
Royalty fee – 4% of gross sales
Space requirement is a minimum of 80 square metres.
Adobo republic Franchise is available upon approval to interested entrepreneurs who shares the same goal and motivated to succeed in the food and business industry. You will be joining a reputable and known brand with tested and proven business system. 
Contact Details
If you need more information about the Adobo Republic Franchise, you can contact them through any of their contact details below:
Contact them through RK Franchising Consultancy: 
Manila Branch:
Email: rk@rkfranchise.com, rkfranchiseconsultancy@yahoo.com 
Phone nos.: (02)912-2946, (02)912-2973, (02)955-0734
Fax no.: (02)911-1966, (02)912-2973
Cebu Branch:
Email: rkcebu@gmail.com
Phone nos.: (032)253-5010, (032)254-0473
Address: RK Franchise Consultancy Inc., G/F Minnesota Mansion, 267 Ermin Garcia St., Cubao, Quezon City, Philippines
Jack is a self-made entrepreneur, who actually started out in the Military, then worked for the Government for a few years, until he finally made that bold step and started out his own online and offline businesses. He's never looked back ever since, and hasn't been happier…