The founder and owner of Jesi Mendez Salon, obtained his International Cosmetology license in California, USA in 1975 –given by the California Board Exam.  He finished advanced courses and attended seminars internationally and boasts multiple awards both locally and globally. In 2002, Jesi Mendez Salon was awarded by Hair Asia as One of the 10 Finest Salons. Hence, Jesi Mendez has been recognised as the country's top beauty authority. The business started about three decades ago in Buendia as a simple salon. It was once well known for its bridal make up expertise then.  Since then it has expanded into 12 branches located in high end malls. Catering to wide clientele from celebrities, models, young professionals, students, plain housewives and even the regular male clients have been hooked in the services, Jesi Mendez Salon provides. The outlets are located in the most strategic locations including busy malls, hotels and town centres.
Currently, the salon chain employs more than 200 highly trained hairdressers, employees and technical staff as well. Unparalleled quality and unequalled quality service is what Jesi Mendez Salon strive to provide its loyal patrons. Branches are located all over Metro Manila and neighbouring cities.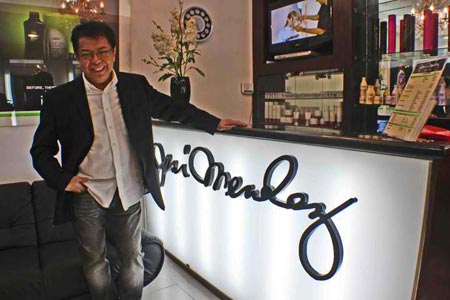 Services
Hair Cut
Hair Color
Perming
Hair Treatments
Rebonding
Make Up Services
Nails, Waxing, Plucking, Facial, Home Services and more.
Jesi Mendez Salon Franchise aims to help professionalize the industry and raise the bar of the quality standards of salon services in the country. What it offers is an exciting and profitable business which is engineered for the franchisees manage and operate Jesi Mendez salon effortlessly.
Jesi Mendez Salon Franchise
Franchise Investment – Php 3,000,000 – Php 4,000,000
Site requirement – Minimum of 75 square meters (must be located in a busy mall or a free standing location)
Jesi Mendez Salon Franchise Inclusions
Corporate logo and trade mark use
Image and reputable brand
Start up and pre-opening assistance
Selection and evaluation of site assistance
Construction and store design for turnkey package
Profitable system of operations that is proven and tested
Comprehensive operations manual
Training program on salon management, operations and services (international standard)
Promotional and local market assistance
High quality professional salon products supply
Assistance in grand opening of the franchised salon
On-going guidance, field visits and business evaluation
Contact Details
If you need more information regarding the Jesi Mendez Salon Franchise, contact them through any of their contact details below:
Website: www.jesimendez.com
Facebook Page: www.facebook.com/jesimendez
Email: rampasco@hotmail.com
Mobile No.: 0917-538-0474
Jack is a self-made entrepreneur, who actually started out in the Military, then worked for the Government for a few years, until he finally made that bold step and started out his own online and offline businesses. He's never looked back ever since, and hasn't been happier…