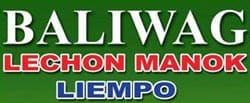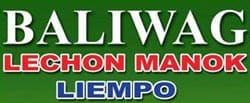 The humble beginning of this company is very inspiring. A couple who were looking into trying something new to try and serve people and generate income at the same time, pooled their Php 5,000 savings and borrowed another Php 5, 000 from their parents  and invested it in a lechon manok kiosk in Quezon, City. A relative is the one who helped them in creating the recipe that is well renowned nowadays nationwide. The name "Baliwag" is where the housewife/founder hails from. Indeed, the business proved to be a good investment due to the succulent and tasty but affordable lechon manok and other dishes the company serves the food loving Filipino people. After 25 years, it is now one of the iconic names in the Filipino food industry.
Baliwag Lechon Manok also serves Filipino dishes in its Baliwag Grill and restaurant branches in selected area nationwide. Serving popular dishes like: Sisig, Sizzling Bangus Belly, Sinigang na Pork, Dinuguan, Kare Kare, Pork Barbeque, Special Chicharon, juicy fried chicken (CHIKITITAS) and more mouth-watering dishes. Some of the selected branches offer catering services as well: graduations, birthdays, wedding anniversaries and more. Don't worry if you have children to tag along, the restaurant has created special set menus dedicated for kids only, comprise of pasta, chicken and rice but not limited to this.
Baliwag Lechon Manok has several branches located all over Bulacan Province, Caloocan City, Malabon City, Malabon City, Valenzuela City, Navotas, Quezon City, Metro Manila, Pasig City, Marikina City, San Juan, Mandaluyong, Muntinlupa, Pasay, Cavite, Baguio City, Batangas Province, Laguna Province, Pampanga, Roxas City, Bacolod as well as Iloilo and Masbate.The company is seeking interested exceptional applicants who are willing to bring the resources and desire to associate with one of the Philippines most reputable brand.

Baliwag Lechon Manok Franchise offers various business models to choose from:
Investments
Start-Up Fees
Varies depending on the business model, range from Php 250,000.00 to Php 750,000.00
Other Investment Considerations
leasehold improvements
equipment
furniture and fixtures
signage
cashiering and cleaning supplies
licenses, permits, registration fees, insurance
allowances for trainees during initial training
employees uniform
initial inventory
advance rental
security deposit-lessor/mall
security deposit-franchisor – varies depending on size and location of the franchised outlet
*not subject to amortization/depreciation
Continuing Fees
Royalty / Service Fee – 5% of Gross Sales less VAT
Marketing Support Fund – 2% of Gross Sales less VAT
Local Branch Marketing Fund – 1% of Gross Sales less VAT
Baliwag Lechon Manok Franchise Term
The initial franchise term is five (5) years
Minimum Floor Area Requirements
Cart Type – 4 – 6 square meters
Kiosk Take-out – 20 – 40 square meters
Kiosk Dine-in – 50 – 80 square meters
Dine-in – 90 – 200 square meters
Food Court – 25 – 35 square meters
For those interested franchise applicants, Baliwag Lechon is inviting you to attend one of its Franchising Information seminars. At the mentioned seminar, you will have the opportunity to meet Baliwag Lechon's franchising team, acquire information or ask several essential questions about the franchise capital requirements, how franchises are approved and awarded to qualified applicants and learn more about the company's history, mission and visions. This seminar is truly a great opportunity to get your questions answered also, you will find out about the existing branches that are open for franchising.
To register for an upcoming Baliwag Lechon Manok Franchise seminar, provide your contact information in the fields in this link: http://www.baliwaglechonmanok.com/franchising-2/ then click submit. A confirmation email with the date, time and location of the seminar, will be sent back to you.
Contact Details
If you need more information regarding the Baliwag Lechon Manok Franchise, contact them through the following contact details:
Website: www.baliwaglechonmanok.com
Email : inquiry@baliwaglechonmanok.com
Phone Nos. : (02)654-2929, (02)654-9001, (02)654-9002
Address: Head Office, # 1 Mercedez Avenue, Pasig City, Philippines