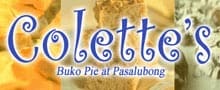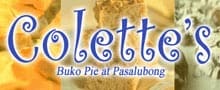 A reliable source of premium pasalubong items, Colette's first started in 1989 by Mr. Plaridel Dela Cruz. One of the top brand names in terms of buko pie and other pasalubong items in Laguna province but is renowned all the way up down South of the Philippines. These items are being sold in the bus as well by agents, and in the outlets all over Laguna, Tagaytay, and Quezon. Colette'e is not only known for its delicious and good quality food items, but for the excellent customer service as well. When the company opened its first shop, the people loved the buko pies they are offering and soon after, they built an army of loyal followers and customers. The customers do not have to worry about their safety as in Colette's Buko Pie at Pasalubong, they ensure that they implement good manufacturing practices. Currently, Colette's Buko Pie at Pasalubong produces and sells around of 1,000 pies a day and a maximum of 5,000 pies in the peak seasons of the year.
Currently, Colette's Buko Pie at Pasalubong has 45 stores nationwide which include branches and franchises in Calamba City, Cavite City, Laguna, Tagaytay City, La Union (North) , Lipa, Sto.Tomas in Batangas, Quezon City, Antipolo City, Cagayan De Oro City, Mandaue City and SM City in Cebu  among others. Its expansion is continuous due to the demand of Filipino families who love their products. It indeed fulfils its commitment to the customers to provide them with not only quality food items, but reasonably priced products and good service at the same time. The company make sure of the high quality of the products tit is offering by making them undergo routine inspections by their quality assurance staff and from the bakery supervisors. It implements quality assurance measures to make sure the products they sell maintain high quality of standard it promised to customers since it started. The products and confections the company produces are sourced from various reliable suppliers.
Colette's Buko Pie at Pasalubong Products
Pies (Buko, Ube Macapuno, Buko-Pandan, Buko-Langka, Pineapple Buko pie supreme)
Pastries (Chocolate Crinkles, Rocky road bars)
Rice Cakes (Cassava Bibingka and Bibingka Classic)
Meringue, Broas Espasol, Sampaloc Candy, Pastillas de Leche, Pili candy, Uraro cookies, Okoy, and more
Franchisee Selection Criteria
Must have business knowledge (individuals or partnerships)
Must have strong leadership and people handling skills as well as customer service relations
Must be of good moral character
Should be committed and hands-on in the business
Must be willing to undergo and complete the training program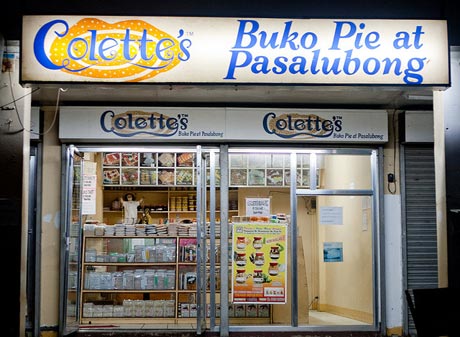 Interested and qualified entrepreneurs are invited to join the company if they are willing to share the passion and willingness to abide by the company's regulations to ensure its success. Fill up the confidential questionnaire on this link to request for a Colette's Franchise Kit.
http://www.rkfranchise.com/wefranchise/colettes/index.htm or alternatively, go to this link and download the application form: http://www.colettesbukopie.biz.ph/contact.html
Benefits Franchisees Enjoy
Colette's Buko Pie and Pasalubong business name and trade mark
Use of Colette's Buko Pie and Pasalubong successful business system
High quality of the product line
Profitable business venture
Low Franchise Fee compared to the other existing franchises of the same industry
Good reputation and credibility of Colette's Buko Pie and Pasalubong name recognition
Site selection assistance and evaluation
Effective and Proven Field Service
On-going operational support
Procurement Program
Operational Manual
Investment Requirements
Initial investment is up to Php 1,000,000
Colette's Buko Pie at Pasalubong Franchise Fee
Php 150,000 (for Unit franchise)
Php 250,000 (for Area franchise)
Franchise agreement is 5 years
Royalty Fee – 10% of gross sales
Colette's Franchise is awarded nationwide to qualified candidates. The minimum space requirements are 30 to 40 square metres (for an outlet) and 3×3 metres or 9 square metres for the kiosk type with a separate production facility.
Inclusive of
Proprietary marks and trade name use
Operational system that is tried and tested
Site selection assistance
Design and layout assistance
Benefit from research and development
Training program for the franchisee and required staff
Marketing and promotional assistance
Pre, grand opening and on-going assistance 
Contact Details
If you need more information regarding the Colette's Franchise, you may contact them through the following contact details:
Website: www.colettesbukopie.biz.ph
Email: bizdev@solutionsplus.biz.ph
Mobile No.: 0917-500-4763
Contact them also through RK Franchising Consultancy: 
Website: www.rkfranchise.com/wefranchise/colettes/index.htm
Manila Branch:
Website: www.rkfranchise.com/wefranchise/colettes/index.htm
Email: rk@rkfranchise.com, rkfranchiseconsultancy@yahoo.com 
Phone nos.: (02)912-2946, (02)912-2973, (02)955-0734
Fax no.: (02)911-1966, (02)912-2973
Cebu Branch:
Email: rkcebu@gmail.com
Phone nos.: (032)253-5010, (032)254-0473
Address: RK Franchise Consultancy Inc., G/F Minnesota Mansion, 267 Ermin Garcia St., Cubao, Quezon City, Philippines
Jack is a self-made entrepreneur, who actually started out in the Military, then worked for the Government for a few years, until he finally made that bold step and started out his own online and offline businesses. He's never looked back ever since, and hasn't been happier…