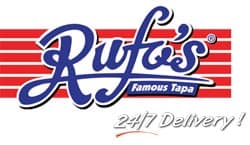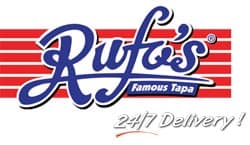 Serving delicious Filipino food that is open 24/7 and delivers as well. Its main menu is every Filipino favourite's Tapa – strips of tender and juicy beef, served in rich sauce with garlic rice and fried egg. It is dubbed as the country's only "saucy tapsilog". Rufo's Tapa was started by group of officemates in 1984 in Makati City. A simple 24/7eatery and a simple concept were born – to serve delicious food, sell cheap beers, and to earn extra income. Ever since the business started, it has built an army of loyal followers who fell in love with their tasty food at affordable prices. Rufo's Tapa's success has helped the country in making "tapsihan" we renowned all over. In 2003, the store has been designed for franchising, the business system was professionalized and a partnership with Francorp was made. Nowadays, Rufo's Tapa outlets are operating 24/7 in Metro manila and neighbouring towns and cities.
Branches
Shaw Blvd
Eastwood Quezon City
Pearl Plaza Pasig City
SM Makati
Blue Wave Pasay City
South Park Highs Branch Las Pinas City
Saint Benilde Branch Malate Manila
SM North Edsa
A.Venue Branch Makati City
McKinley Hill Branch Taguig City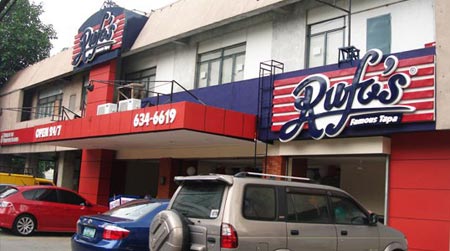 Aside from Rufo's Tapsilog, it has a wide selection of menu to boasts:
Pork & Chicken Barbeque
Lumpiang Shanghai
Liempo
Sizzling T-Bone Steak
Breakfast choices of: Longganiza, Corned beef, Burger Steak, Crispy Danggit
Pork Humba, Chicken Tinola, Bulalo
Fil-Am Fusion (Burger, Tapa Sandwich, Spaghetti, Sizzling Crispy Chicken)
Beers, Pulutan, Desserts and side orders.
Rufo's Tapa accepts catering, and delivery is 24/7 as well.
Advantages in Investing in Rufo's Tapa Franchise
Rufo's Tapa specialty is Filipino dishes that local customers can eat all day, daily.
The restaurant serves only "real food".
It serves beers, which is not commonly available in fast foods.
Rufo's Tapa is open and delivers 24/7.
Being in partnership with Francorp, the workd leader in franchise development, this ensures that the franchise system is well engineered that will benefit not only the franchisee but the franchisor as well.
Rufo's Tapa Franchise Package
Space Requirement – 80-120 square metres (for a stand-alone store with air conditioned as well as al-fresco sections)
Franchise Fee – Php 500,000
License to use the Rufo's Tapa name, trademarks and systems
Location assistance in selection and approval
Rufo's Tapa Classroom and Hands-on Training Program
Pre-opening and grand opening assistance
Confidential Rufo's Tapa Operations Manual
Continual support, business consultations and field visits of franchisor
On-going Marketing and Advertising support
Right to use Rufo's Tapa proprietary products, suppliers at wholesale prices
Full access to Rufo's Tapa accredited suppliers and contractors at discounted rates
Franchise Term is 5 years, renewable
Continuing Fees
Service Fee – 3% of gross sales
Advertising Fees – 2% of gross sales, 1% of gross sales (local store marketing)
If you are interested in owning a Rufo's Tapa Franchise, download the application form from this link:
http://www.rufos.com.ph/franchise.html and submit it to the company through email upon completion.
Contact Details
If you have any query regarding Rufo's Tapa Franchise, contact them through the following:
Website: www.rufos.com.ph
Facebook Page: www.facebook.com/rufosfamous
Twitter Page: twitter.com/RufosFamousTapa
Email: franchising@rufos.com.ph
Phone Nos.: (02)477-6652, (02)532-6335, (02)533-1446, (02)532-3392
Address: Rufo's Famous Franchise Corporation, 2/F RufoCorp Building, 300-B Malapantao St., Barangka Itaas, Mandaluyong City, Philippines 
Contact them also through U-Franchise:
Website: www.ufranchiseasia.com/#!rufos-famous-tapa-franchise/c1bhk
Email: franchising@u-franchise.com.ph
Phone No.: (02)634-0586, (02)634-3717
Mobile Nos.: 0920-983-0247, 0917-881-6999
Address: Unit 2807 Jollibee Plaza, F. Ortigas, Jr. Road, Ortigas Center, Pasig City, Philippines
Jack is a self-made entrepreneur, who actually started out in the Military, then worked for the Government for a few years, until he finally made that bold step and started out his own online and offline businesses. He's never looked back ever since, and hasn't been happier…