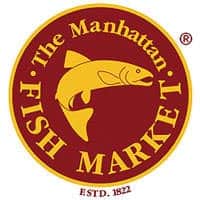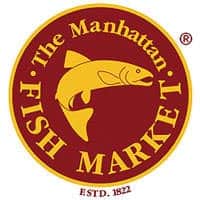 Seafood loving customers are coming back for more to get themselves spoiled in this American style restaurant that offers only the freshest catch of the day, delicious and mouth-watering wide seafood selection. Finger licking good Manhattan Fish n' Chips, delectable Garlic Herb Mussels and the crowd drawer Manhattan Flaming Seafood Platter. The loyal customers vouch for the great customer service they experience from the restaurant's "Sea-cret agents" they are the well trained staff who do not get tired of serving their valued customers with passion and dedication. The food loving diners always get happy tummies and satisfied with the great overall service of The Manhattan Fish Market, upon every visit.
The Manhattan Fish Market is expanding and continuous evolving thanks to its menu selection that is always fresh, flavourful and innovative. Due to this, it is one of the restaurants that are very popular to the seafood loving people in numerous countries where it has 50 branches: Oman, Myanmar, Thailand, Sri Lanka, Singapore and Thailand among others. One of the delights of the restaurant that people keep coming back for more is the on – the – spot "Manhattan Flaming Prawns" flaming. The experience itself excites the customers' palates.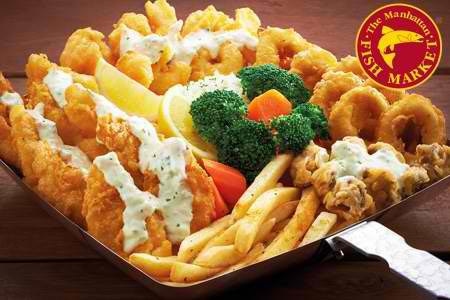 Popular Menu
Chilled Seafood Mix
Crispy Whitebait
Fried Calamari
Quad Delight
Soups
Small Flame
Scallops Fish Chicken
Calamari Mussels Chicken
Fisherman's Platter
Grilled Flaming Lobster Platter
Manhattan Flaming Seafood Platter
Since The Manhattan Fish Market has opened its first branch, it has garnered multiple awards that proved its goodness in the food and beverage industry, including the following: Best brand in Product Branding – F&B under the Western Seafood Cuisine category by the Brand Laureate SMEs Chapters Awards 2008 & International Franchisor of the Year 2009. The restaurant continues its vision to help out individuals in realizing their skills and talents and reaching their own potentials. They want them achieve their goals and aspirations in life specially the young ones. The company even hires deserving ex-offenders as it believes in fair and equality, when it comes to the work force.
The company ensures that The Manhattan Fish Market Franchise is a worthwhile investment and business opportunity. The benefits include:
Good concept – universal and constantly growing market
Reasonable investment
Initial cash outlay
Reasonable unit investment
High returns
Fast Return On Investment
Rent-friendly – size and operation is scalable
Continuous service fee is reasonable
Reasonable Low operating cost
Varied revenue streams are available
What are the Advantages of Franchising with the Company?
It is one of the top and most popular Western Seafood restaurants.
The support organization and a well-managed group are strong.
It has massive profit potential and financially successful.
The products it offers are capable of further adapting to local tastes and preferences.
Continued support from team.
A tested and already working system.
It provides a good training program.
It is a fast growing brand.
Benefit From
Continued Support
Operational and business support
Country visits by the Franchise consultants regularly
Supply of hard to find proprietary raw materials continuously
Review and monitoring of operations constantly
Strong marketing support
Provision of product development and system enhancements continuously
The Manhattan Fish Market Franchise Provides
Hands on assistance in identification, assessment and acquisition of the site.
Support in menu development and product customization 100%
The guidance in restaurant set up is strong, as well as in development
Assistance on all logistics requirements – this include sourcing and supply of equipment, furniture, fixtures, tools, utensils, raw materials and other supplies needed in setting up the franchise)
Comprehensive training assistance and support.
Guidance and assistance in Pre and after opening – this includes dry run and grand opening
Drawing and implementation of grand opening and marketing plan assistance.
The company is searching for candidates who are passionate and driven to succeed hand in hand with the company. It prefers someone who has a proven track record of success in the field of Food and
Beverage industry. The candidate must have the capital in setting up the franchise and sustaining it.
The cost of setting up the business depends on the size, type, location design etc. of the restaurant. 
Initial One Time Costs
Franchise Fees must be paid upon or prior to the startup of the franchise.
Estimated Setup Fees / Expenses – this includes staff training, supply chain verification, site visits, marketing planning, living expenses while training and other start-up costs.
USD 100,000 – USD 150,000
Estimated Cost of Kitchen Equipment
USD 150,000 – USD 300,000
Estimated cost of all civil works, ventilation system and renovations to the premises that will be paid to the individual contractors.
Monthly Recurring Fees
Royalty Fee – a system fee is based on a percentage of the restaurant's gross sales.
Rental – this will be depending on store type location and performance.
Marketing Contribution – Marketing Fee is based on a percentage of the restaurant's gross sales.
The Manhattan Fish Market Franchise Application Process
Request for information on their website.
Submission of Franchise Application.
Meeting with Franchisor.
Signing of Non-Disclosure Document.
Conducting Local Research.
Letter of Confirmation signing.
Securing of a Location and Building of the store.
Signing of the Franchise Agreement.
Conducting Training and Facilitating of all Support Function Needs for Inventory, Manpower, IT
Grand Opening!
This whole application process will take 4-6 months approximately.
Contact Details
If you're interested with The Manhattan Fish Market Franchise, you may get in touch with them through any of their following contact details:
Website: www.manhattanfishmarket.com
Facebook Page: www.facebook.com/MFM.My
Phone Nos: 6933-5480
Fax No: 6853-4644
E-Mail: franchise@manhattanfishmarket.com
Address: The Franchising Business Department, No. 2 Ang Mo Kio Street 64 Econ Building #02-01C Singapore 569084
Contact them also through U-Franchise:
Website: www.ufranchiseasia.com/#!manhattan-fish-market-franchise-business/cf9n
Email: franchising@u-franchise.com.ph
Phone No.: (02)634-0586, (02)634-3717
Mobile Nos.: 0920-983-0247, 0917-881-6999
Address: Unit 2807 Jollibee Plaza, F. Ortigas, Jr. Road, Ortigas Center, Pasig City, Philippines
Jack is a self-made entrepreneur, who actually started out in the Military, then worked for the Government for a few years, until he finally made that bold step and started out his own online and offline businesses. He's never looked back ever since, and hasn't been happier…