The retail company has become the top swimwear retail store in the country since it was founded way back in 1997. The primary concept was summer; beach and providing the best and quality trendy swim wear to the water and beach loving people of the country. Nothing But H2O offers a wide selection of ultra-chic, high fashion swim wear suitable for all ages, men and women of all sizes. But through the years, it has expanded the products it offers to beach hats, beach mats, shoes, and absolutely anything that you may need when you want to hit the beach, they have it! Currently, Nothing But H2O has 12 branches (includes: Boracay, Manila and Davao) all over the country and continues to strive to be one of the top retailers in the Philippines. The Filipino people loves going to the beach during summer, so this franchise will prove to be one of the best choices for those entrepreneurs who are looking to have a business that will flourish. However, for every franchises to succeed, a franchisee must be driven, motivated and hands on in the business to ensure better business opportunity.
Some of the brands Nothing But H2O offers are:  Toms, One for One, Anemone, Kameleonz, Yurbuds, Loudbasstard, Iplay and Lagu. Through the existence of the company, loyal patrons have grown to love Nothing But H2O's products due to their consistency and good quality at the same time.
Products
Over Lay Top
One Piece Swim Wear
Bandeau Top
Wide selection of canvass shoes for men and women
Swim Diapers
2 Piece Swim Wear
Boys and Girls Rashie
Tankinies
Babiators
And a whole lot more!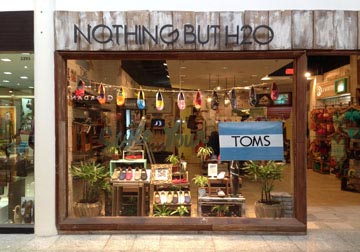 Nothing But H2O Franchise Details
Franchise Fee – Php 400,000
Inclusive of:
Trade Name and Proprietary Marks Use
Location Approval and Evaluation
Training Program
Procurement Program
Grand Opening Assistance
Marketing Assistance
Daily Operations Manual
Research and Development Assistance
Total Capital Requirement – Php 3, 000, 000
Initial Nothing But H2O Franchise Term – 5 years
No Royalty Fees to be paid
Minimum Space Requirement – 50 square metres
Contact Details
If interest in the Nothing But H2O franchise, you may contact the company at the following details for further inquiries:
Website: www.nothingbuth2o.com
Facebook Page: www.facebook.com/NothingbutH2O
Email: nothingbuth2o@swimphilippines.com.ph
Phone Nos.: (02)659-2280
Fax No.: (02)659-2398
Address: Swim Philippines Inc., 2/F BMW Autozentrum, Commercial Ave., Ayala Alabang, Muntinlupa City, Philippines
Contact them also through RK Franchising Consultancy: 
Website: www.rkfranchise.com/wefranchise/nothing
Manila Branch:
Email: rk@rkfranchise.com, rkfranchiseconsultancy@yahoo.com 
Phone nos.: (02)912-2946, (02)912-2973, (02)955-0734
Fax no.: (02)911-1966, (02)912-2973
Cebu Branch:
Email: rkcebu@gmail.com
Phone nos.: (032)253-5010, (032)254-0473
Address: RK Franchise Consultancy Inc., G/F Minnesota Mansion, 267 Ermin Garcia St., Cubao, Quezon City, Philippines
Jack is a self-made entrepreneur, who actually started out in the Military, then worked for the Government for a few years, until he finally made that bold step and started out his own online and offline businesses. He's never looked back ever since, and hasn't been happier…