We spoil ourselves in a lot of ways – some go to the salon to get their hair or nails done, some opt to have their body massaged and some prefer indulging their cravings in the way of a buffet. We can all admit that we all love to eat. Free flowing food and drinks are one of our wishes – to eat as much as we want on our cheat day.  Buffets have sprouted everywhere – most of them cater to breakfast, lunch and dinner. Some cater to cakes and snacks. It has grown and develop into something more.
It's not surprising that a lot has been getting into franchising a Kamayan outlet. It is one of the 3 chains that the company Triple V own. Unlike Dads (Western Cuisine) and Saisaki (Japanese Cuisine), Kamayan focuses more on the Filipino Cuisine. They're unparalleled in perfecting the food that they offer. It brings back memories of our childhood. The first Kamayan opened in August 1977. Unsurprisingly, it elevated the idea of the native restaurant from being a mere eatery to a place where there is adventurous native cuisine paired with the pleasures of fine dining.
Some of the foods that they offer are:
Carving:
Kamayan Lechon de Leche
Pritson
Litson Liempo
Litson Kawali
Crispy Pata
Seafood:
Kamayan Yaman Dagat
Adobong Hito sa Dilaw
Hito sa Bawang
Crispy Fried Alimasag
Crispy Fried Salmon Skin
Charbroiled:
Inihaw na Pusit Sinulog/Lumot
Inihaw na Hito with Buro
Inihaw na Baboy Tagalog
Pork Barbeque
Inihaw na Manok
Inihaw na Atay ng Manok
Inihaw na Isol
Beef, Pork and Chicken:
Kamayan Kare-Kare
Kalderetang Baka
Bopis
Paksiw na Lechon
Pork Pukyutan
Crispy Chicken
Dessert:
Bibingka
Buko Pandan
Espasol
Fresh Fruits
Gelatin
Kutsinta
Leche Flan
Maja Blanca
Minatamis na Saging
Palitaw
Puto Bumbong
Sapin-sapin
Sinukmani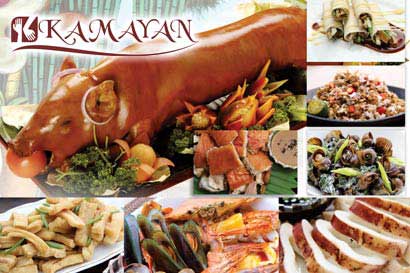 Currently, the have 5 branches scattered all over the big malls. They are the top name when it comes to serving genuine Filipino food. Kamayan Franchise outlet can never go wrong. For one, there's the demand for good food. Second, buffets are well loved by the people. Return of investment is quick as you're surely never to run out of costumers especially when it's the holiday season.
Get your Kamayan Franchise now!
Contact Details
Contact them at:
Website: kamayansaisakidads.com
Facebook: www.facebook.com/dadsworldbuffet
Edsa Greenhills Branch:
Phone Nos.: (02)722-8125, (02)705-1807
Mobile No.: 0917-898-8124
Address: 207 EDSA, Greenhills, Mandaluyong City, Philippines
Manila Branch:
Phone Nos.: (02)528-1723 to 24, (02)521-9490
Mobile No.: 0917-897-1722
Address: #523 Merchant Bldg., Padre Faura cor. Adriatico St., Ermita, Manila, Philippines
Quezon City Branch:
Phone Nos.: (02)372-8845, (02)374-3767
Mobile No.: 0917-898-8844
Address: 15 West Avenue, Quezon City, Philippines
Jack is a self-made entrepreneur, who actually started out in the Military, then worked for the Government for a few years, until he finally made that bold step and started out his own online and offline businesses. He's never looked back ever since, and hasn't been happier…