This stationery company started with a vision to provide good quality notebooks and other paper goods to make people happy wherever they are, be it school, office or just simply want to scribble for leisure purposes. Nice and artsy paper goods designs make us cheerful and lively and hence, more productive. This is what the company's founder Cara L. had in mind as she started the business a year ago. At The Paper Stone, each and every design is considered a limited edition.  It all started in paper notebooks and other paper goods, but now The Paper Stone also offers the following products:
Journals
Notepads
Exercise Books
Doodle Pads
Scrapbooks
Pen
Pencil
Eraser
Scissors
Ruler
Sharpener
Pencil Case
Planner
Filing Products
Stickers
Party Stuff
Greeting Cards
Gift Wraps, Box and Ribbon
Luggage Bags
Shoulder Bags
Back Pack
Small Bags
The Paper Stone Franchise is now available under Francorp Philippines as the company wants to expand its horizons to reach out and help its clientele's stationery needs. Since it started, it has been well loved and to prove this, 3 more outlets opened in such a short span of time.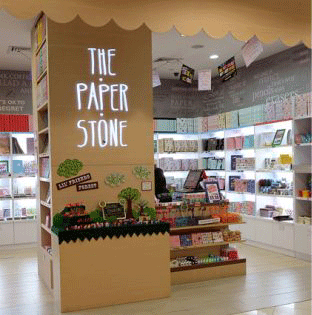 The Paper Stone Franchise Details
Capital: Php 600,000 for a kiosk
Php 2,900,000 for an in-line store
Franchise Fee: Php 100,000 to Php 350,000
The company is requiring franchisees to have at least 10 – 40 square meters outlet.
Qualified franchisees are hardworking, with passion for the retail industry, and have a leadership quality to be able to run their own business. The ROI will depend on the overall sales, expense management but not limited to these.
Interest applicants may visit this site to request for a The Paper Stone Franchise Kit to know more all about the franchise:
http://www.ufranchiseasia.com/#!paper-stone-franchise/c1nx1
Contact Details
Website: www.thepaperstone.com
U-Franchise Page: www.ufranchiseasia.com/#!paper-stone-franchise/c1nx1
Facebook Page: www.facebook.com/ThePaperStonePhilippines
Email: franchising@ufranchiseasia.com
U-Franchise Sales & Management Tel No.: (02)634-05-86,   (02)634-37-17
Mobile:  0920-983-02-47, 0917-881-69-99
I am a content writer who is goal-oriented and passionate in what I do. I use my hard outer shell to guard me against deception and betrayal. The moment I start, I rarely look back. I strive hard to live up to the high expectations that others expect from me.